Original Scorpio Barracuda Key Programmer is complement for Tango key programmer, comes with basic software and 7 adapters. A new advanced platform , which allow us to pursue functionality. Barracuda programmer is similar to Tango and Orange5 which will give us the opportunity to add new functions and solutions without replacing any of our existing devices.
Barracuda Key Programmer PC Requirement
— Windows XP/7/8/10 32&64bit PC or Laptop
— USB 2.0/3.0 port
— External power supply unit 9-24V DC, plug size 5.5×2.1mm
(not included in base version due to weight, acquire locally)
Barracuda Programmer Features List:
Free Utilities:
— PCF 7931 (Read, Write, Erase, Lock)
— PCF 7941 (Read, Write, Erase, Lock)
— PCF 7945 (Read, Write, Erase, Lock)
— PCF 7952 (Read, Write, Erase, Lock)
— PCF 7953 (Read, Write, Erase, Lock)
— PCF 7961 (Read, Write, Erase, Lock)
Programmer:
Alfa Romeo, Audi, BMW,Chrysler/Dodge/Jeep, Fiat, Hyundai,Jaguar, Kia, LADA, Land Rover, MINI, Mitsubishi, Nissan,General Motors (Chevrolet / Opel / Vauxhall), Peugeot,Porsche,Renault, Rolls Royce,Smart, Suzuki, Toyota, Volvo, VW.
How Barracuda Key Programmer work with Tango prorammer to solve Toyota all keys lost
what you need?
Barracuda key programmer
Barracuda Adapter H Immo
Barracuda activation H Immo
LKP-04 transponder
Toyota maker
Toyota Image Generator H
Operation Procedure
The system c can be summarized in two main stages, which are described below:
Read Immobilizer data with Barracuda
Master Key Creation (Write Transponder) with Tango
Read Immobilizer data
1.Take off the vehicle Immobilizer and connect it to Adapter H Immo
2.Connect Barracuda key programmer and start its software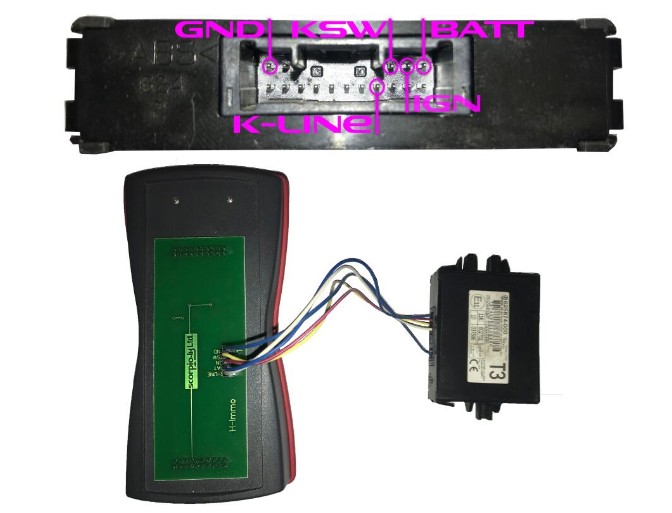 3.Select ECU Maker->H-Immo. Then press Read Immo Data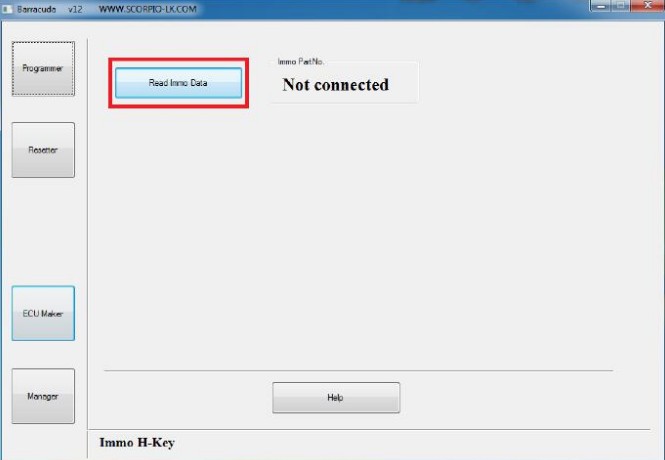 4.Barracuda key programmer will connect to Immo, its part number will be shown, wait until readout is finished.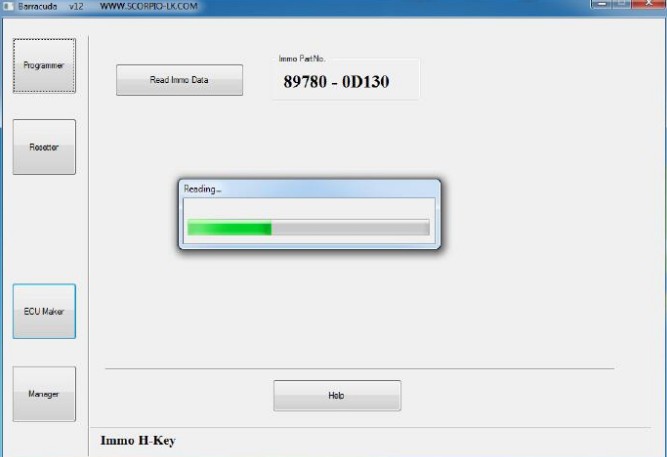 5.Save the dump file (*.bin)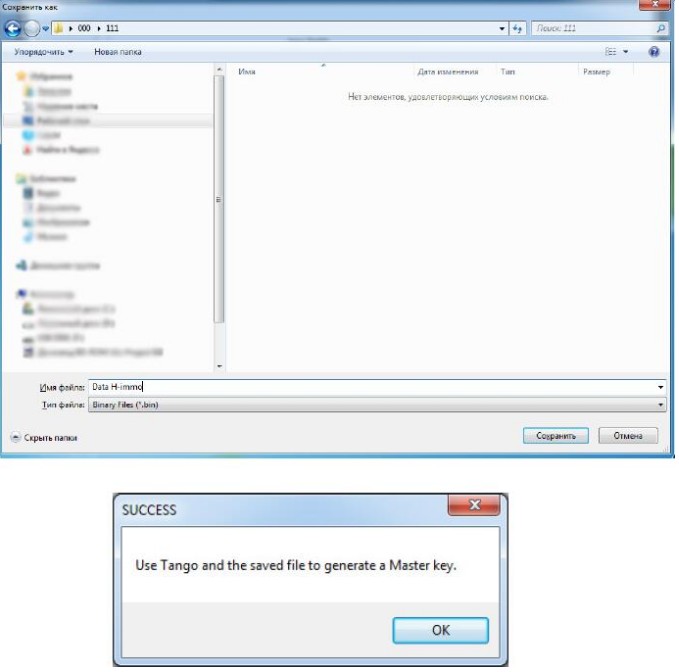 After step 4 there are no more operations concerning the immobilizer so it can be returned to vehicle.
Master Key Creation (Write Transponder)
1.Connect Tango and start its software
2.Select region Asia, then Toyota->Utility->H-Immo
3.Place a LKP-04 transponder in Tango coil
4.Press Open File button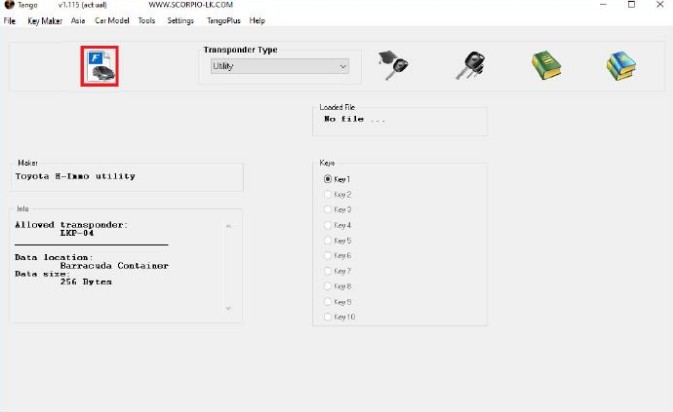 4.Select the dump file saved in step 5 of Read Immobilizer data stage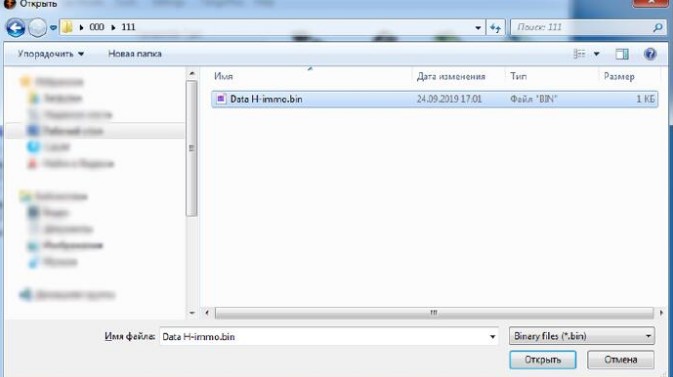 5.Select LKP-04 in the dialog window and press OK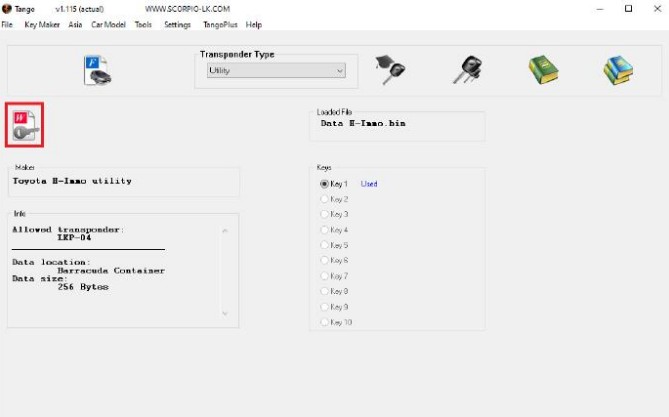 6.Wait until Tango finishes writing the transponder.
After step 6 the created LKP-04 transponder becomes a master key for the vehicle and can be used as diagnostic authorization (example Techstream ) to add TRPWS21 H keys (either Tango generated or original).
Scorpio Tango Key Programmer  Full Set are available at vxdas.com
Join groups to get more free resource!
Groups: https://www.facebook.com/groups/vxdas/
Website: www.vxdas.com