OBDSTAR X300 Pro4 is auto key programmer dedicated key programmer only, covers same immo function as OBDSTAR X300 DP Plus. Supports free update online one year while OBDSTAR X300 DP Plus not only support immo functions but also cluster calibration, ECU clone/programming, oil service reset ect. if you are a locksmith, X300 Pro4 will be a perfect choice for you at reasionalble price.
OBDSTAR X300 Pro4 vs OBDSTAR X300 DP Plus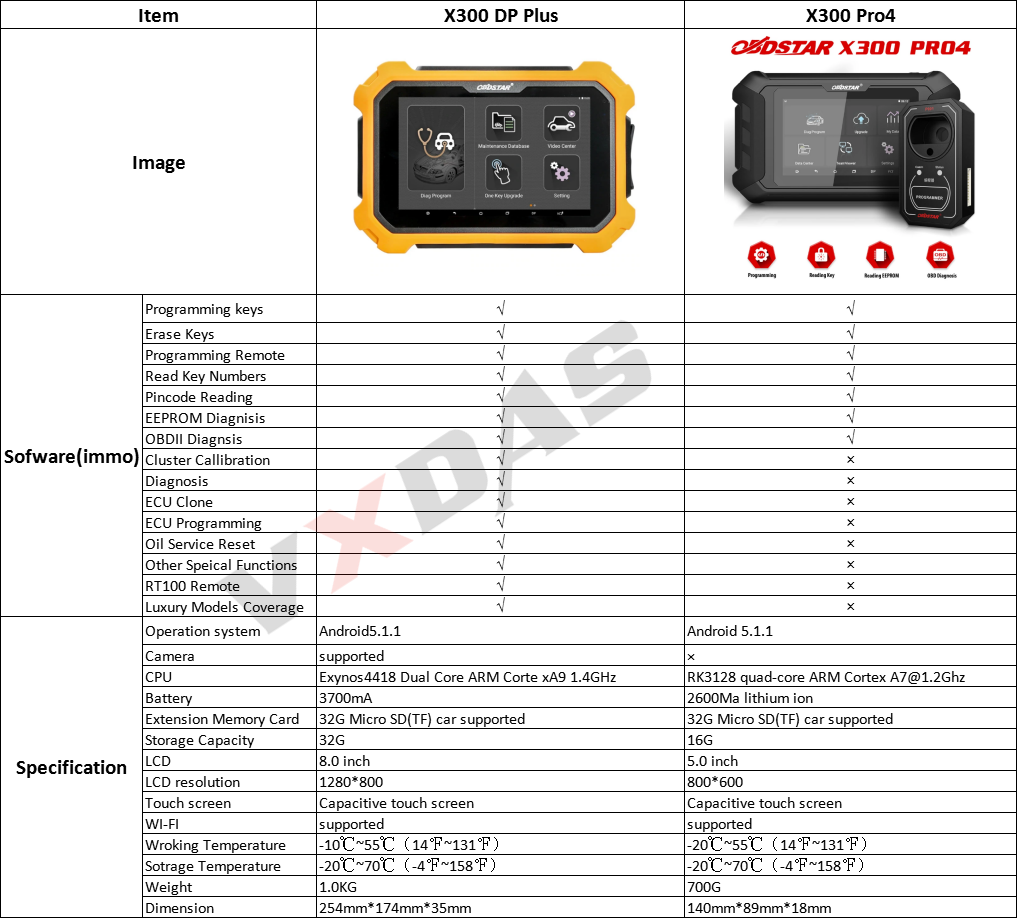 Conclusion:
x300 pro4 is only for locksmith, covers functions below:
– Program keys for all makes, except Lamborghini/Maserati/Ferrari/Bentley/Alfa Romeo/Abarth.
– Erase keys
– Program remote
– Read Key Number
– Read pincode
– Read EEPROM Chip
obdstar x300 pro4 IMMO vehicle coverage, check here 
 x300 pro4 doesn't support:
OBDII diagnosis
Mileage programming
ECU clone and ECU programming
Special functions
Besides, from the outlook / specification, obdstar x300 pro4 is the lite version of obdstar DP Plus.
x300 pro4 comes with smaller LCD, owns the same Android5.1.1 operation system and Wifi function etc.
In one word,  x300 pro4 is a dedicated key programmer, it must be much cheaper than DP Plus.
you may be interested in x300 pro3 software update
Join groups to get more free resource!
Groups:https://www.facebook.com/groups/vxdas/
Website: www.vxdas.com
Whatsapp:+8613728823315
Skype:autodiagnostickit