OTOFIX is a new brand developed by Autel, a new and innovative brand with full line OBD2 products.  OTOFIX IM1 is a professional all- in-one and easy-to-use immobilizer & key programming tool , Equipped with the XP1 key programmer supports read PIN code, key programming, IMMO parts replacement, IMMO type identification, transponder read/write, etc.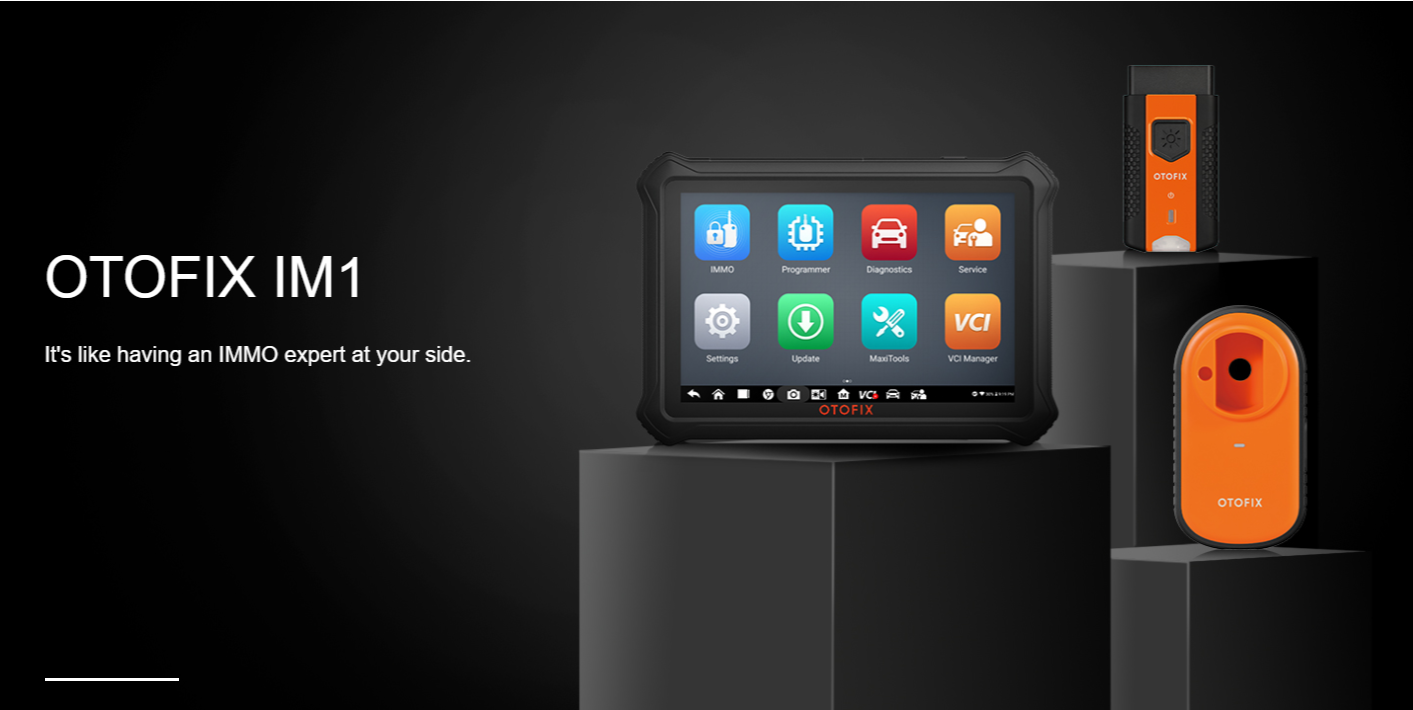 OTOFIX IM1 Key Programmer Highligh
1. Global Version without IP Blocking Problem
2. Same IMMO and Diagnosis Functions as Autel IM508 (Some functions needs to pay extra license)
3. Wide Key Programming Coverage, Supports key programming for more than 2000 models of more than 60 car series.
4. Powerful OE Level Diagnostics for more than 80 US, Asian and European makes and models
5. One-Stop Cloud Service, Remote Expert, RealFix, Device/Report Management
6. Multi-Languages: English, German, Spanish, French, Traditional Chinese, Japanese, Polish, Portuguese, Russian, Italian, Korean, Dutch, Swedish, Turkish, Persian, Thai, Vietnamese and Simplified Chinese.
7. One Year Free Update Online & One Year Warranty
8. Advanced Features, Able to unlock more with subscription
OTOFIX IM1 Powerful Functions
1. OE-Level Diagnostics
Powerful and fast diagnosis for all vehicle systems
Supports ECU information, read/erase codes and live data
Guide Function provides more DTC tips (Supports Volkswagen/ Audi)
Supports advanced features of Volkswagen and Audi including online coding, online IMMO, and hidden function renewal
2. Smart IMMO Functions
OTOFIX IM1 key programming tool support for expansive list of makes and models, including BMW, Volkswagen, Audi, GM, Ford, Mazda, and Nissa. Equipped with OTOFIX XP1 key programmer to support key read/write and EEPEROM/MCU read/write.
 OBD key programming for 80% of vehicle models
All Keys Lost programming via OBD for Volkswagen IV, V and MQB IMMO system
Add Key and All Keys Lost programming via OBD from CAS1 to CAS4 and FEM&BDC IMMO system
key programming bypassing PIN code for all 2005-2020 Ford models
 key programming bypassing PIN code for 2019-2020 Promaster, DT-RAM, Jeep Commander, etc.
read password for Hyundai Kia key ID46, 47, 4A, 8A, etc.
3. AutoVIN Technology
OTOFIX IM1 professional car key programmer scan tool can automatically identify vehicle make, model, and year with AutoVIN/ ScanVIN
4. Advanced Features by Subscription:
You Need to Buy Extra XP1 Pro, G-BOX2, APB112, and AKL Cable for Following Expended Vehicles
Autel OTOFIX IM1 also is a professional automotive diagnostic scanner that provides full system diagnostics and 26 special services for more than 80 US, Asian and European vehicles by additional purchase advanced features.
OTOFIX IM1 VS. Autel IM508 VS. XTOOL X100 PAD2 Pro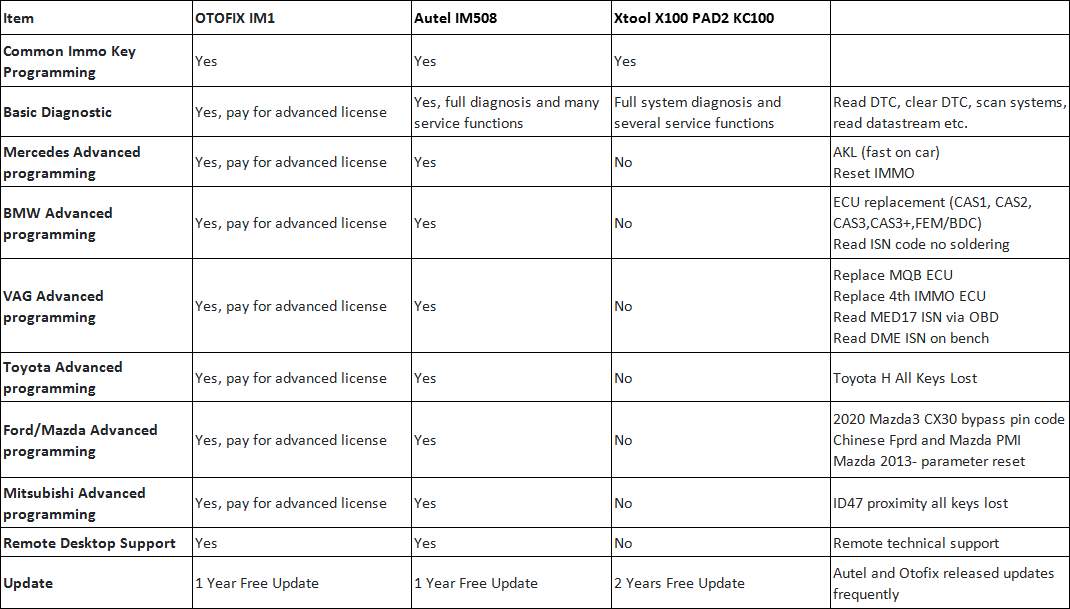 Enjoy!
Related post:
1.Autel IM608 Professional Key Programmer Reviews
2.Autel G BOX2 Supports Mercedes AKL
3.Autel XP400 Pro Key&Chip Programmer User Manual
VXDAS, focus on OBD tools since 20008!
Join groups to get more free resource!
Group:https://www.facebook.com/groups/vxdas/
Website: www.vxdas.com
Whatspp: +8615361020853
Skype: autodiagnostickit
Email: sales007@vxdas.com