2019.3 Toyota EPC Download Link for Toyota Parts Catalog All-Area
Toyota EPC 2019.03  is All Regions Toyota Parts Catalog, Toyota EPC 2019 support inquiry EUR, USA, CA Toyota Parts information till 2019.3. Here VXDAS.COM share the 2019.03 Parts Catalog for Toyota EPC download & installation guide for client purchase Toyota OTC, Mini VCI client free to use.
VXDAS.COM Offer Toyota EPC 2019.3 Download & Installation Service as well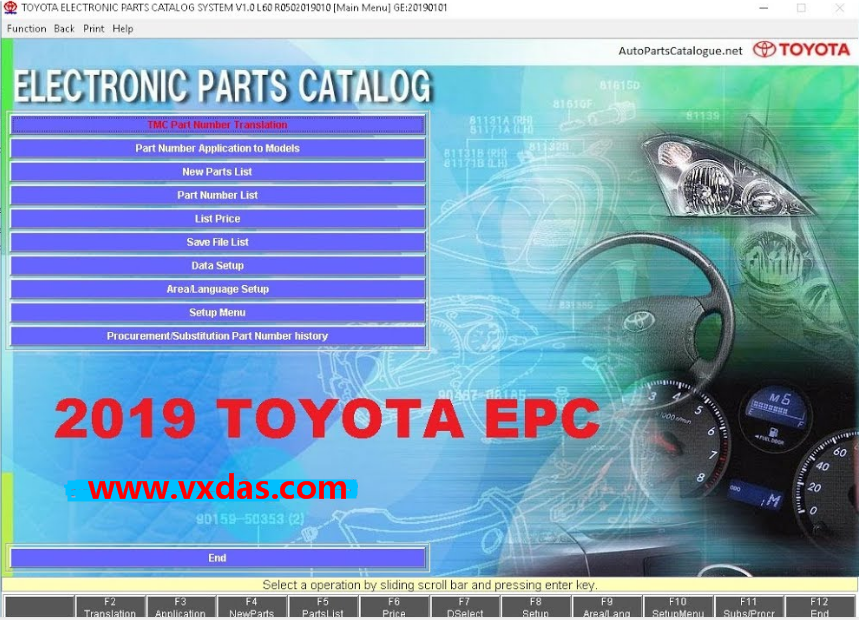 2019.03 Toyota Parts Catalog Download Link:
https://mega.nz/#!2OI1CS7R!BUhTLFJLnbeOJmNPF0xxyRa6qt7ZJmDhA0VS4GJrASU
Firstly, What's the Specification of Toyota EPC 2019.03?
Year/Date: 2019/03
Version: V1.0  L60  R050
Developer: Toyota  motor  corporation
Language: English, French, German, Spanish, Arabic
Secondly, What's the 2019.03 Toyota Parts Catalog All-Regions Version?
Europe:  A1-  03/2019
USA, Canada:  A1-  03/2019
Overseas:  F1  –  01/2019,  F2-  03/2019
JPIO:  M1  –  07/2018
How to Install Toyota EPC 2019.3 Toyota Parts Catalog?
All you have to do just download the file into drive  D and extract it.
Then extracting the file Follow this path: drive(D)/ (TMCEPCW3)/ file (APLI)/ make a shortcut to the icon  (TMAIN) on the desktop.
Before you prepare to installit, pls pay attention to Toyota Catalog Installation Request: You must have the latest update for Winrar.
Any more Toyota diagnostic & programming tool need? VXDAS.com recommend as below:
Global Techstream GTS TIS3 OTC Scanner for Toyota diagnostic & programming from 1998-2018:
Mangoose VCI For Toyota V13.00.022 Cable  for Toyota diagnostics
OBDSTAR F101 for TOYOTA Immo(G) Reset tool Key Programmer support all key lost
Toyota G and Toyota H Chip Vehicle OBD Remote Key Programming
LISHI TOY43AT Lock Pick for Toyota
G Chip 80bit for Toyota 5pcs/lot
ID4C Glass Chip For Toyota 10pcs/lot
More tool for Toyota, check it here>> Tools work for Toyota