ELSAWIN 6.0 is the service & repair workshop software , which actually be used for VW/Audi auto dealers and factory technicians around the world. The Latest ELSAWIN 6.0 software version works for VAG group vehicles from 1947 till today. You can install them on Windows 7, Windows 8, Windows 10 and XP system.
Region: All
Languages: English,Chinese, Dutch, Spanish, Italian, German, Russian, Turkish, French, Swedish
OS: xp/win7/win8/win10
Software Size: USB HARDDISK
Date of Update: 2015
Latest Version: V6.0
2. Elsawin 6.0 Software Function
It provides Servicing Guides, Workshop-Repair Manuals, Electric Schemes – Wiring Diagrams, Body Works.
3. 

Elsawin v6.0 Software Coverage the V

ehicles
Support all of Audi VW vehicles from 1947 till today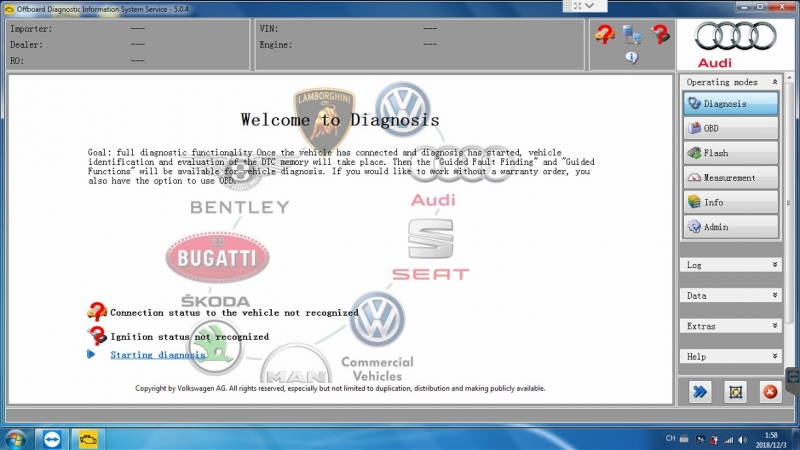 Pls check:
ODIS 5.0.4 VW Audi Elsawin 6.0 Vag ETKA 8.1 ODIS Engineering Software 9.0.4 installed in 320G HDD
ODIS 5.0.4 with ODIS 6.75 Engineer Version with Elsawin 6.0 In One 320G HDD
 5. 2017 Elsawin V6.0 Free Download

Note:
This softwar recourse is come from Internet, pls take your own risk.
OBD2repair.com also offer you 3 in 1 ODIS 4.0.0with ODIS 6.75 Engineer Version with Elsawin 5.3 In One 320G HDD ,can ready to use
6. How to use Elsawin 6.0:

There is a set of installation files for installing Elsawin 4.0 and all its subsequent updates to version 6.0 (directories with numbering from 1 to 7).
Also in the distribution is added the full version of the installer ElsaWin 6.0 (catalog number 8).
The main requirement before starting the installation of ElsaWin version 4.0 is the presence of Adobe Reader installed in the system. The minimum version is 5 or newer.
The order of installation is simple:
1. Install Elsawin 4.0 version, and if desired, can updates to 6.0 (optional) , or install at once Elsawin 6.0 version.
2. Install the database.
Important:
Base VW 01.2017 is compatible with versions of ElsaWin 4.x – 6.x.
Also, you need to install SVGView.exe – it is needed to display the wiring diagrams.
Login name / password: admin / admin
Detailed instructions for installing ElsaWin 4.0 and 4.1 from say2108 -in the Documentacia directory
Professional Diagnostic Solution & Service Supplier

Website:www.vxdas.com
Whatsapp: +86 137 2882 3411
Email: sales014@vxdas.com
Follow Us To Get More Free Resource: www.facebook.com/groups/vxdas/