Humzor NexzDAS ND666 plus diagnostic tool for car and heavy duty truck new release 2021. A multi-functional and high cost-effective device which support diagnosis ,  key programmer and special functions, over 80+  car brands coverage, free download and update online lifetime, provide professional and smart diagnosis solution for mechanics, making car repair more intelligent, convenient and efficient.
Humzor NexzDAS ND666 Plus Diagnostic Tool Highlights
1. Diagnosis for Cars
A full-system quick scan, deep diagnosis on all the electronic systems of the vehicle with a detailed report.
2. Diagnosis for Trucks
Trucks, Construction machinery, Agricultural machinery, Engine systems, Electronic control systems, natural gas systems, exhaust gas treatment systems included…
3. Exhaust Aftertreatment
Support a full range of exhaust gas aftertreatment system diagnosis. Adapting to the current market needs for diagnostic development of Euro Ⅱ,Ⅲ,Ⅳ,Ⅴ,Ⅵ.
4. Actuation Test
Test of smooth running control, Test of single cylinder comparison, Test of impact time, Actuation of constant throttle, Actuation of engine brake…
5. Reset Service
Oil reset, TPMS, ABS, SAS, TPS, DPF, EPB, Battery test, Injector adjust for passenger cars. DPF Generation & Brake & Transmission Coverage & Cylinder Test & ABS & Injector…for commercial vehicles.
6. Across different Platforms
Android available now (iOS, Windows under developing). Freely choose Smartphone, Tablet, and PC (released later) to achieve intelligent and efficient operation.
7. Continuously Releasing New Functions
More advanced functions are under developing now for later release, such as ECU coding & programming, ECU tuning, etc. All free to update gradually.
8. User-friendly Experience
Quick access to VIN Query, DTC Query, Data Manage, Data playback, Feedback icon, Screenshot, etc. fully provide you with intelligent and easy operation.
9. Free Download; Free Update
Free download and update for wide vehicle models in the App Store of the software.
10. Remote Assistance Offered
Perfect after-sales service with all-around help, we continuously listen to your voice, contact us and feedback to get professional help in time.
Humzor NexzDAS ND666 Plus Powerful Functions
1. Full-System Diagnosis for Passenger Cars
● Quick Scan
● Actuation Test
2. All Modules Scan for Commercial Vehicles
3. Special Functions
4. Key Programming for Cars
Immo Code Reading: Can read the Immo code of specific car models.
Key programming: Greatly supports key matching.
Add car key: Add and match the new key to the car.
Erase car key: Delete the key that does not need.
Key information reading: Read the information of the key, quantity, frequency, etc.
All key lost: Support most cars all key lost via direct OBD matching.
● ECU Programming&coding
● Update Hidden Functions
Humzor NexzDAS ND666 Plus Packing List
1set x Humzor NexzDAS ND666 Plus for Cars and Trucks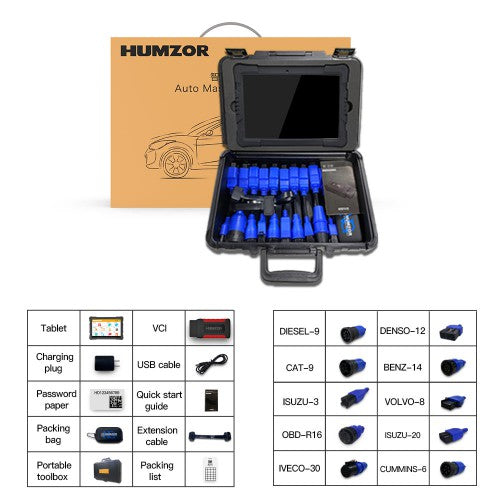 Enjoy!
Related Posts:
1.TOPDON Phoenix Pro ECU Programming Solution 2021
2.Autel MK908P Programming Tool Reviews
3.Programming Solution Recommendation 2021
VXDAS, focus on OBD tools since 2008!
Join  groups to get more free resource !
Group:https://www.facebook.com/groups/vxdas/
Website: www.vxdas.com
Whatsapp: +8615361020853
Skype: autodiagnostickit
Email: sales007@vxdas.com