Launch Thinkcar 2 thinkdrive is a multi-functional OBD2 diagnostic tool for car owner, compatible with IOS and Android system. With small Design, Dustproof, Shockproof, Easy to Carry and Store. Thinkdrive covers full OBD2 function, all system diagnosis and 15 reset Service.
Launch Thinkcar 2 Highlights:
1. Software Free Update Online
2. Small Design, Dustproof, Shockproof, Easy to Carry and Store
3. Vehicle Coverage: Supports full system diagnosis and vehicle coverage more than 115 brands
4. Easy To Use, work together with both iOS and Android. Please download the "ThinkCar 2" from APP Store or Google Play, connect by bluetooth to use it
5. Support Multi-Languages and Displays with the Phone System Language: English, French, German, Spanish, Italian, Portuguese, Russian, Japanese
6. Target Customers: The target customers of ThinkCar 2 are for car owners who have certain maintenance knowledge, strong hands-on ability and can change parts themselves, and car DIYers.
7. For New customer Free Full System Diagnose for 3 Car's VIN now!!!
More Car Brands were Contained (Indian,Malaysia Cars)
If you already subscribe the paid full system diagnose function for other car, these car's vin will enjoy one more year free update.
Newest version for ISO and Android already published,fixed all the bug and add new car brands.
Launch Thinkcar 2 Functions
1. Full System Diagnose
2. Supports Maintenance RESET Functions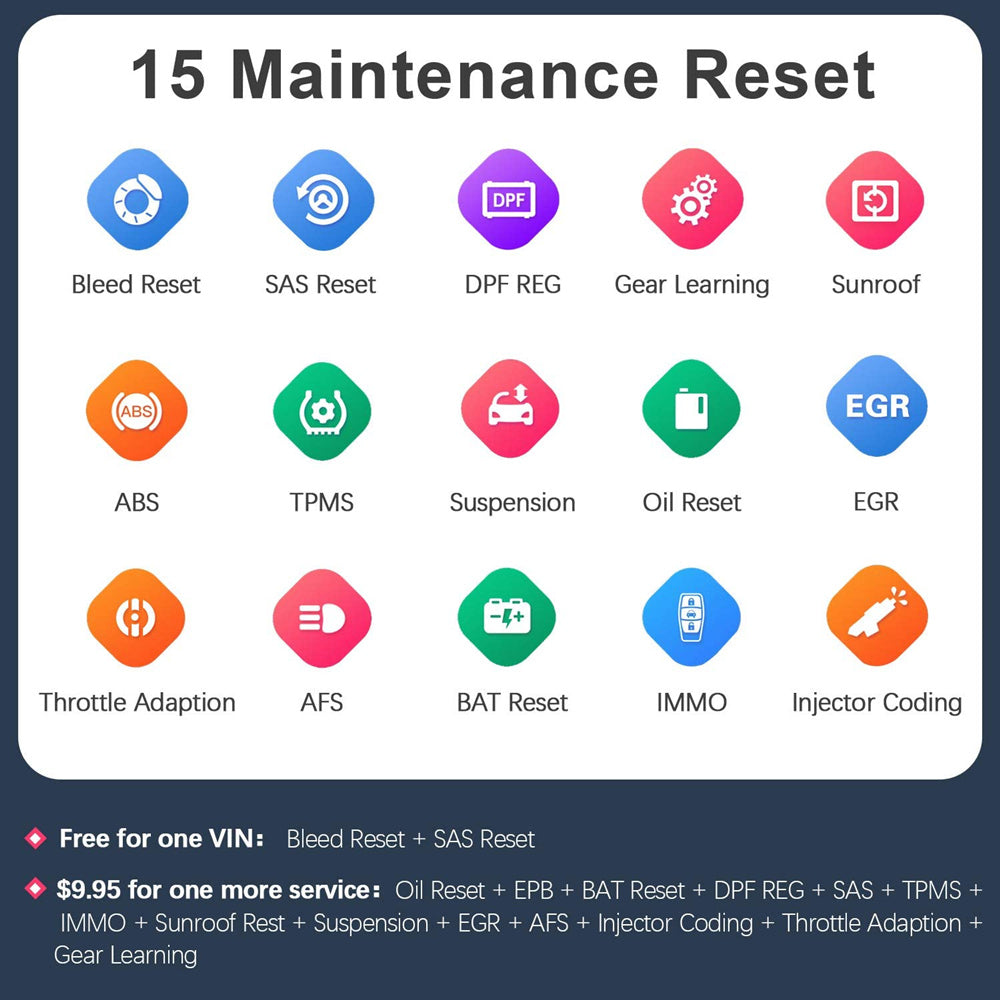 3. OBDII & EOBD Full Functions
Support standard OBD diagnostic protocol, vehicle coverage after 1996.
In addition to the function of reading/clearing code , ThinkCar 2 also support real-time data stream ,and switch status, percentage, and graph are displayed respectively.
1). Real-time data, MIL, IM monitors
2). Freeze frame data
3). Stored DTCs
4). Clear DTCs
5). O2 monitoring tests
6). Test results for continuously and non-continuously monitored systems
7). Pending DTCs
8). Request control of on-board-system or component
9). Request VIN and other data
10). Permanent DTCs
Launch Thinkcar 2ALL 10 Mode OBDII/EOBD Functions:
Mode 1: Read live data stream
Mode 2: Read freeze frame data
Mode 3: Read DTCs(diagnostic trouble codes)
Mode 4: Clear dtcs
Mode 5: Oxygen sensor monitoring
Mode 6: System monitoring
Mode 7: Read pending DTCs
Mode 8: Control operation of on-board system
Mode 9: Read vehicle information
Mode 10: Request emissions-related diagnostic trouble codes with permanent status after a clear/reset emission-related diagnostic information.
Launch thinkcar pro thinkdiag mini new release.
VXDAS, focus on OBD tool since 2008!
Join groups to get more free resource!
Group: https://www.facebook.com/groups/vxdas/
Website: www.vxdas.com
Email: webmaster@vxdas.com