Piwis 3 diagnostic tool for Porsche,  the third generation of Porsche diagnostic tool. New diagnostic system and an upgrade from the previours piwis 2 system, covers all functions of piwis 2 tester. Piwis 3 tester supports all models in the Porsche range and conducts different operating modes, is much better and covers mode function previous version,supports diagnosis, coding and programming via engineering mode for new Porsche models after 2018 released, definitely grow your business to the new highest level of services.
Why Need Piwis 3 Diagnostic Tool?
The diagnostic tool can significantly reduce the vehile breakdown time, as piwis 3 software has the developer Porsche piwis mode intergrated supports
control and comparison of operating parameters; programming of control units; car diagnostics; service functions and technical checks. How to switch piwis 3 software from dealer mode to developer mode? check below:
The device implements full diagnostics and testing of all electronic systems, owner of the scanner will identify a car malfuction and its cause, program the electrnic components of the car and perform several other tasks that will require repair of service.
Comparing with Piwis 2, Why Piwis 3 Is Better?
Unlike the previous modification of the Porsche Piwis 2, the modernized device updates the applicability of the auto scanner by updating the
software and fault codes, and increased productivity; modern user interface; reset service intervals; online programming; demonstration of current data;
Piwis 3 tester displays of freeze frames of malfunctions with parameters at the time of the error;  carrying out a set of works on service maintenance of Porsche cars; activation, deactivation of components; the ability to browse technical documents online; greater work efficiency; integrated troubleshooting system; base for electrical circuits; license auto-renewal.
Which Piwis 3 Tester For Porsche You Should Have?
Since there are many version piwis 3 at the market , car owner or technician is wonder which one is suitable for them,  here provide make comparison for different piwis 3, hope it make help.
1.Piwis III for Porsche with V40.000 Software Installed At Panasonic CF-MX4 Laptop
This Piwis III teste comes with SP44-4 item number, supports update online by USB dongle. Supports diagnosis and programming by engineering mode for Porsche vehicles after 2002 basic function includes:
Read/clear error code
Catch date stream
Computer programming match
Component test
Maintenance information consult
Components site drawing
Wiring diagram
Support login for immobilizer programming(need online account and certificate) and special functions like modification or flashing by engineering mode.
Update Guide:
2. PIWIS III for Porsche with V40.400 Software Installed At Lenovo Yoga i5 8g Touch Screen Laptop
With item number SP36-4 piwis 3 tester comes with dual system software V38.200 + V40.400, supports diagnosis and programming for Porsche vehicles till 2021.
Supports Functions Below:
Read/clear error code
Catch data stream
Computer programming match
Component test
Maintenance information consult
Components site drawing
Does not supports update online and online programming.
Piwis 3(SP44-4) vs. Piwis 3(SP36-4)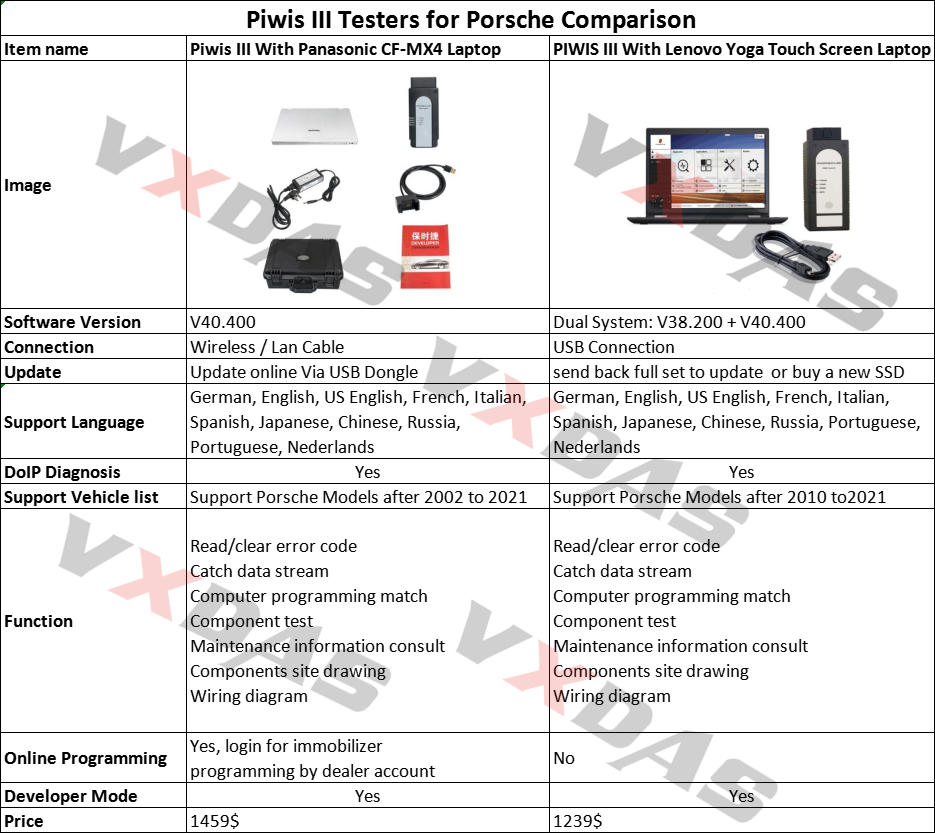 3. Original Piwis 3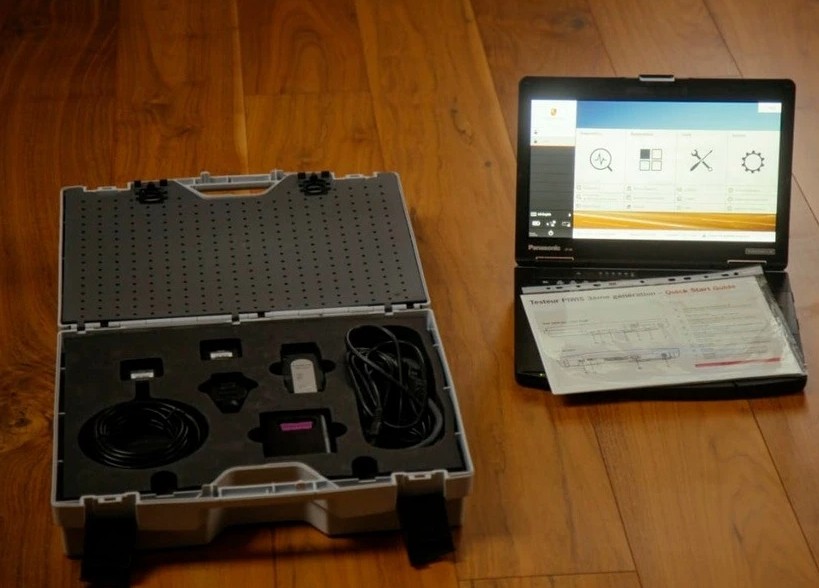 Price £4,000.00 – £5,625.00.
Original Piwis 3 comes with CF-54 laptop and v40 & v38.2 software and Developer Mode ,is the Porsche factory-developed diagnostic coding and programming tool. It stands for Porsche Integrated Workshop Information System.
covers functions including:
1. Diagnostics application
2. Guided fault finding (GFF)
3. Actual values/input signals functions
4. Drive links/tests function
5. Maintenance/repairs function group
6. Coding/programming function group
7. Logging
8. Filter
9. Wiring diagrams application
Supports with navigation map conversion, unlimited license.
Conclusion
Porsche dealer technicians use the original device to perform a multitude of diagnostic and repair functions on your car, but for many car owners price for original device is high, if for daily matainence or repair. For OEM devices, all of them covers almost same function, and perfrom same function with original one. the one supports online update via USB dongle is more expensive than the one with Yoga laptop, but if you are care about software update, SP44-4 with USB dongle is recommandation. anyway, if your car is under warranty, then you don't need any tool. Let the dealer handle any issues that come up.
Enjoy!
People who read this article also read:
1.Piwis 3 Software Update Service 256G SSD Software Only
2.Porsche PIWIS 3 Reviews and FAQs
3.Can Porsche Piwis 3 Work on VAS6154 Head?
VXDAS, Focus on OBD tools since 2008!
Join groups to get more free resource!
Group: https://www.facebook.com/groups/vxdas/
Whatsapp: +8615361020853
Skype: autodiagnostickit
Email: sales007@vxdas.com