Vgate Maxiscan VS890 scanner is an inexpensive but effective tool which covers a large number of vehicles made by 70 manufacturers, supports up to 13 languages including Spanish, Portuguese, Korean, Japanese, Italian, Hebrew, German, French, Finnish, English, Dutch, Danish, Chinese. Functions include Read & erase DTCs; Displays Data stream & Freeze Frame data; Performs O2 Monitor Test & Shows I/M Readiness status;
Retrieve VIN etc. This OBD scanner is adream for the average DIY'er, but not so much for the experienced mechanic. Anyone who likes to work on cars as a hobby will love this scanner.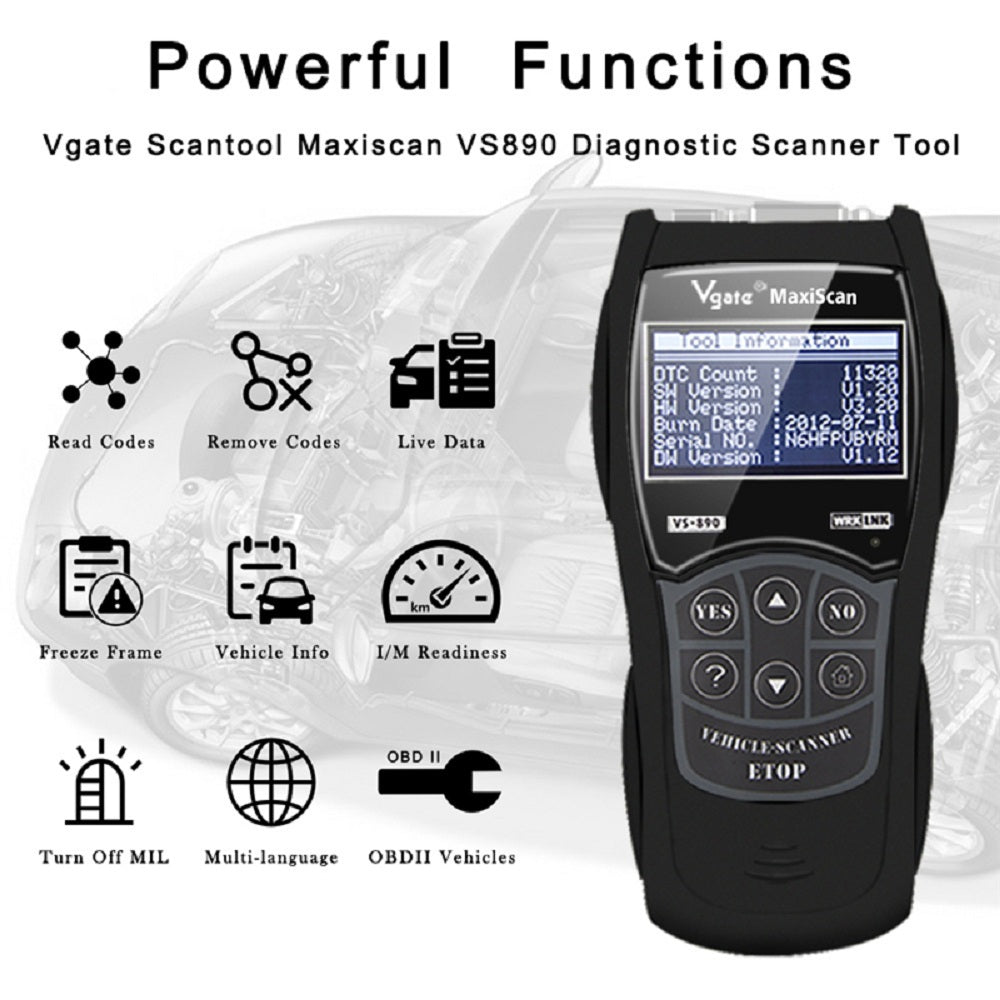 Why Vgate Maxiscan VS890 Needs To Be Considered By Every Vehicle Owner?
1.VGate Maxiscan VS890 will identify the problem with your vehicle. Then it shows you the possible reasons why there was a problem, to begin with. As a result, you can know whether the issue was caused by you or just a result of parts becoming faulty over time.
2.With just a few buttons on the device, even the casual user can figure out how to use the VS890. The easy-to-use design combined with the detailed information it provides makes the VS890 an attractive option for any vehicle owner.
3. Plus, the Maxiscan VS890 will pay for itself in just a few uses, and sometimes a single-use. When you can run the scan yourself, it saves a lot of time and money.
4. It's a reliable device that gets to the root of the issue. Instead of having to visit a mechanic, you can find out what's really wrong with your vehicle.
Vgate Maxiscan VS890 Pros & Cons

Vgate Maxiscan VS890 Pros
The Vgate Maxiscan VS890 allows you to fix the problem in your vehicle yourself. This scan tool significantly reduces the amount of time it takes for a mechanic to work on it. When you can accurately diagnose the issue before even taking it to the mechanic, you can save an hour or two in labor costs, which means that you can save several hundred dollars.
The 3" LCD screen is plenty large enough for you to read the codes the device gives you. Whether you have a dark shop or are in direct sunlight, you won't have any problems reading the display.
This Maxiscan VS890 is also vibration proof. So if you have it sitting on spots with intense vibrations, you won't have to worry about damaging the device.
One neat thing about this device as well is it offersmultilingual options. So whether you speak English, Spanish, Korean, Japanese, Portuguese, German, Hebrew, Italian, French, Chinese, Dutch, Finnish, or Danish, the Maxiscan VS890 has you covered.
And speaking of versatility, the Maxiscan VS890 supports several OBD protocols, including SAE, CAN, VPW, PWM, ISO, or KWP.
It works on most vehicles made in 1996 and later, as long as the car is OBDII compliant and made in the US, Europe, or Asia.
Vgate Maxiscan VS890 Cons
There aren't many things not to like about the Maxiscan VS890. However, as with many comparable OBD scanners, this one isn't compatible with all vehicles. You'll need to read up on it before you purchase to ensure it will work with your specific vehicle.
Also worth noting is that it is not compatible with the Windows 10 system. You should keep that in mind if that's the system you operate on most often.
From a functionality standpoint, though, there really isn't anything to complain about with this OBD scanner. Most complaints come from people who didn't do their homework to see if their vehicle was compatible with the device.
Vgate Maxiscan VS890 SUPPORT PROTOCOL
SAE J1850 PWM
SAE J1850 VPW
ISO9141
KWP FAST INIT
KWP 5BAUD INIT
CAN 11BIT 500K
CAN 29BIT 500K
CAN 11BIT 250K
CAN 29BIT 250K
CAN_USER1 11B 125K
CAN_USER1 29B 125K
CAN_USER2 11B 50K
CAN_USER2 29B 50K
Full CAN BUS support for new cars
11 Bit and 29Bit CAN
Capable of communicating with multi-ECU System
Enjoy!
Related Posts:
1.Autel MaxiDiag MD806 Best OBD2 Scanner 2021
2.Nexzdas lite full-system obd2 scanner nexzdas lite diagnostic interface Reviews
VXDAS focus on OBD tools since 2008!
Join groups to get more free resource!
Group:https://www.facebook.com/groups/vxdas/
Website: www.vxdas.com
Whatsapp: +8617304481179
Skype: autodiagnostickit
Email: sales007@vxdas.com