Xhorse VVDI Prog is original powerful EEPROM ECU MCU programmer. VVDI Prog latest software already update to V4.8.2. VXDAS would like to share the detailed information and software download link for you.
Xhorse VVDI Prog Overview:
Software Version: V4.8.2
Firmware Version: V2.0.0
Update Method: Built-in update software
Connection: Via USB, more stable and fast
Multi-Languages: English, Arabic, Czech, French, Italian, Polish, Portuguese, Russian, Spanish, Turkish, Chinese.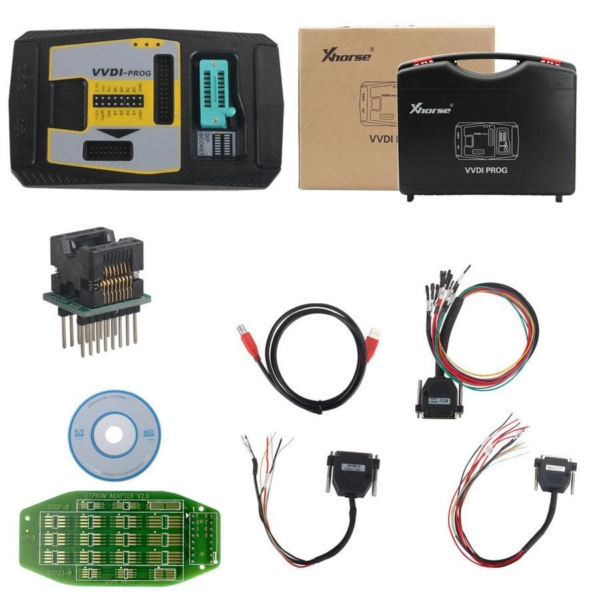 Xhorse VVDI Prog Functions:
Support R&W lots of chips, include MC9S08 seri s, MC68HC(9)12 seri s, MC9S12 seri s, V850 seri s, H8X seri s, R8C seri s, PCF79X series
and most e prom chips etc. u Sup ort chip dat verify, check blank function.
Support dat file compare function.
Support R&W BMW N20, N5 ECU ( show ISN directly ).
Stable R&W MC9S12XE seri s chips (5M48H/1N35H/2M53J/ M25J etc.)
Support en w PCF79X remote, cur ently sup ort BMW E/F seri s
Lots of con ection diagram.
Xhorse VVDI Prog V4.8.2 Software Download Link:
https://mega.nz/#!i041TQbL!d1Ia-TRZn7Jep6pteBzC3qazV2EP1Ph_cAxZ9snQB8g
Password: 123456
VVDI PROG V4.8.2 Update Information:
* Update time: 2018-4-25
* This version DON't need update firmware.
* Fix picture MC9S12-SECURED.jpg
+ Add VVDI PROG USER MUNUAL 4.8.2 version in Doc folder
+ Add R5F10C/D_Data_8KB_Read; R5F10C/D_Data_8KB_Write; R5F10C/10DxC_Flash_32KB_Read; R5F10C/10DxC_Flash_32KB_Write; R5F10C/10DxD_Flash_48KB_Read;
R5F10C/10DxD_Flash_48KB_Write; R5F10C/10DxE_Flash_64KB_Read; R5F10C/10DxE_Flash_64KB_Write; R5F10DxF_Flash_96KB_Read; R5F10DxF_Flash_96KB_Write;
R5F10DxG_Flash_128KB_Read, R5F10DxG_Flash_128KB_Write; R5F10DxJ_Flash_256KB_Read; R5F10DxJ_Flash_256KB_Write; R5F10DxK_Flash_384KB_Read;
R5F10DxK_Flash_384KB_Write; R5F10DxL_Flash_512KB_Read; R5F10DxL_Flash_512KB_Write; R5F10CxBx_Flash_24KB_Read; R5F10CxBx_Flash_24KB_Write;
options in <2-MCU>-><RENESAS-RL78-D1A>.
+ Add R5F104XX_Data_4KB_Read; R5F104XX_Data_4KB_Write; R5F104XX_Data_8KB_Read; R5F104XX_Data_8KB_Write; R5F104xA_Flash_16KB_Read; R5F104xA_Flash_16KB_Write;
R5F104xC_Flash_32KB_Write; R5F104xC_Flash_32KB_Read; R5F104xD_Flash_48KB_Read; R5F104xD_Flash_48KB_Write; R5F104xE_Flash_64KB_Read; R5F104xE_Flash_64KB_Write;
R5F104xF_Flash_96KB_Read; R5F104xF_Flash_96KB_Write; R5F104xG_Flash_128KB_Write; R5F104xG_Flash_128KB_Read; R5F104xH_Flash_192KB_Read, R5F104xH_Flash_192KB_Write;
R5F104xJ_Flash_256KB_Read; R5F104xJ_Flash_256KB_Write; R5F104xK_Flash_384KB_Read; R5F104xK_Flash_384KB_Write; R5F104xL_Flash_512KB_Read; R5F104xL_Flash_512KB_Write;
options in <2-MCU>-><RENESAS-RL78-G14>.
+ Add LAGUNA-UCT-BCM(2013) options in <4-IMMOBILIZER>-><RENAULT>
+ Add LACROSSE options in <4-IMMOBILIZER>-><GM>
+ Add EMGRAND-GL-PEPS(2017) options in <4-IMMOBILIZER>-><GEELY>
+ Add SWIFT options in <7-AIRBAG>-><SUZUKI>
+ Add BALENO options in <7-AIRBAG>-><SUZUKI>
+ Add NEW-REGAL-SAS(2009-2013) options in <7-AIRBAG>-><BUICK>
+ Add A6L-LEVEL-REGULATOR(2014) options in <8-OTHER>-><AUDI>
+ Add IX35-POWER-DISTRIBUTOR(2014) options in <8-OTHER>-><HYUNDAI>
+ Add 740-PLG-COMPUTER options in <8-OTHER>-><BMW>
+ Add NATURAL-GAS-CONGPUTER options in <8-OTHER>-><CHANGAN>
For more information about the tool, please refer to www.vxdas.com to check Xhorse VVDI Prog.
Finally, for more software free download, please click link below:
VXDAS Official Blog Software Free Download
Professional Diagnostic Solution & Service Supplier
Website: www.vxdas.com
Follow Us To Get More Free Resource
www.facebook.com/groups/vxdas/