Car battery tester is a necessary tool for your car maintenance, inspection and repair. imagine that Having your car's battery unexpectedly die can really throw a wrench in your day. You can routinely check the state of your car's battery, so that you know exactly when your car's battery is on its way out, allowing you to get it replaced before it completely dies and can't hold a charge.
VIDENT iBT200 Car battery Tester
Vident iBT200 is a powerful car battery tester for 12&24v passanger car and heavy duty truck, it is uesd for lead-acid starting battery, test cranking system and charging system. 100 to 2000 CCA car battery analyzer, is the best tool in the fileds of battery sale at 2020.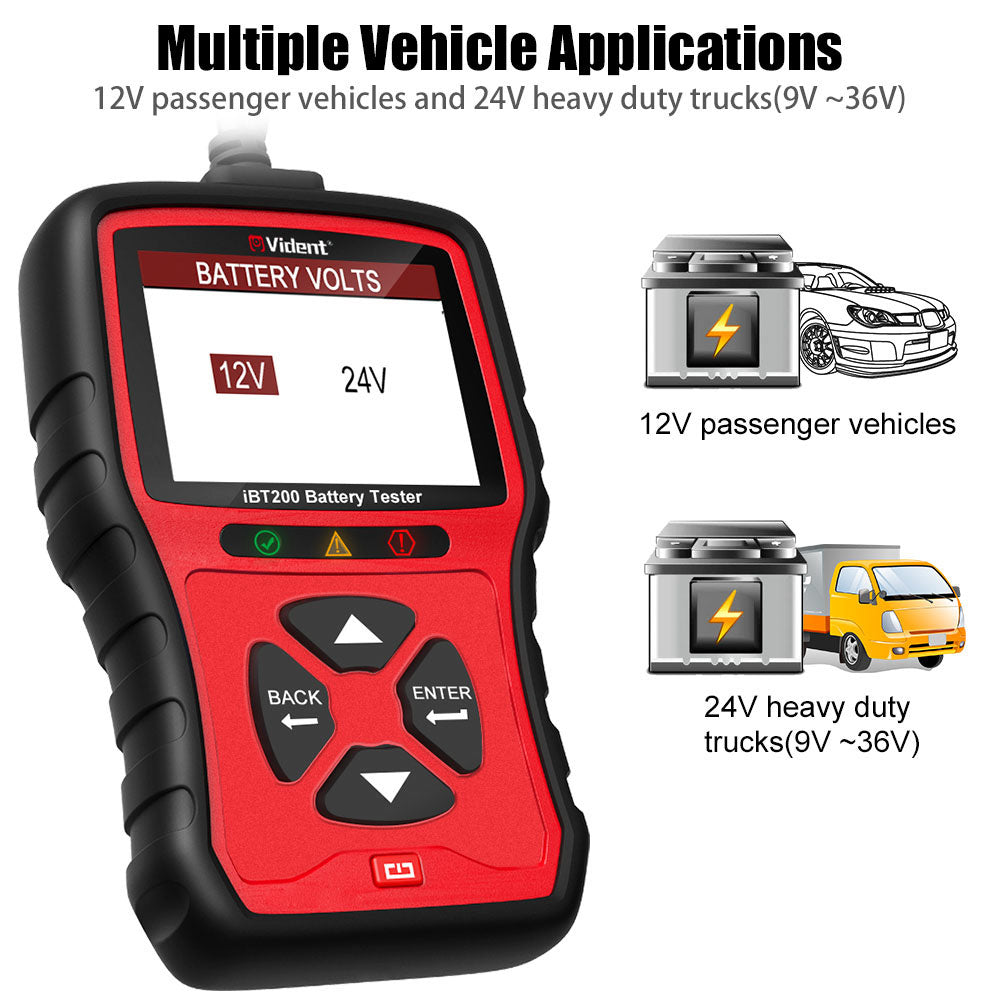 VIDENT iBT200 Highligts
1. Multiple vehicle applications – 12V passenger vehicles and 24V heavy duty trucks(9V ~36V)
2. Test batteries rated from 100 to 2000CCA
3. Multiple battery types testing – VRLA, GEL, AGM, SLA
4. Multiple rating systems testing – CCA, JIS, DIN, IEC, EN, GB
5. Directly test the battery on the car, without battery moving
6. Test options: battery test, cranking test and charging test
7. Quick and accurate to achieve test results in 3 seconds
8. Doesn't emit light, heat or spark, or discharge battery – keep operation safe for all levels of users
9. Extremely easy to use with large backlight LCD display and menu-driven operation
10. Three color lights to indicate battery conditions
11. Multi languages: English, German, Italian, French, Spanish, Portuguese, Hungarian, Polish, Slovak, Czech, Russian, Dutch, Swedish, Japanese
Vident iBT200 Battery Analyzer Bullet Points
1. Covers 12V Passenger Cars and 24V Heavy Duty Trucks.
2. Battery state of health (SOH) and test result reference table.
3. Cranking test.
4. Ripple test.
5. Language reset.
Foxwell BT-715 Car Battery Tester
Foxwell BT-715 replaced Foxwell BT-705, supports 12V&24V, provide a quick, easy and affordable solution for technicians to check battery health and detect faults of startingand charging system. This newly design BT-715 car bettery tester aims to test start-stop battery test function, no power specification.
Foxwell BT-715 Battery Analyzer Features:
1. Tests batteries from rated from 100 to 2000CCA
2. Tests multiple battery types – regular flooded, AGM flat plate, AGM spiral and gel
3. Tests start-stop AGM and EFB batteries
4. Tests multiple rating systems – CCA, CA, MCA, JIS, DIN, IEC, EN, SAE
5. SOC, SOH and resistance test result display makes technicians easier and faster to judge the battery status
6. Tests the batteries on the car directly – no need to remove the battery
7. Quick and accurate test results in display in just 3 seconds
8. Tests 12 & 24-volt charging system
9. Advanced starter/alternator test
10. Quick starter analysis without disabling the ignition
11. Does not emit light, heat or spark, or discharge battery – keeps operation safe for all levels of users
12. Multilingual menu and test results – English, Spanish, French, German, Dutch
Foxwell BT-715 Tests Multiple Rating Systems:

 Foxwell BT-780 VS. BT-715 VS. BT-705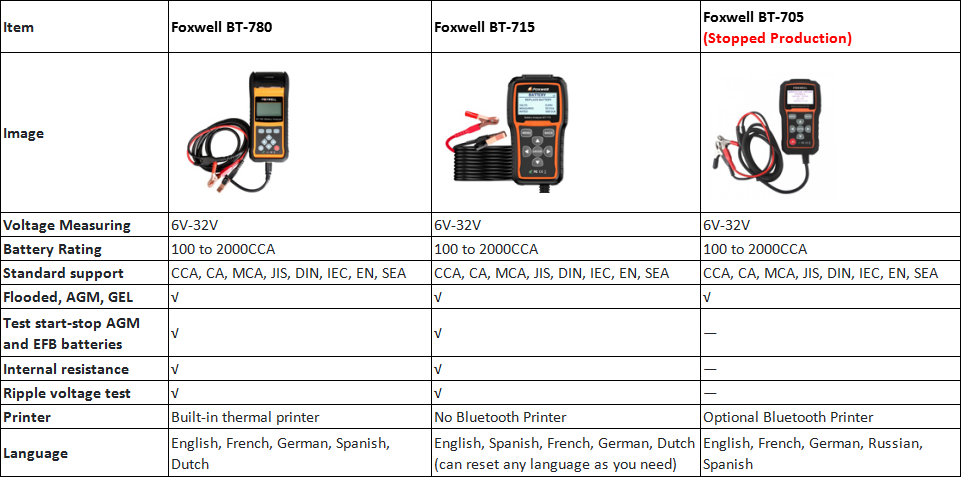 Conclusion
Vident iBT200 cover 12V passenger vehicles and 24V heavy duty trucks(9V ~36V), but the BT715 Battery Tester can test 12V batteries only, but 24V starting and charging system is supported. It can not test 24 batteries!, if you need both 12V passanger and 24V heavy duty truck, Vident iBT200 will be the best choice.
Join groups to get more free resource!
Groups:https://www.facebook.com/groups/vxdas/
Website:www.vxdas.com
Whatsapp:+8615361020853
Skype:autodiagnostickit