OTOFIX BT1 Lite is a wireless battery tester which can be controled by battery tester APP ( Android & iOS ) or OTOFIX tablets, with future-proof technology , in line with the evoloving trends of the automobile industry, BT1 lite offers battery testing solutions for vehicles of yesterday, today, and tomrrow. BT1 lite expands your battery servicing capability by testing all battery types including flooded, AGM, AGM_Spiral EFB, and GEL.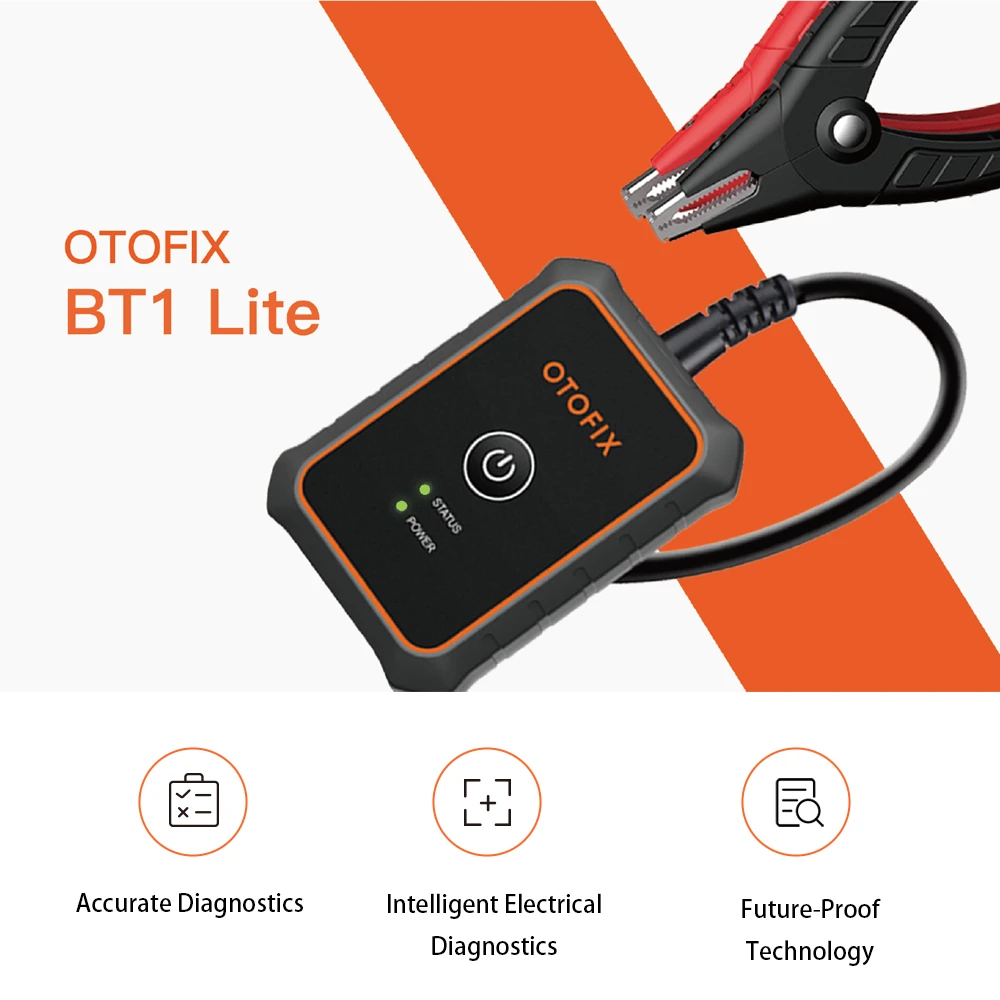 OTOFIX BT1 Lite Highlights
1. Wireless battery and electrical systems tester controlled by the Battery Tester App.
Battery Test App can be installed on normal iOS, Android mobile devices, or OTOFIX D1/D1 Lite diagnostic tools.
Search for Battery Test in APP Store or Google Play to download and install the App to your device.
Open the Battery Test App and follow on-screen instructions to complete the registration and pair the BT1 Lite
2. Exclusive Adaptive Conductance Technology
3. Paired with Battery Tester App on your smartphone
4. Illustration instruction guides for battery positioning
5. Perfect Match with OTOFIX D1/ D1 Lite: Rich Smoothness and Efficiency, Beyond your expectations
6. Adaptive Conductance Algorithm for Both in-Verhicle And Out-of-Vehicle Tests
OTOFIX BT1 Lite Functions
1. Accurate Diagnostics
Adaptive Conductance technology provides more accurate test results
Reduce misdiagnosis
Diagnose low-capacity batteries
Reduce need to charge and retest
2. Intelligent Electrical Diagnostics
Comprehensive diagnostics solutions for testing 12V/24V batteries and electrical systems
Deliver more decisive results using the Adaptive Conductance algorithm for both in-vehicle and out-of-vehicle tests
Provide complete diagnostics for electrical systems with automated database-driven processes
OTOFIX BT1 Lite Supports Battery Types:
1. Battery Ratings:
CCA, CA, MCA, JIS, DIN, SAE, IEC, EN, EN2, BCI, GB
2. Battery Types:
Test Flooded, AGM, AGM_Spiral, EFB and GEL Batteries
Test 6- and 12-volt Batteries: 100 – 2000 CCA
Test 12- and 24-volt Cranking/Charging Systems
OTOFIX BT1 lite enables you to access the health and condition of your battery quickly and easily without breaking your bank.
Enjoy!
Related post:
1.OTOFIX BT1 Battery Tester Lifetime Free Update Online
2.OTOFIX IM1 New Key Programmer Review
3.Autel IM608 Professional Key Programmer Reviews 
Join groups to get more free resource!
Group: https://www.facebook.com/groups/vxdas/
Website: www.vxdas.com
Whatsapp: +8615361020853
Skype: autodiagnostickit
Email: sales007@vxdas.com