OTOFIX BT1 professional battery tester from new brand OTOFIX which is developed by Autel company. OTOFIX BT1 comes with smart 5.5 in. touchscreen, combined with OTOFIX Cloud Services, provides a comprehensive battery analysis solution from diagnosis to repair, supports all system diagnosis as well.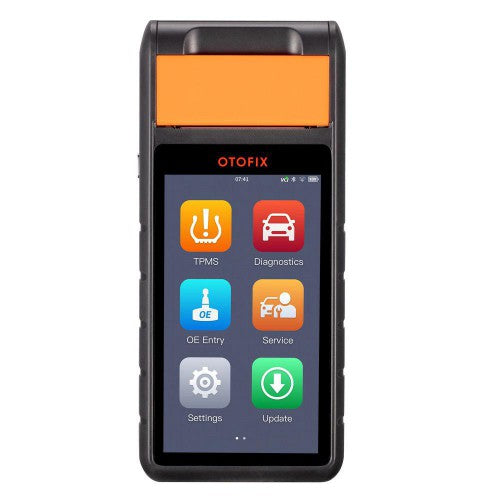 OTOFIX BT1 Battery Tester Highlight
1. Lifetime Free Update Online
2. Print and Email Customised Report
3. BMS Reset: Broaden your service expertise
4. Smart System Detection: Bolster confidence
5. Comprehensive Systems Diagnostics, unleash more possibilities
6. Accurate Diagnostics: Advanced testing methods, more decisive results
7. Multi-Language Supported: English, German, French, Italian, Dutch, Polish, Spanish, Portuguese, Russian, Swedish
8. Dynamic Service Experience, Faster and Easier Operation:The BT1 offers a rich user experience with a large touchscreen and on-screen support resources
Offers Simple Navigation
Improve Service Effectiveness with Its 5.5-Inch Color LCD Screen
OTOFIX BT1 Functions
1. Electrical System Reset
2. Auto Registration After Battery Replacement
3. All System Diagnostics with Subscription
4. Graphic Instructions for Battery Replacing and Testing
5. Guided Battery Replacement Procedure with Prompted Memory Reset
6. AutoVIN to identify Battery Parameters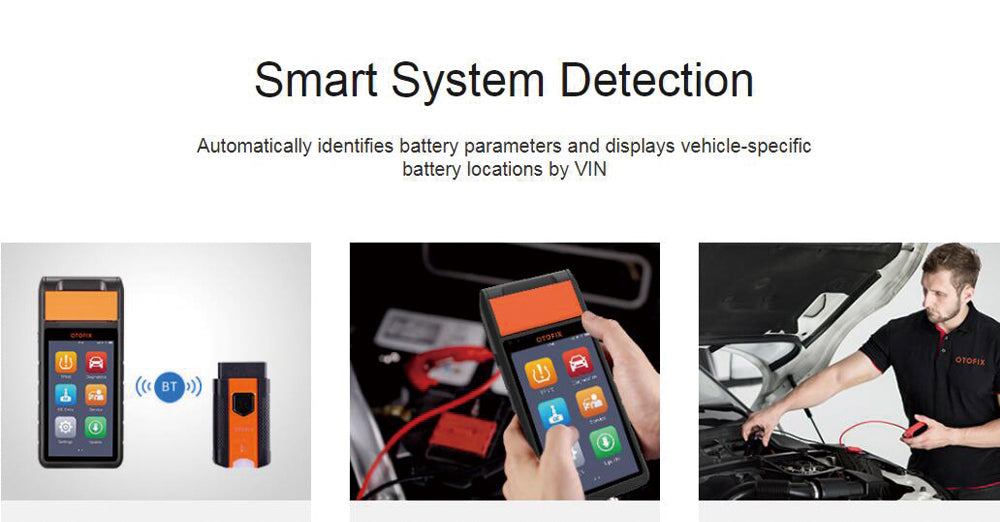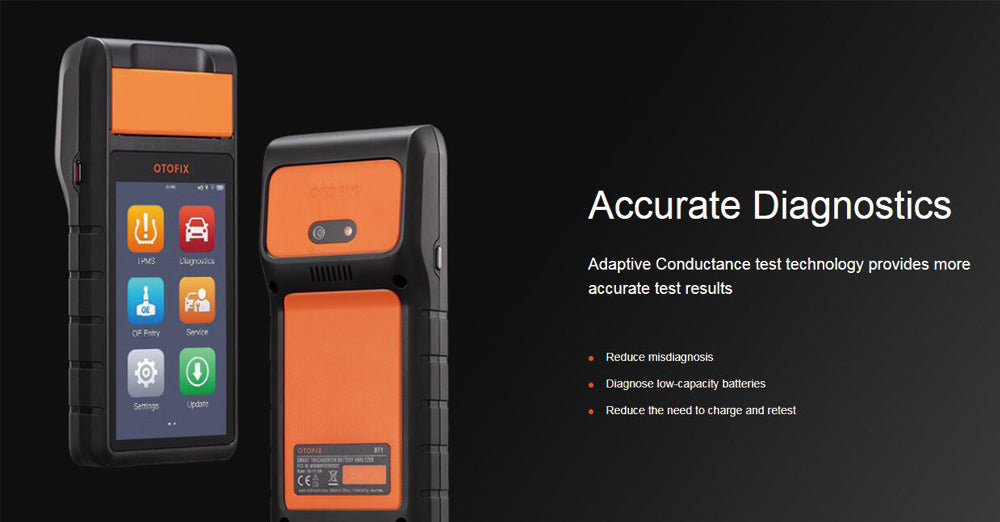 OTOFIX BT1 Supports Battery Types
1. Battery Ratings:
CCA, CA, MCA, JIS, DIN, SAE, IEC, EN, EN2, BCI, GB
2. Battery Types:
Test Flooded, AGM, AGM_Spiral, EFB and GEL Batteries
Test 6- and 12-volt Batteries: 100 – 3000 CCA
Test 12- and 24-volt Cranking/Charging Systems
See What Customers Said About OTOFIX BT1
Review 1:
Completely standalone battery tester and electrical system analyzer
it's very handy and for both professional and personal use.
It come in a hard plastic case, open it up, there are a V200 VCI for bluetooth connection. It's said to test flooded or wet cell batteries and AGM aka absorbed glass mat as well as AGM Spiral and others. I have tried on flooded battery. After starting the connection with the VCI and starting the engine, I attached the test leads to the battery and tab in the vehicle test, the tool recognized the application in seconds by the wireless vci and detected VIN automatically, then it read the Battery Type, Battery standard, Battery capacity. Then the tool guided me through the steps required to initiate the in-vehicle test.
Review 2:
Can function as a diagnostic case
I am looking for a battery tester that tells the truth. The testers under 50 € on amazon never work and suddenly I said to myself this time you have to find a good product. I found BT1 by chance it is expensive as a battery tester but not at all expensive for a diag case which can clear codes
Enjoy!
Related post:
1.OTOFIX IM1 New Key Programmer Review
2.Best Car Battery Tester 2020 
3.Sigmaprobe Intelligent Circuit Tester Reviews
VXDAS, focus on OBD tools since 2008!
Join groups to get more free resource!
Group: https://www.facebook.com/groups/vxdas/
Whatsapp: +8615361020853
Skype: autodiagnostickit
Email: sales007@vxdas.com