ISTA BMW Software V2020.11 comes with ISTA-D: 4.25.40 and ISTA-P: 3.67.1.000, supports diagnosis, offline programming and coding for  Mini,  Motorcycles, Rolls Royce, BMW i Series till 2020, latest BMW software is compatibale with ICOM A2+B+C and ICOM NEXT A.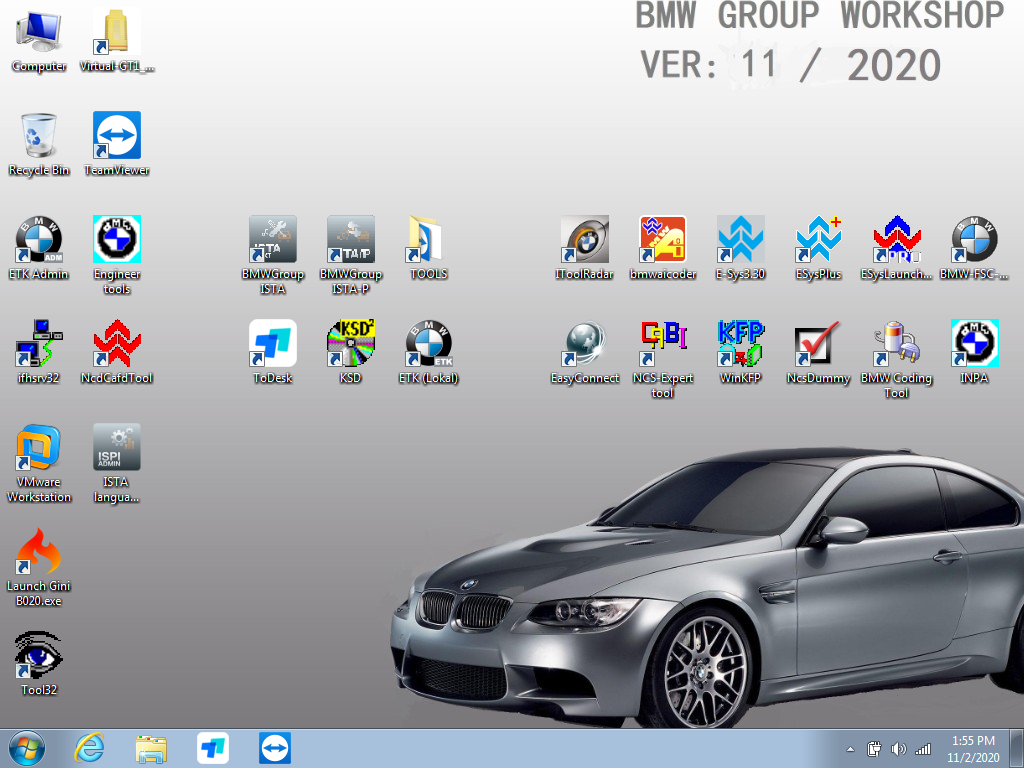 ISTA BMW Software V2020.11 Overview
Sofware type: HDD or SSD
Support system: Win7 64bit
Multi-language including: ISTA/D(Wiring diagram) Languages: English(Default), French, Spanish, Portuguese, Dutch, German, Thai, Italian, Russian, Korean, Japanese, Chinese, Swedish, Greek.
Operation system requirement: At least I5 Generation 2 with 4G Memory. (4G RAM should be full 4G)
V2020.11 ISTA BMW Software Contains:
ISTA-D: 4.25.40
ISTA-P: 3.67.1.000  Support BMW motorcycle and electric car programming
VIN: 2020.09.22
SDP programming database: 4.25.40, support muilti language
ETK: 2019.12
KSD: 2019.11
INPA 5.00
winkfp 5.2.3
NCS 3.5.1
BMWAi: 4.6
E-SYS V3.27.1 and V3.30, database V67.0, E-SYS 3.31 Chinese version
E-SYS PRO 2.8 (Newly Added)
Database V67.0
Dr. GINI B020
FSC navigation arithmetic software and IBAC code
Add BMW old car DIS software, DISV57 and DISV44, diagnosis and programming
Not connected 9000 days remaining
How to change language for ISTA BMW software? check here 
VXDAS, focus on OBD tools since 2008!
Join groups to get more free resource!
Group: https://www.facebook.com/groups/vxdas/
Website: www.vxdas.com
Email: sales007@vxdas.com
Whatsapp:+8615361020853