MOE Vediamo and DTS MONACO training book 2 in 1 is for Benz engineering software , contains user manual and guide for professional Mercedes Benz Garage and locksmith. This book is going to tell you Vediamo and DTS Monaco used for what, how to use and where to go.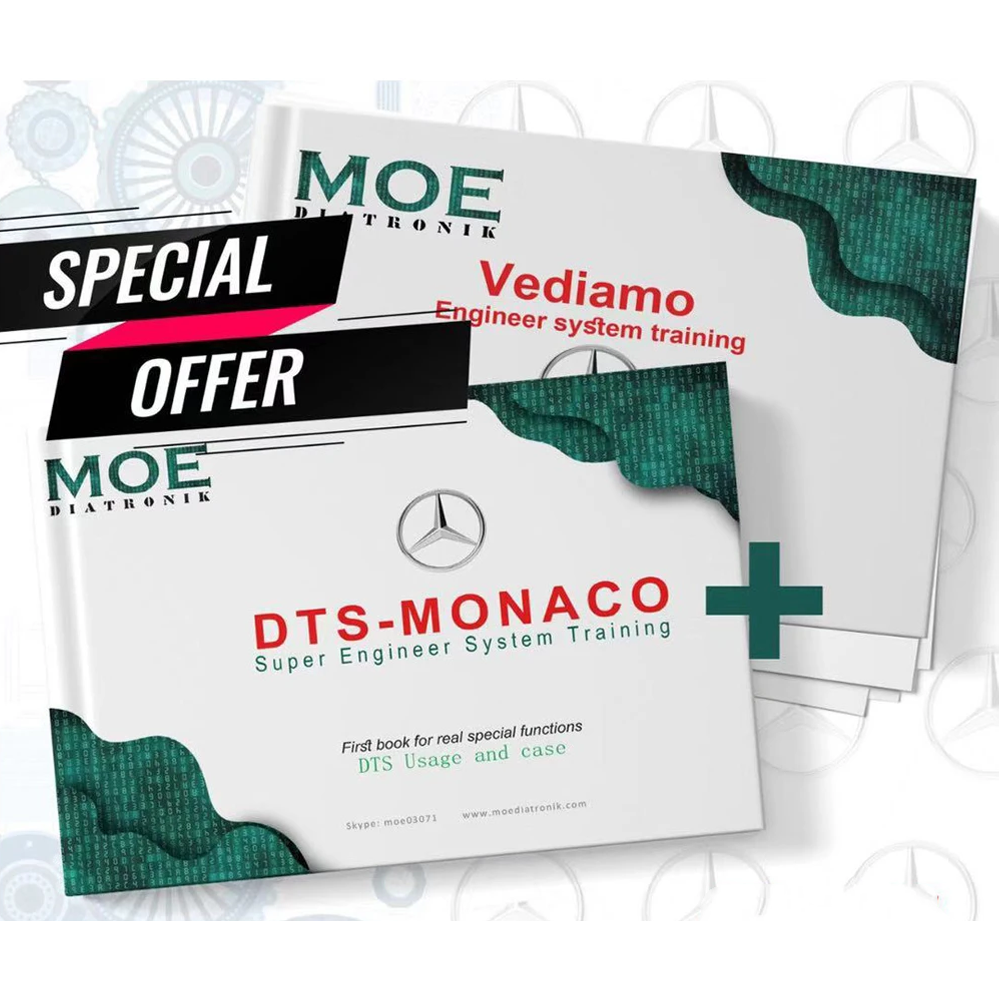 Why You Need Vediamo & DTS MONACO Training Book?
Firstly, All vehicle which equiped with dual multifunction camera, i could enable traffic sign assist if your car does not have this function. Because MB hide it and they could sale the function for moeny in the future. DTS Monaco training book tell you how to do this.
Secondly, all vehicles which equip with parking radar sensor. i could set alarm sound frequency related to the distance to the obstacle, instead of stock only make alarm sound at the red zone(30cm). We call it synchronization.
Third, all vehicles which equip with 360 camera, i could change the disable speed(distract screen engage) allow you can have more time or view around at higher speed.
Fourthly, Change temp. pressure gauge unit on cluster and command online (C<->F, psi<->bar, <->kpa, hp(SAE or DIN), N m<->lb ft).
Fifthly, Disable distract protection (allow Video in motion, spell input to Navi, message while moving and more) Do not use them when you are dirving! DTS Monaco training book tell you how to do this.
Sixth, Remove E-speed limiter, and also you can enable a menu called winter tire speed limiter on cluster, and you can choose how fast you dont want to pass, as low you can set 160kg/h=100mph
Seventh, adding some equipments when the car does not have them installed from factory, even transplant some from other model.(But you need pay a lot to buy those parts compare to buy options installed by facotry when they build the car, and for installation some of them are not easy as plug and play)
Eighth, Enable Blue welcome home light for W beginning VIN W205 equiped with Dynamic head light (IHL) without changing headlight assembly, 55S WF begining…NVM, also vehicle has SA code 608 (automatic high beam switch) could upgrade to code 628 (Automatic high beam switch plus) if you have dual multifunction camera. DTS Monaco training book tell you how to do this.
Ninthly, upgrade all control unit software without online daimler account, also you could downgrade.
Tenth, too many…
Eleventh, in general, all ppl talk about some setting or function they don't like and they want to change, i believe 99% of them can be achieved. 1% is till no solution for Apple Car play and Andorid Auto for W205 before MY2018 without swapping command online unit.
Vediamo Engineer System Training Book Index
1. Engiener main interface
2. Connect with vehicle
3. Connection protocol selection
4. Main button function description
5. Connection module submenu description
6. Read and save module information
7. Fault reading and quick clearing
8. Code saving
9. Control unit change code
10. Control unit SAM data write
11. Control unit programming
12. Change transmission coding
13. Installation of CLA/GLA/A/B
14. Vediamo open GLA200 156AUX
15. 166 Maintenance mileage change 10000KM
16. Cancel Installed engine, max.speed limit ME97
17. Refit 222 original factory memory seat
18. Personalization start and stop Recall
19. Brush 213,238 and stop memory
20. Brush HU5S1 harman audio
21. Add W205 Digital tire pressure
22. Add 176 digital tire pressure
23. Retro fitting W222 P20 Driver assistance system
24. Retro fitting 205 222 hud(IC222)
25. Cancel fuel evaporative emission system
26. 212 cancel the anti-collision aid system A90
27. GLE Gauge radio requency
28. additional battery fault solution for 221 meter
DTS Monaco Training Books
DTS-monaco Special Feature:
1. Quick Test: Entire vehicle ECU quick test, and the test can choose to edit more
2. Variant Coding: Coding with variation add VO- delete VO function
3. ID identification: One click to read the whole car and save all modules programmed numbers
4. Complete Variant Coding: One time to read all the ECU coding vehicle data, can be written to the vehicle again, completely off-line operation
5. Diagnostic Services: Advanced features can see your choice of internal and external data module, turn on the computer authorization(not driving license), Activate ECU, reset ECU, modifying the original chassis number
6. Flash programming: Fully offline programming
7. Diagnostic Trouble Code: Diagnostic module DTC fault code
8. ECU Exchange: Two of the same ECU, by reading data import data exchange
9. Symbolic trace: Record and track the file, after repeated viewing, analysis of fault logic point
With Vediamo & DTS MONACO engineering software, you can even build a car from every single pieces (IF parts FIT), even the model does not exist (create a new car for MB), the Vediamo & DTS MONACO training book help you to make this new car, hahaha.
How to get Vediamo & DTS MONACO software?
Enjoy!
Related post:
1.Xentry Software 2020.06 Free Download
2.Xentry Software for Mercedes Benz User Tips
3.Top 10 Reasons to Get SD CONNECT C4 DoIP
VXDAS, focus on OBD tools since 2008!
Join groups to get more free resource!
Group:https://www.facebook.com/groups/vxdas/
Website: www.vxdas.com
Whatsapp: +8617304481179
Skype: autodiagnostickit
Email: sales007@vxdas.com