The Lishi Lock Pick originated in 2000 when Mr. Li created a reader for Volkswagen door locks. This unique tool allowed users to read wafer depths without first having to trap the wafers within the lock.
Mr. Li's Original Lishi Lock pick 2 in 1 Decoder and Pick is the best car opening tool available on the market. Now, the Lishi Lock Pick tools are widely used by locksmiths, auto body shops, and special industries to configure and unlock locks in daily life. Each tool comes with a guarantee and is made with the finest materials available. Only tools designed and manufactured by Mr. Li, are guaranteed to be Original Lishi tools.
Are lock picking kits legal?
In general, the Lishi Lock Pick tools are not considered illegal in California. However, legality comes into play when it is being used for criminal purposes. For example, if you ever plan to use your lockpicks to open a lock for money, a locksmithing license is required to be able to complete this work.

How to use a Lishi lock pick?
Select the appropriate Lishi Lock Pick for the vehicle lock you're picking.
Insert 

Lishi Lock Pick tool 

into the lock.
Apply tension using the Lishi tension arm.
Using the numbers and picking guide feel for either springy or resistant wafers.
Springy means move on, resistance means binding, and pick it!
Go through the wafers a couple of times and then it opens.
Hot lishi lock pick Tools:
If you are trying to get into lockpicking and while browsing for Lishi lock picks, they were locked specific. The following are popular Lishi lock pick tools types were SC1 SC4 KW1.
SC1 is Schlage C keyway 5 pin
SC4 is Schlage C keyway 6 pin
KW1 is Kwikset 5 pin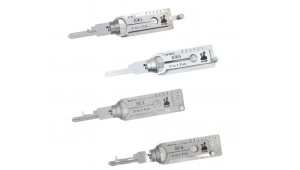 We recommend a more visual video on youtube to help you understand better, if you are interested, please click on the video:
Looking for HU100R lishi lock pick tools?