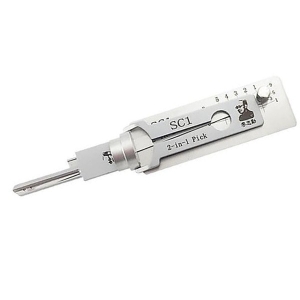 This Lishi SC1 Lock pick 2-in-1 tool works with any 5 pin lock using a SC keyway even if it has spool and master pins. Using the LiShi SC1 Lock pick tool is faster and more convenient. This SC1 lock pick not only saves time but also saves effort. It can be put into our pocket at any time!
Revolutionary Design
Pick and Decode SC, 5 Pin Keyway Locks
Picks Lock With Spool & Master Pins
SC1 is Schlage C keyway 5 pin
KEYWAY: SC1 5-Cut
PINS: 5-Pin Door
CAPABILITY: This tool is for Residential Door locks
Please always look for the 'Mr. Li' face logo for a guaranteed original Mr. Li product. The tools we supply are from the original manufacturer, ensuring quality and supply are guaranteed.
The use of excessive force can damage these tools or render the decoding function inoperable.
If you're on the search for quality Lishi lock pick tools, VXDAS is the right place for you. We only offer high-quality tools and best quality stainless steel. Wear-resistant, anti-scratch, you can use it for a longer time. If you want to see how, pick a lock using your tools from VXDAS, and you'll see how reliable our tools are no matter how many locks you've picked!