Lishi Lock Pick HU100R is one of the most practical locksmith tools to unlock BMW after 2012. Each tool combines a key way-specific molded pick channel, along with a single hook-pick lever, tension bar, and even a decoding interface. Lishi Lock Pick and decoder tools cover by far popular residential keyway.
These LishiLock Pick tools can be so effective in the hands of a beginner is they allow the same precision of pick placement and movement without the practice and building of muscle memory. One of the major advantages of the new Lishi Lock Pick will be the ability to read the depths of the lock once it is picked and you will be able to make a key. Insert the tool all the way in. Parallel to all the pushing rods. Reset the wafers and decode them! few steps to pick the lock! It only takes 5 to 10 minutes you're going to be able to pick these locks and if you practice you're going to be really good.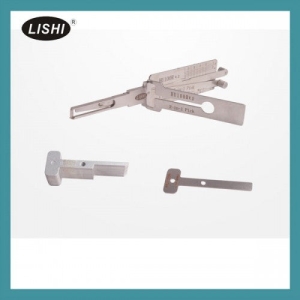 Greatly Reduces Picking Time!
2 in1 tool allows Picking and Decoding
About Lishi Lock Pick HU100R
Clear Tooth Line and Tooth Depth Line:
there are 4 tooth depth lines and 8 tooth lines in Lishi Lock Pick that will help you decode easily and accurately.
High-quality material:
Lishi Lock Pick is made of quality stainless steel. Wear-resistant, anti-scratch, you can use it for a longer time.
Completely genuine:
Each Lishi Lock Pick product is strictly reviewed and confirmed. use it with 100% assured.
How to use Lishi Lock Pick?
Select the appropriate Lishi Lock Pick for the vehicle lock you're picking.
Insert 

Lishi Lock Pick tool 

into the lock.
Apply tension using the Lishi tension arm.
Using the numbers and picking guide feel for either springy or resistant wafers.
Springy means move on, resistance means binding, and pick it!
Go through the wafers a couple of times and then it opens.
Check out the video below to learn how to use the Lishi Lock Pick!
LISHI lock pick, Helps you from the beginning to the profession!
Visit the website to get more free resources!
Youtube: https://www.youtube.com/channel/UCDnsNFLJ2Ebro2Hqvip4JPw
Email: lishilockpick@gmail.com