Mater MST 9001D diesel engine ecu test bench PHS comes with simple and concise appearance, reasonable design and easy-to-upgrade software, newly upgraded matching product for MST-9000+,can completely drive various types of auto computers, sensor signals and fuel injector conditions. MST9001D Diesel PHS computer test bench can work independently as well.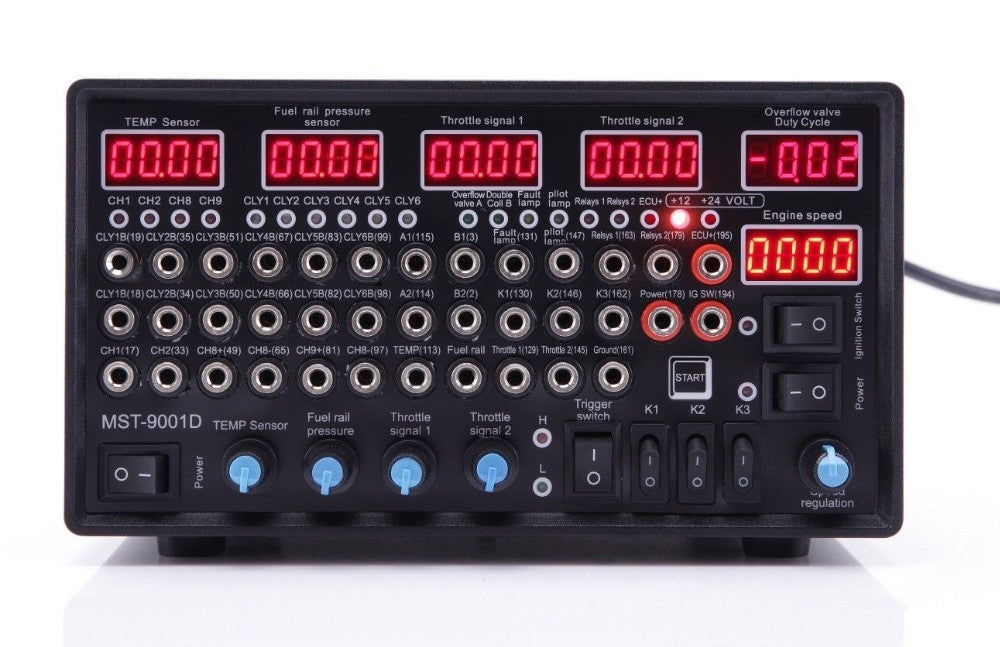 Master MST 9001D Features
1. Equipped with 4 analog signals with digital voltmeter to precisely display the voltage of analog signals
2. Equipped with 4 waveform output channels through which you can edit crankshaft and camshaft signals of various auto models. It is Convenient and accurate
3. Accurately simulate the working condition of diesel injector
4. Equipped with 3 analog switches, you can set the of high-low level output as you please.
5. For the convenience of use, the new model can be stored at computer as the form of terminal data and waveform edited by computer. When needed, you can download the data and waveform to the test bed
6. The machine adopts high-powered switching power supply with the function of short-circuit protection.
7. For the convenience of users to do computer diagnosis, it adopts the OBD computer diagnosis propriety plug to test computer board.
MST 9001D Diesel ECU Engine Tester Schematic Diagram Of the Instrument's Connection Port:
Fuel injector
Analog signal
Switch signal
Actuator signal
The signal of the crankshaft
OBD diagnostic interface
MST 9001D Software User Tips
1. Put the "diesel PHS" folder in the C disk director
2. Open the software and find out "the USB driver files"
3. Double-click the "CH341SER drive"
4. Click"INSTALL"
Automatic installation interface
Driver installed
5. Send "diesel PHS" to the desktop thus create a shortcut
6. Software interface
7. Check the instrument port number in the device manager.
8. If the port number is greater than the COM9, please click the right mouse button and select properties
9. Select advanced in the port Settings
10. Set the port within COM9
11. Select a serial port Setting to do port Settings
End.
Related Posts:
1.Fcar F508D Multi-Brand Truck Diagnostic Tool New Release
2.Ialtest Link Truck Diagnostic Tool V12.2 Software Free Download
VXDAS, focus on OBD tools since 2008!
Join groups to get more free resource!
Group: https://www.facebook.com/groups/vxdas/
Website: www.vxdas.com
Whatsapp: +86117304481179
Skype:autodiagnostickit
Email: sales007@vxdas.com