MB Star C6 diagnostic tool is the latest generation of Mercedes diagnostic tool, supports DoIP Portocol, covers more functions during SCN Coding than MB Star C4/C5, can be all model series of For Mercedes Benz vehicles. With latest Xentry software 03.2020, supports Benz new cars and trucks till 2020. There are different Benz C6 diagnostic tools on the market, below is comparsion between  MB STAR Benz VCI and Benz C6 OEM,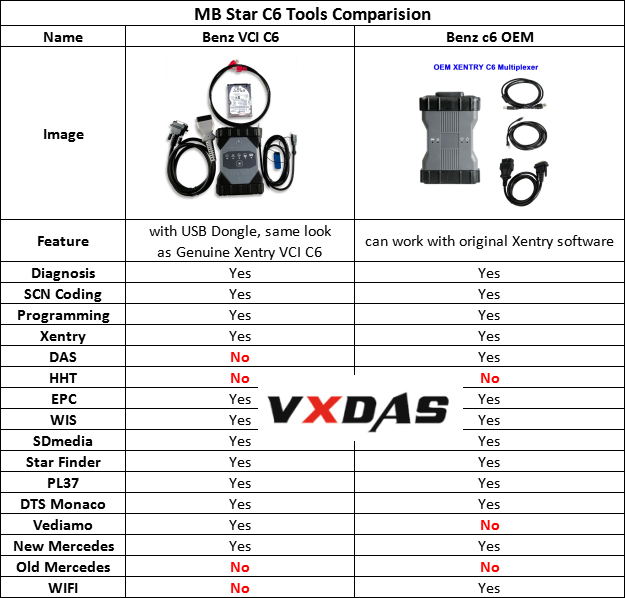 With MB STAR C6 Diagnostic tool what you can do?
Reading faults
Fault removal
Real-time parameters
Component calibration and examination
Integrated technical system
Mounting and wiring diagrams
diagnosis, programming and coding
…
MB STAR C6 Diagnostic Tool Reviews
Benz C6 VCI
1."Benz C6 VCI have more function than mb star c4/C5″
2."it is easy to configure and LED screen helps quickly identify the number, software version and IP address."
3."VCI has no screen"
3."It looks "Bosch VCI" but the contents are "eCOM"."
4."In addition, the contents of this attached HDD will not start unless the new "Chinese LOCK" is installed and there is no attached "USB dongle"
5."software have no Start Key Center for activate the Xentry software, also your VCI can work just with your software, we can't accept it"
6."the vci not working by wifi"
7."it is not Xentry VCI. It is ecom in vci case"
8."not working with DAS"
Benz C6 OEM
"this C6 support DOIP, work with model W213/205 well"
"received benz c6, just tested , very well, thank you"
"Everything works fine! The goods correspond"
"Mercedes BEZN C6 OEM DOIP support online SCN coding but not support offline programming"
"this tool is  VCI DoIp Pass Thru interface, not Xentry C6 oem!"
Conclusion for MB STAR C6 Diagnostic Tools
MB STAR C6 VCI is not Xentry C6 VCI just same case with genuine one and ecom content, doesn't supports wifi and DAS, only works with facotry software, if you need Xentry C6 VCI Chinese clone, this is not recommended, DoIP is table and more. MB STAR C6 OEM DoIP works well, and supports DAS and WIFI can works with original software. Both of them don't supports old mercedes cars and trucks.
VXDAS.COM Focus on OBD Tools Since 2008!
Join gruop to get more free resource!
Group:www.facebook.com/groups/vxdas/
Whatsapp:+8615361020853
Skype:autodiagnostickit
Email:sales007@vxdas.com