obdstar odo master is Android-based odomaster adjustment tool, support not only mileage correction but also reset and OBDII functions, with wide  model coverage odomaster supports more vehicles year from newer to older, meet the actual needs of different users such as automobile repair plants and fast repair shops.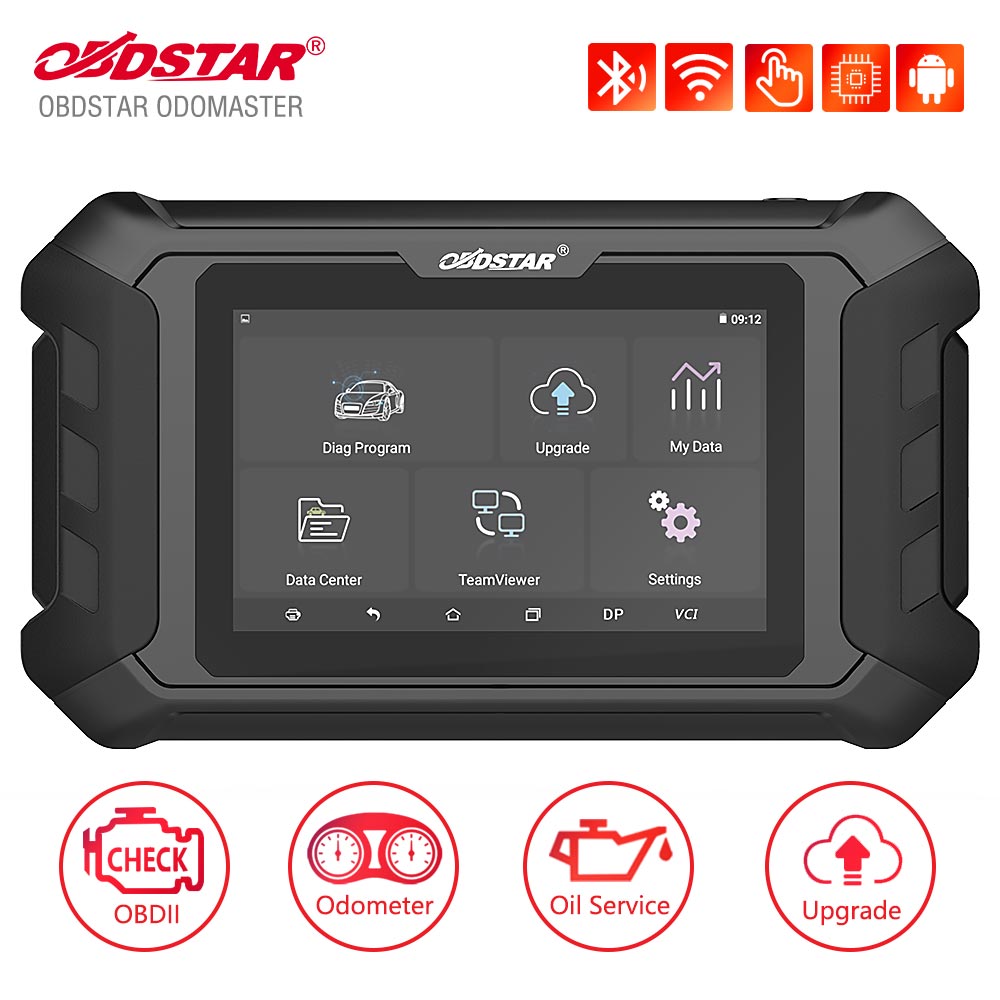 OBDSTAR ODO Master Highlights
easy-to-use, wide model coverage
fast operation and durable
The update cycle is short and fast (updated every 2-3 days)
Free Update Online for 1 Year, after 1year it will cost $300 per year. Dealer Code: 860755B1Strong competitiveness and industry advantage
Some models can support 18/19 years of car (such as GM/Chrysler)
Add a new help function as shown below :(Applicable to some models, R & D information is being update)
OBDSTAR ODO Master Adjust Mileage Via OBDII No Need Token
Toyota camry 2018 via OBDII
Jeep Cherokee 2019 via OBDII
Dodge Charger 2019 via OBDII
Ram 2018- / 300C 2018- / Pacifica 2018- / Durango 2018- / Compass 2018-/ Challenger 2018- /Renegade 2018- / Grand Cherokee 2018- via OBDII
Ford F250 2017- 2018 / F350 2018 / F450 2018 / F550 2018 / Fusion 2013
Chevrolet Colorado Hour 2017- / Colorado 2018 / Corvette 2017
GM Cadillac 2017- CT6/ 2017- XT4 via OBDII
Ferrari California T 2014-
Nissan Kicks 2016/2017- Block ABS via OBDII
Nissan Kicks 2016/2017- Unlock Dash via OBDII
ODO Master Functions
1. Via OBDII
2. Date Backup
3. Date Recovery
4. Read Odometer
5. Write Odometer
6. Odometer Reset
7. Oil Service Reset
8. Read & Clear DTC
9. One-Click Upgrade
10. Instruction Documents
11. Wide Vehicle Coverage
OBDSTAR ODO Master Car List Download
OBDSTAR ODO Master Car List and Functions
Related articles:
1.Obdstar Odo Master Full/Standard/Basic Verison Comparision
2.OBDStar Odo Master X300M+ Odometer Correction Overview
3.OBDSTAR ODO Master & X300M Odometer Correction Tool Comparison
VXDAS, focus on OBD Tools since 2008!
Join group to get more free resource!
Group: https://www.facebook.com/groups/vxdas/
Whatsapp: +8615361020853
Skype: obd2motor
Email: sale007@vxdas.com