OEM DOIP VCI BENZ BMW ODIS JLR 4 in 1 diagnostic tool software includes Mercedes Benz Xentry sofwtare, BMW ISTA sofwtare, VW/AUDI ODIS software, Jaguar Land Rover software. These 4 softwares has be installed in 1TB SSD.
1.What is DOIP?
DOIP is ISO 13400 diagnostic protocol
ISO 13400-1:2011 describes the general use cases and communication scenarios which are covered by an Internet Protocol-based vehicle communication standard. Each use case drives specific communication capabilities of the vehicle communication interface, for instance in order to be interoperable in an existing computer network.
The diagnostic communication over Internet Protocol (DoIP) protocol supports the standardized service primitive interface as specified in ISO 14229-2.The descriptions in ISO 13400-1:2011 cover different application layer implementations, such as:
enhanced vehicle diagnostics (system diagnostics beyond legislated functionality, non-emissions-related system diagnostics);
WWH-OBD (World-Wide Harmonized On-Board Diagnostics) as specified in ISO 27145-2 and ISO 27145-3.
The mercedes  Land Rover JLR all use this new Diagnostic Protocol now.
2.Where need DOIP device?
when we test mercedes new car like w222 w205
In Audio\Comand section you can find DoIP test page.
If cable is DoIP you will see green mark that DEVICE is Ok.
Xentry will prompt you that other device must carry yellow marks.
OEM DOIP VCI BENZ BMW ODIS JLR + CF53 1TB SSD  Price:10500RMB
weight:6.5kg
corresponding software:the latest version of JLR ,WMD ISTA-D 4.15 ISTA-P 3.66,ODIS 5.1.3,Benz 2019.9
OEM DOIP VCI BENZ BMW ODIS JLR PIWIS II+ CF53 1TB SSD+CF30 128G SSD    Price:10500RMB
weight:12.5kg
corresponding software:the latest version of JLR , WMD ISTA-D 4.15 ISTA-P 3.66, ODIS 5.1.3,Benz 2019.9,Porsche II 17.11.10
Notice:If you need to repair Porsche II vehicles, you also need to be equipped with CF30 computer.
4.Why do you need OEM DOIP VCI?
Handy and easy to operate: you just need to use 1 computer for operation. While for other diagnostic tools,you may need 4 different computers to achieve that.
support DIOP protocol
support BENZ BMW ODIS JLR
support languages:Russian, English, French, Spanish, Italian, German, Portuguese, Japanese, Chinese, Dutch
1pc * OEM DOIP VCI for BENZ BMW ODIS JLR 4 in 1 hardware
1pc*  Panasonic CF53 laptop
1pc * 1TB SSD software ( includes Benz, BMW, ODIS, JLR software)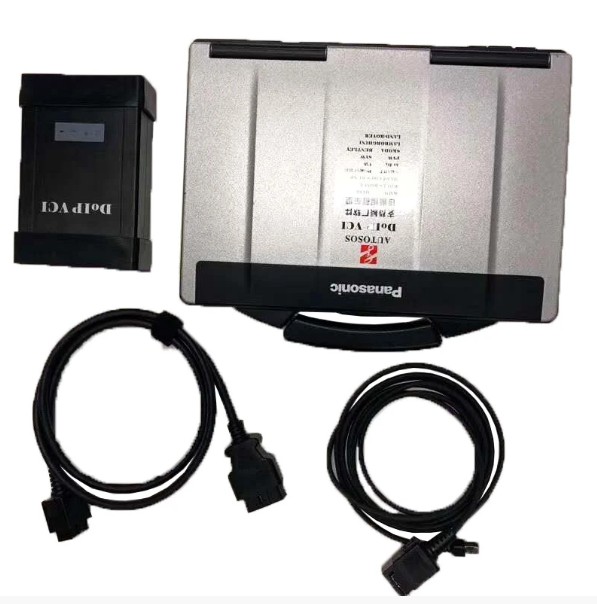 6.Function lists
Read and clear code
Action testing
Programming coding
Circuit diagram
Original location diagram

7.Software List
1. For Mercedes Benz:
Software includes:DAS, XENTRY 2019.9, DTS(Engineering), WIS, EPC
Functions:Action test, read data stream, fault guidance, repair video, online programming, engineer offline programming.
2. For BMW:
Software includes: ISTA-D 4.15, ISTA-P 3.66, BMW Engineering sofwtare, ETK, KSD
Functions:Read and delete fault codes, fault guidance, query of working hours accessories, offline programming by engineers, and hidden by brush.
3. For VW/ Audi:
Software includes:ODIS 5.13, ETKA、ElsaWin、ODIS Engineering sofwtare
Functions:Action test, fault guidance, online programming, short-circuit diagram of maintenance data, and module installation position disassembly method.
4. For Jaguar Land Rover:
Software includes:Old SDD , new Pathfinder, VBF, CBF, Engineer Coder
Function:Read and delete fault codes, parts query, matching, circuit diagram, offline programming Chinese (new and old models are common)
8.What you should pay heed to when placing an order?
If you need to update the software of the OEM DOIP VCI,  you may need to pay 200 USD for a USB flash disk.
The expiry date is 1 year.After the period of validity, you can consult our customer service for price.
Please remember to check software version before buying.
9.You may also have interests in:
Professional Diagnostic Solution & Service Supplier
Website:www.vxdas.com
Follow Us To Get More Free Resource