What is Renolink V1.52?–a professional Renault Programmer
Renolink Renault is the benchmark for programming the electronic control units of Renault and Dacia vehicles, including newer recently manufactured models.
It only support French  at the moment,and it is perfectly compatible with diagnostic interface OBDLink SX USB for your Renault ECU chip preogramming.If there are anti-virus problem with the software,please contact us. We can help you.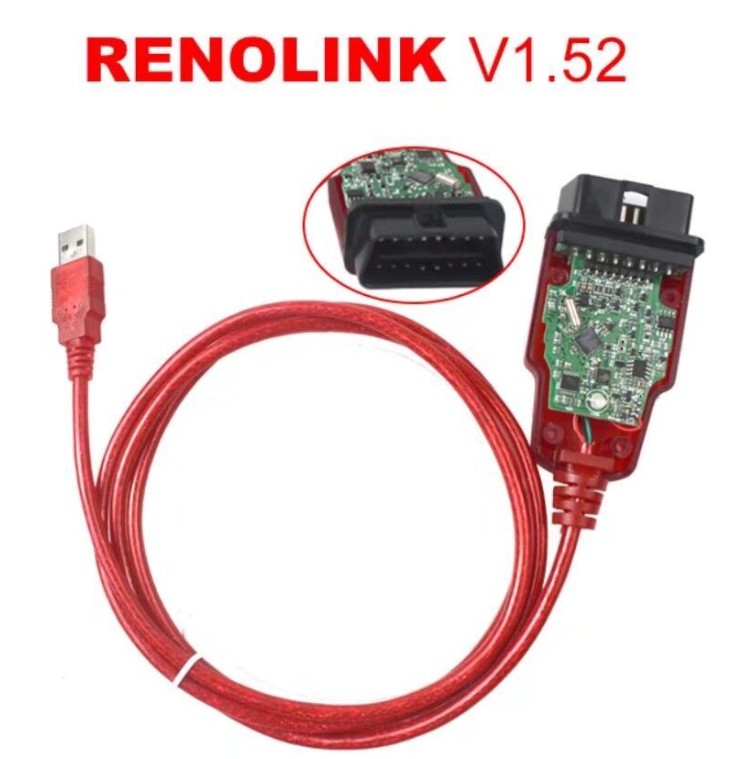 You can connect Renolink programmer device to vehicles via OBD socket, and you can make programming easily and delete memory and introduce units without disassembling ECU, EPROM and flash drives.
It has a lot of features.,likr EPS Virginzer, TDB(cluster) including indicator programming, ECM Programming and UCH Programming ,Key programming,Eprom Read/write including ECU Resetting, Clear Crash SRS, SRS reset and SRS Virginize.
However,Renolink cannot help with Renoault dacia and kangoo programming, magane 2 and saffron 2.5L gasoline.
You can also check the below picture for detailed functions:

What is inside Renolink V1.52 package?
It has two parts as you can see from the picture–RenoLink OBD2 interface and CD for Renault.
It responding software version is Renolink.V1.52.
You can download it here after clicking below link:
https://mega.nz/#!InIVGQZD!9soGISgE6CXh4Cba2nvRNQ9kvgYavuHANTsMpt7Sf0w
As for your concerns for how to install it,you can refer to this article.
It is compatabile with a lot of systems,and if you encounter any questions,you can click here to get one Renolink V1.52 and get the help from our IT team.
Reviews about Renolink V1.52:
If you have more interests in Renolink V1.52,here are some reviews shown in mhhauto.com.
Hope give your some significant reference.
The blog user dubbed unlocker shared his test reports:
All member who use Renolink program, write here experience about program and results.
I use it for:
| | |
| --- | --- |
| 1 | Renault clio 3 2008, DCM 1.2 Ecu mileage change-OK |
| 2 | Renault twingo 2 2008 dashboard mileage change-Ok |
| 3 | Renault megane 2 2008 key card programming-OK |
| 4 | Renault megane 3 2009 ecu km SID 305 mileage-OK |
| 5 | Renault megane 3 2012 ecu km SID 307 mileage-not OK, read Ok, write km changed successuful but didnt change |
A blogger named  alfabit said below words:
On some versions software airbag unit RSAT4 Logan2/Sandero2 ph1/FL, SPC processor, LED failure on dash not getting off, no failure indication present, reset button stays grey ( inactive )
I am not fond of resetting airbag units. But if you want do this, beware.
What's more, another forum user said below words:
Virgin DAE on modus 2005. Ok.
injector code kangoo 2002 ok.
Professional Diagnostic Solution & Service Supplier
Website:www.vxdas.com
Follow Us To Get More Free Resource