What is VVDI MB BGA Tool?
VVDI MB BGA Tool is Mercedes Key Programmer of Xhorse company, VVDI MB full function with reading & write keys, EIS data via OBD & IR Cable even password calculation function for all key lost & ECU Renews. VVDI MB BGA Tool meets most client Mercedes key programming tool needs perfectly.
What Does VVDI MB Client Consider About Usual?
I'm a Benz car owner, I prefer to add a new key, should I take a VVDI MB BGA Tool? is the VVDI MB suitable for me? or only for the workshop?
I have a workshop for Benz, is it worth to get VVDI MB Tool for money made Mercedes key programming? ?
If  You Have Same Questions, We Suggest Checking VXDAS.com VVDI MB BGA Tool Buying Guide Below:
Firstly, we must know what's the VVDI MB BGA Tool?
VVDI MB BGA Tool is Mercedes key programmer, covers all Mercedes key programming expect FBS4 keys(will release soon), compare with the AK500+ Mercedes key programmer, it supports newer car, and cover all key lost for Benz key programming.
Part 1: VVDI MB Overview
Part 2: VVDI MB BGA Tool Features
Part 3: VVDI MB VS. CGDI VS. AK500 Prog2
Part 4:
Part 5:
VVDI MB Overview:
Software version: V5.0.2(2019-09-19)
Firmware Version: V5.0.1 (Software & firmware support Free update online)
Support Multi-Langauge: English, Spanish, Polish
Support Car Models: Mercedes All Key Models except FBS4 (researching)
Functions:
1. Read & write key
2. Password calculation
3. ESL TOOLS
4. Read/ Write Gateway
5. EIS tools
6. Prepare key File
7. Program ECU/Gearbox/ISM
8. Unlock ELV function will be released soon
The client can download the VVDI MB Tool Software to learn more about it:
V5.0.2 VVDI MB Download Link  Password: 123456
Therefore, we know the VVDI MB BGA Tool Features as follows;
VVDI MB Cover B-enz all 705 Motor, NEC, BGA keys from 1996 to nowaday
VVDI MB BGA Tool support read & write EIS data via OBD and IR cable
VVDI MB support all key lost for Mercedes key programming
VVDI MB Tool can renew ECU & Gearbox for Ben-z
VVDI MB Tool from VXDAS.com support repair dashboard KM
What's the Difference between VVDI MB with Other Mercedes Key Programmer?
Function/Product
VVDI MB
CGDI MB
AK500 PRO2
Outlook
Price
$1,899
$699
$729
Support Language
English, Polish, Spanish
English, Spanish, French, Germany
English
O/S system
xp,win7,win10
xp,win7,win10
XP,win7
Update
Online Free Update
Online Free Update
–
Car Coverage
Benz
Benz
Benz, VW and Audi
705 Moto 1997- 2000
√
√
√
NEC 2001 – 2005
√
√
√
NEC 2006 – 2010
√
√
√
BGA 2011-
√
–
–
FBS4 2015 –
–
√
–
BE Key
√
√
–
Keyless Go
√
√
√
All Key Lost
√
√
–
ECU renew
√
√
–
Toekns
$25 for 1 token
$350 1 year
$4 for 1 token
$60.00 for 180 days token service
FREE
All Key Lost List
W166, W197, W212, W218, W246, W206, W210,w204, w207,W166,W203, W463, W639, W246, W212, W212(old),some W216, W164 2009- ,W164,W221,  W215, W220, W230, W164/W251 04-08 and some others.
211,209,204,207,212,166,246,197, 172,164 +, 216
–
What's the VVDI MB Tool Mercedes Key Programmer Coverage:
VVDI MB Tool Support Car List:
VXDAS VVDI MB Functions
Car Coverage
Read & Write Key
NEC key versions (with NEC adaptor):
v51, v57
v28, v35, v40
v03, v06, v08 (Keyless Go)
v05, v07, v09 (Keyless Go)
v59, v61 (Keyless Go)
EIS Tools Functions
W164
W164 2009-
W166, 197, 212, 218, 246
W169, 209, 211
W172, 204, 207, 212(old, with ELV)
W203, 463, 639 (K)
W202, 208, 210 (K)
W215, 220 (K)
W230 (K)
W216
W221
W639 2009-
Working Key Calculate Password
W164
W164 2009-
W166, 197, 212, 218, 246
W169, 209, 211
W172, 204, 207, 212(old, with ELV)
W216
W221
W639 2009-
All Key Lost Calculate Password
W212(old, with ELV)
FBS3 EIS:
W166, W197,W212,W218,W246
W172,W204,W207
W216
W164,W215(-2009)
W164,W251(2009-)
W169,W209,W211
W202,W208,W210
W215, W220, W230
W203,W463,W639
W639(2009-)
W906
W221
Repair Dashboard KM
C(W204), GLK(X204), CLK(W207), E(W212), SLS(W197), CLS(W218)
R-Class(W251), GL(X164), ML(W164)
E-Class(W211), CLS(W219)
S-Class(W221), CL(216)
W166, W172, W246, W231
W205
Read/Write gateway EEPROM and FLASH
A-Class (W169)
B-Class (W245)
C-Class (W204)
E-Class (W211)
E-Class (W212)
GLK (X204)
CLK (W207)
CLS (W218)
CLS (W219)
Maybach (W240)
SLK (R171)
SLR (R199)
SLS (R197)
GL (X164)
M-Class (W164)
R-Class (W251)
SMART
S-Class (W221)
CL (W216)
How to Use VVDI MB Tool Work?
Sample to use VVDI MB BGA Tool Mercedes Key Programmer from vxdas.com installing Mercedes W204 ELV emulator: 
Step1. Connect VVDI MB Tool with the car by IR adapter and connect the new W204 ELV emulator with the car.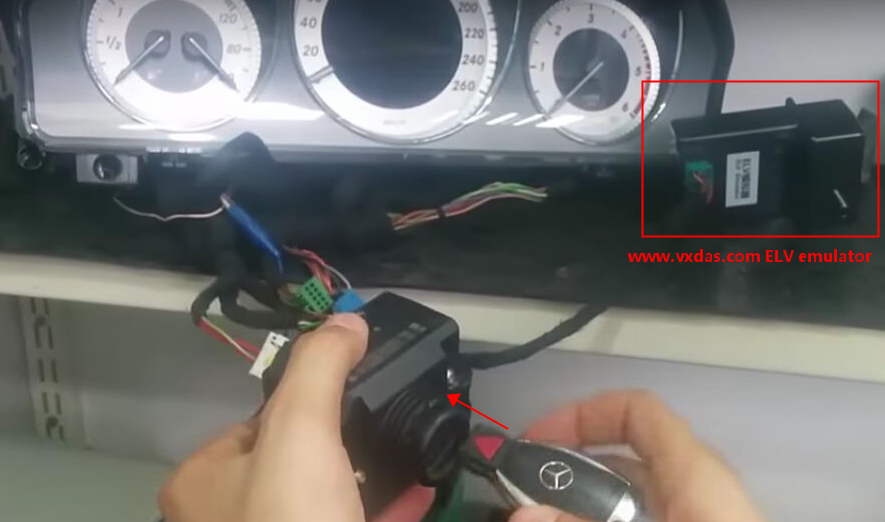 Then open VVDI MB Tool software, choose "ESL Tool" then click "Read ESL data"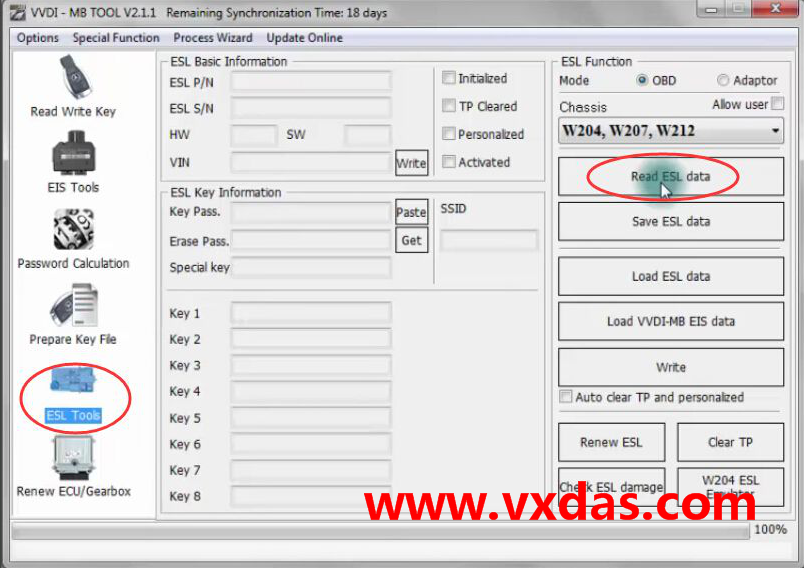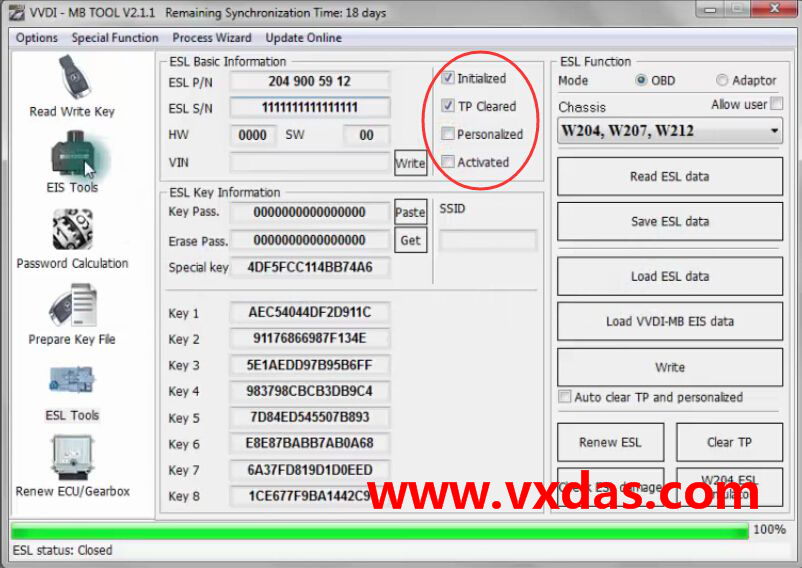 Step2. Choose "EIS Tool" then click "Read EIS data"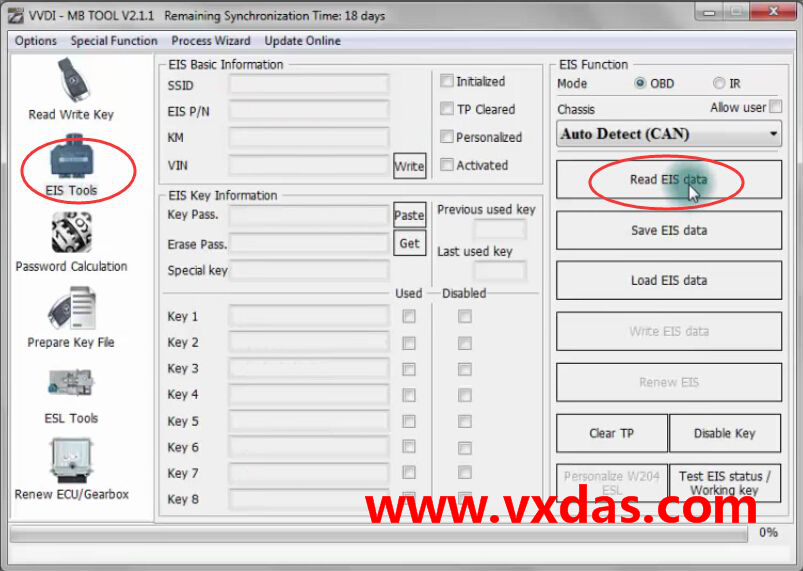 After it, click "Get" to get the erase password then click "Paste" to paste the key password.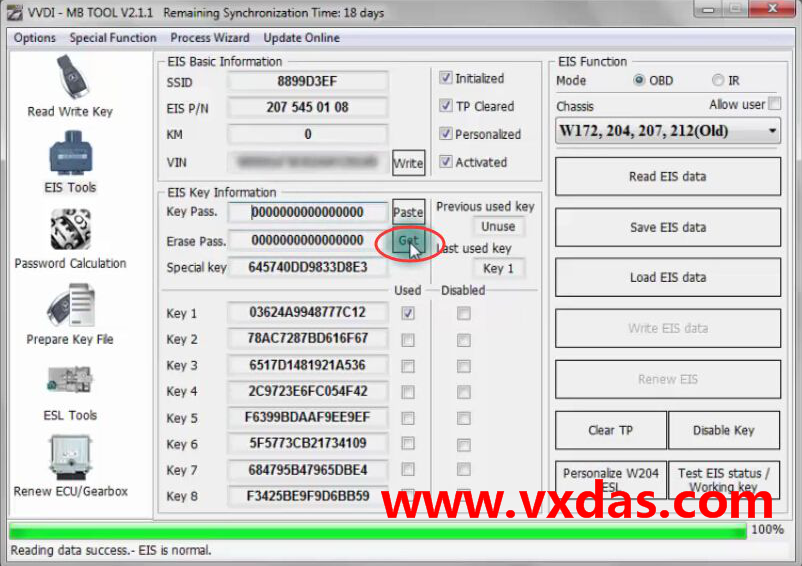 Step3. Click "Save EIS" then create a new folder named "W204 elv" on desktop. Click "Open" and "Save"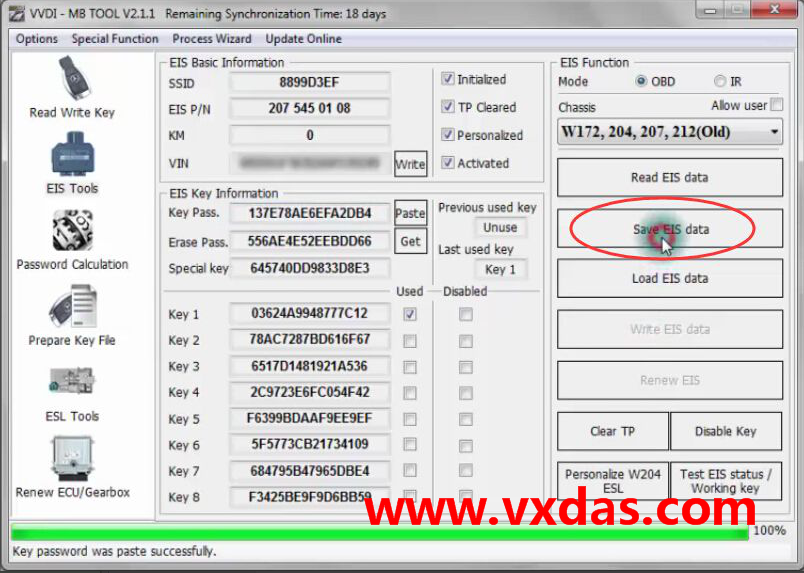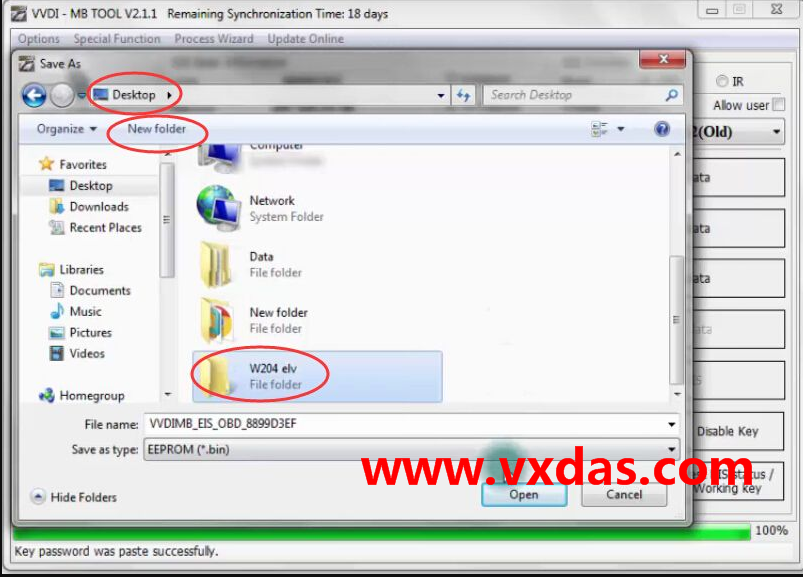 Step4. Select "IR" mode, click "Renew EIS". VVDI MB Tool software will show "Erase EIS success"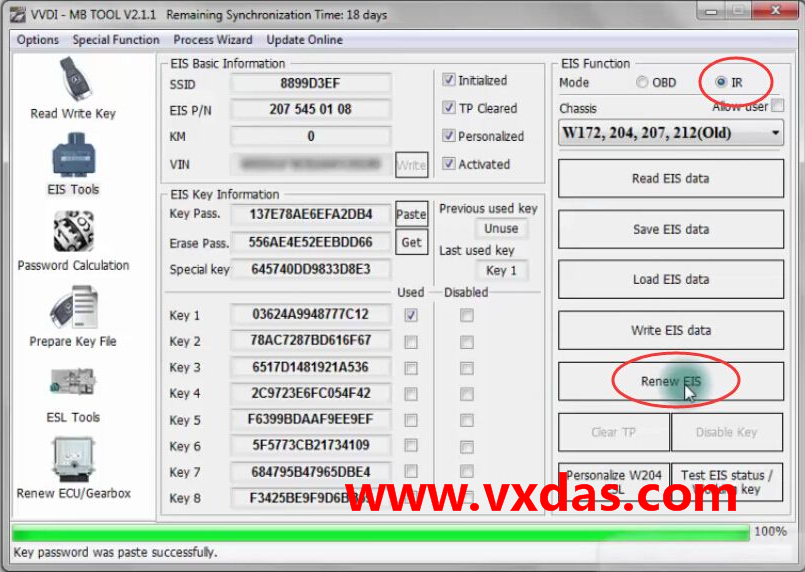 Step5. Select "OBD" mode, click "Read EIS data". It will show "Reading data success"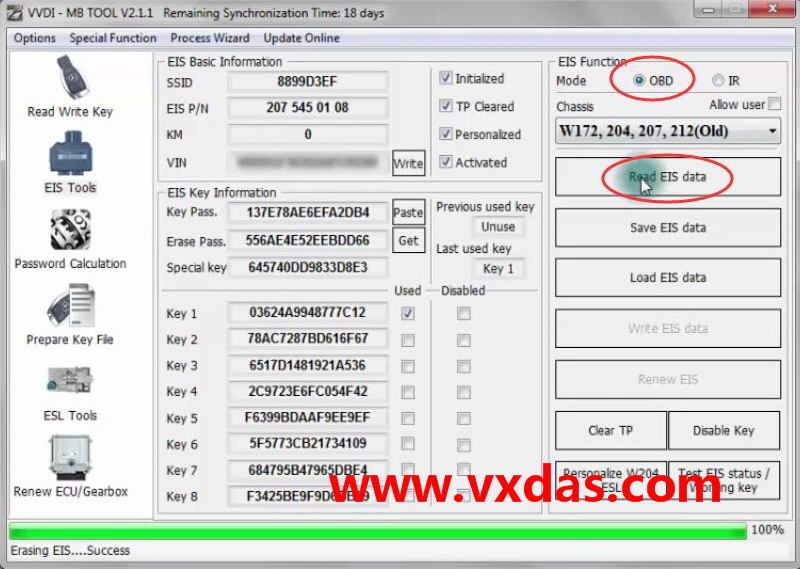 Click "Load EIS data" it will pop up an "Open" interface. Click the "VVDIMB…" bin file to open.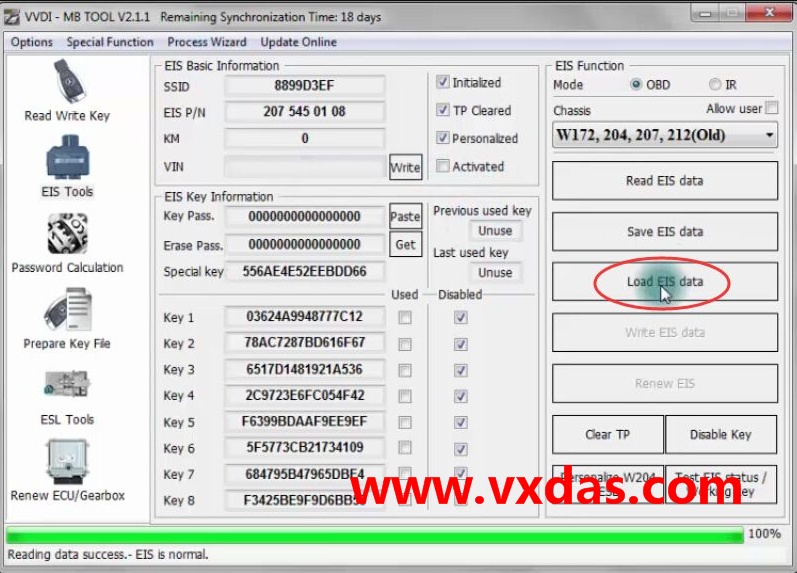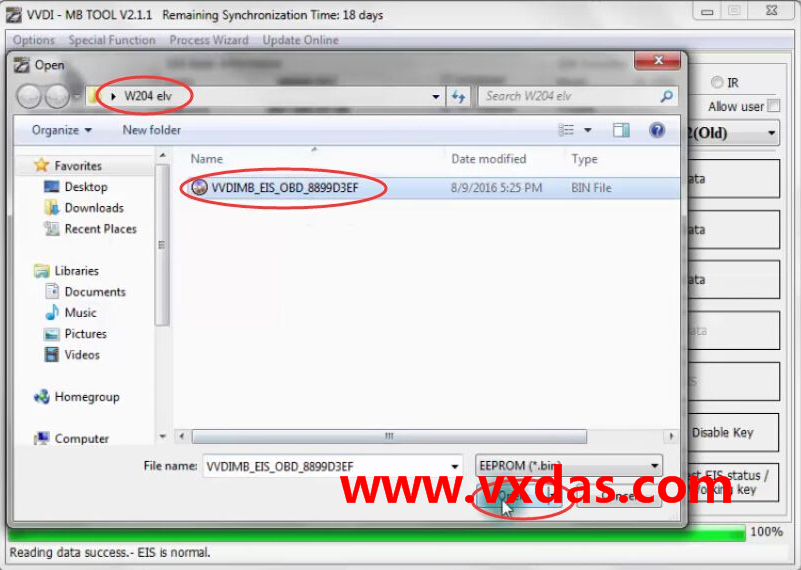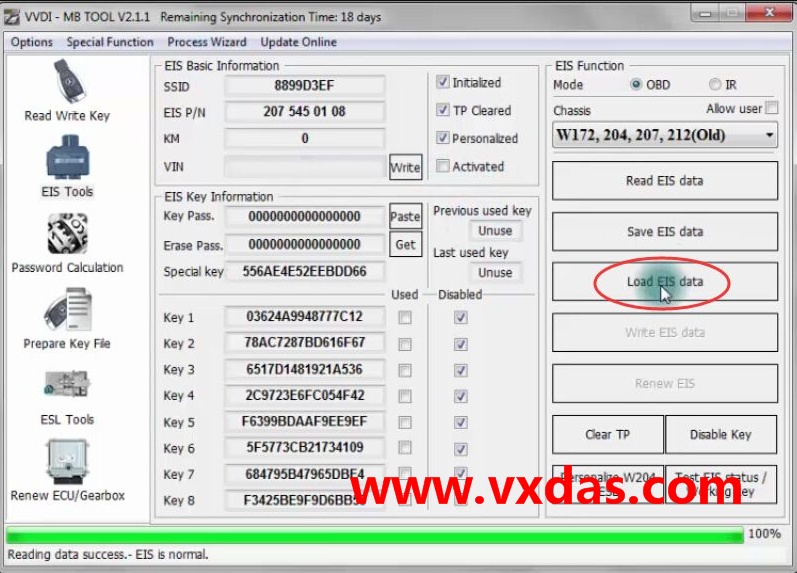 Step6. Click "Write" then "Yes" to write VIN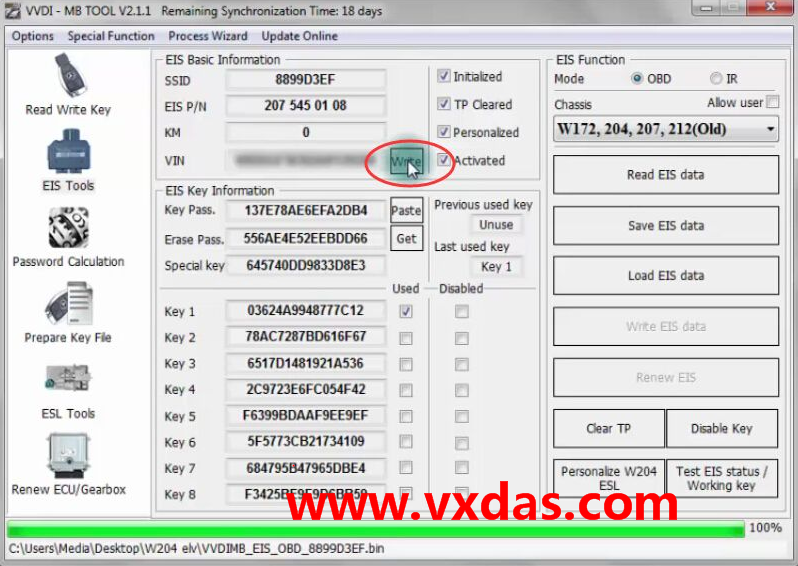 Choose "IR" mode, click "Write EIS data" then "Yes". It will show "Writing data success"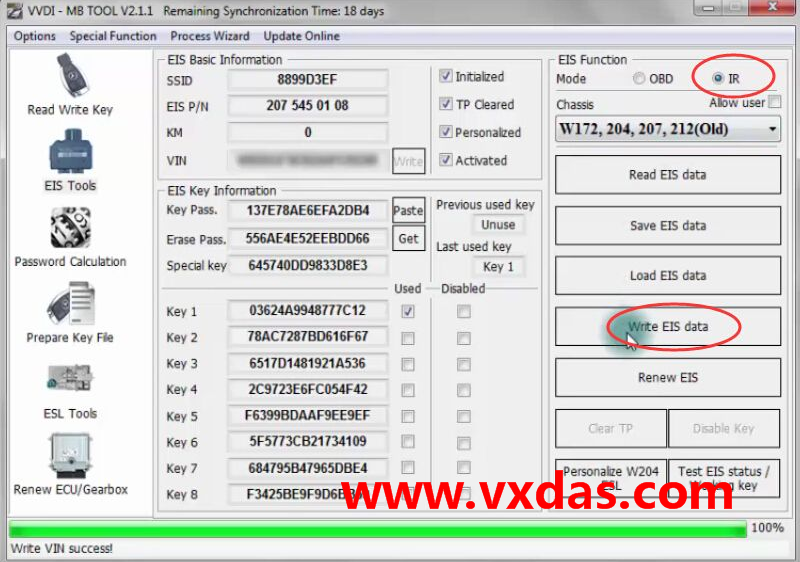 Step7. Choose "OBD" mode then click "Personalize W204 ESL"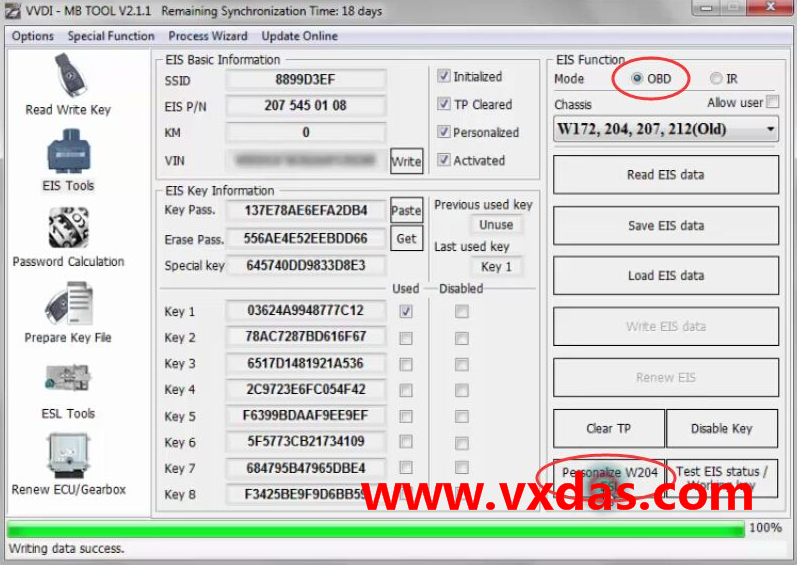 After success click "Read EIS data" on VXDAS.com VVDI MB key tool software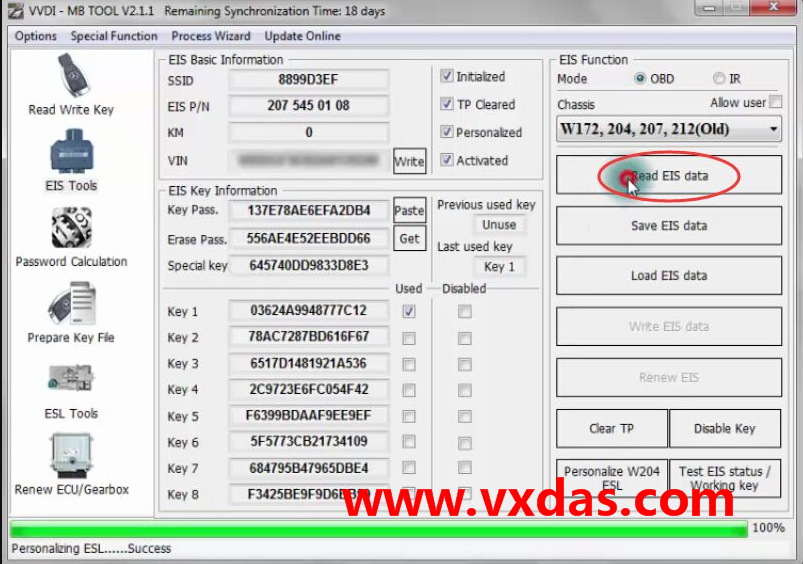 Unplug the IR adapter and plug it again, the dashboard has lights.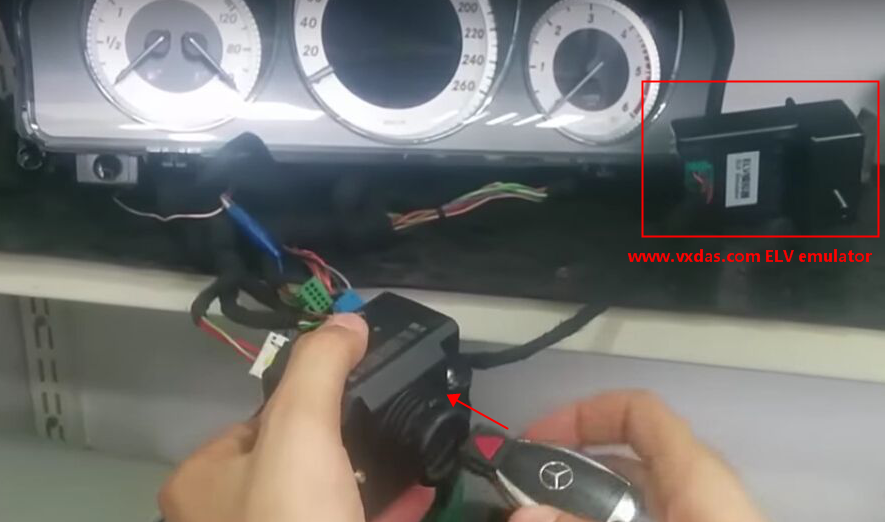 Then click "Read EIS data" again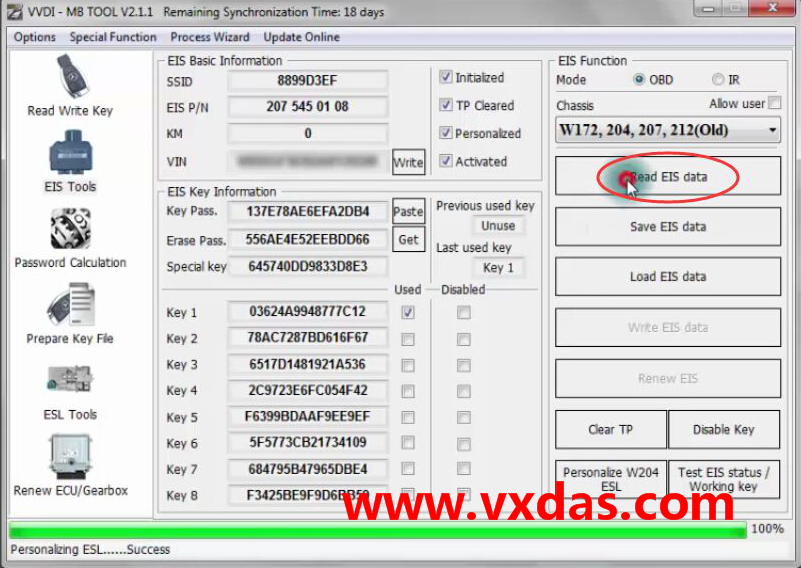 After success, the EIS data is "activated" which means that the W204 ELV emulator is successfully installed by VXDAS.com VVDI MB Mercedes key programmer.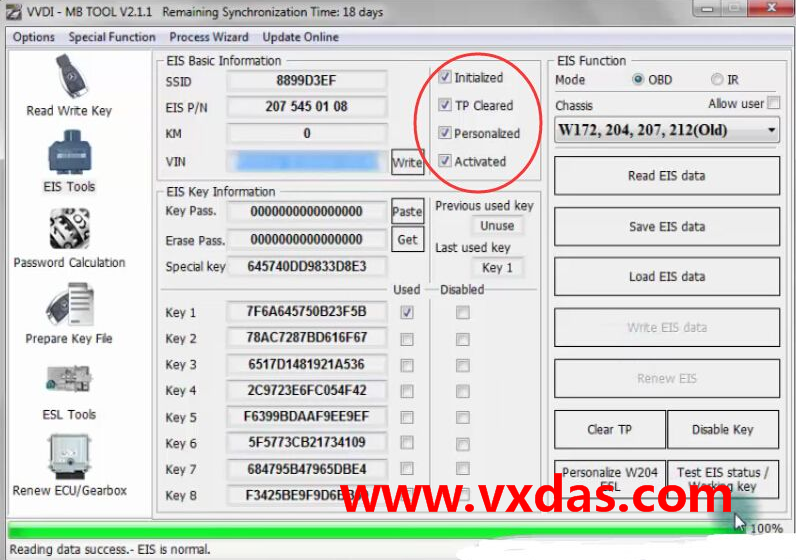 VVDI MB Install ELV Emulator Vedio Guide:
More VVDI MB Mercedes Key Programmer User Guide Check Follow:
How to use VVDI MB Program Benz W166 Key?
VVDI MB Software Install & Update Guide
How to Use VVDI MB Renew Gearbox?
What's the VVDI MB User Review?
VVDI MB + VVDI Prog + MB Adaptors I used to removed EIS for Mercedes Vito W639 2010
Read EIS with MB adaptors + VVDI Prog
Generate key files with VVDI MB
Write file to VVDI MB KEY
Replace EIS
Initialize key and test remote, SUCCESS thanks.
 I made all keys lost W906 successfully! Just remove EZS, open it, read MCU (0L01Y is there I think) EEPROM, save dump and calculate keys. It's easy to do it!
I bought a second hand EIS W221 lock with a key and do W221 all key lost last month with VVDI MB TOOL. This is a guide I found for your reference:read all key lost EIS data-> save EIS dataread used EIS data enter password, get erase password->renew used EIS.load step1 EIS data to renewed EIS with password->write EIS dataload EIS data(with key password)->prepare key fileinput new key to device IR reader->load key file->writeinsert new key to EIS->EIS will learn the new key->key learn successBy the way, if your all key lost W221 is Motorola EIS, not need to change EIS, remove EIS get EEPROM by programmer (VVDI PROG) then load EEPROM to VVDI MB TOOL prepare key file
Tested W212 all Keys lost OK with VVDI MB tool. Got a W212 EIS to make a key, it needs 2 tokens, one free one paid money.
VVDI MB BGA Tool is a powerful Mercedes key programmer, it support program Mercedes key when all key lost. Now this blog will show you VVDI MB Tool reviews on all key lost. (Tested OK)
W204 W207 all keylost tested ok, get Password from W204 EIS successfully in second attempt, first time failed.
Where to Get the VVDI MB Tool Good Price?
Now Buy VVDI MB Tool Get 1 Year Free Token
Some Client get VVDI MB wanna work with others just contact us:
What's the difference between VVDI MB BGA Tool and other Xhorse VVDI series tool?
Item
VVDI2 Full
VVDI Prog
VVDI MB BGA Tool
VVDI BMW
VVDI Key Tool
(Out of Stock)
VVDI Mini Key Tool
Image
Update Method
Online
Online
Online
Online
Online
Online
Software Version
V6.6.6
V4.8.7
V5.0.2
V1.1.1
V2.4.1
V1.1.1
Language
English, Polish, Spanish, Chinese
Multi-languages
English, Polish, Spanish, Chinese
English, Spanish, Italian, Polish, Hungarian, German
Multi-languages
Multi-languages
OS System
WinXP/Win7
WinXP/Win7
WinXP/Win7
WinXP/Win7
IOS/Android
IOS/Android
Token Requirement
Yes for ID48 96 bit Copy
No
Yes for password calculate / all key lost
Not sure
Yes for ID48 96 bit Copy
Yes for ID48 96 bit Copy
How to Get Token
Order separately
/
CONDOR XC-MINI/ CONDOR XC-002 have 1 free token per day; Order separately
/
Order separately
Order separately
Support Vehicles
VAG, BMW, Porsche, PSA
Benz, BMW, Audi, VW etc.
Mercedes Benz
BMW
Multi-brands
Multi-brands
Functions
-Diagnose
-Odometer correction
-ECU programming
-Key programming
-Key learn
Passthru J2534
Remote control Generation
Program EEPROM
Program ECU
Program MCU
Pin Code Calculation
Read write key
Password calculation
ESL/EIS TOOLS
Read/ Write Gateway
Prepare key File
Program ECU/Gearbox/ISM
Unlock ELV function (released soon)
Programming
Coding
OBD key learn
File make key
Mileage correction
EEPROM read
etc.
Transponder Edit
Transponder IC Duplicate
Frequency & Power Measure
Duplicate Remote
Prepare Remote
Prepare Garage Door
Renew Remote
Transponder Generating
Remote Cloning
Garage Remote Generating
Remote Generate
Frequency Test
Toyota H transponder