Autel AutoLink AL539B new obd2 code reader works on all 1996 and newer vehicles with OBDII & CAN-domestic and import, supports update online. supports all 10 modes of OBD II test for a complete diagnosis.
Autel AutoLink AL539B Functions
1. Works on ALL 1996 and newer vehicles(OBDII & CAN)-domestic and import
2. Capable of diagnosing 12V charging systems, starting systems and condition of discharged battery
3. Easy-to-read AVOmeter allows you to test voltage, continuity and current at the fingertip
4. Features the unique patented One-Click I/M Readiness Key for quick State Emissions readiness check and drive cycle verification
5. Provides quick and accurate load-free testing of most types of 12V batteries, including AGM, standard and maintenance-fee batteries
6. Bright color coded LEDs and built-in speaker provide both visual and audible tone for readiness verification
7. Easily determines the cause of the Check Engine Light (MIL)
8. Retrieves generic (P0, P2, P3, and U0), manufacturer specific (P1, P3, and U1) codes and pending codes
9. Turns off Check Engine Light (MIL), clears codes and resets monitors
10. Displays monitor and I/M readiness status (emissions)
11. Reads live PCM datastream, live O2 sensor test data, freeze frame data
12. Graphs data (1996 and newer)
13. Troubleshooter codes tips guide technicians to the root cause of trouble code faster, saving diagnosis and repair time
14. Memory/battery backup for off-vehicle data review and analysis
15. Multilingual menu and DTC definitions-English, Spanish and French, etc.
16. Retrieves vehicle information (VIN, CIN and CVN)
17. Internet updateable and upgradeable
18. Prints data via PC
Autel AutoLink AL539B vs.BAL629 VS. AL529HD VS.  AL530B VS. AL329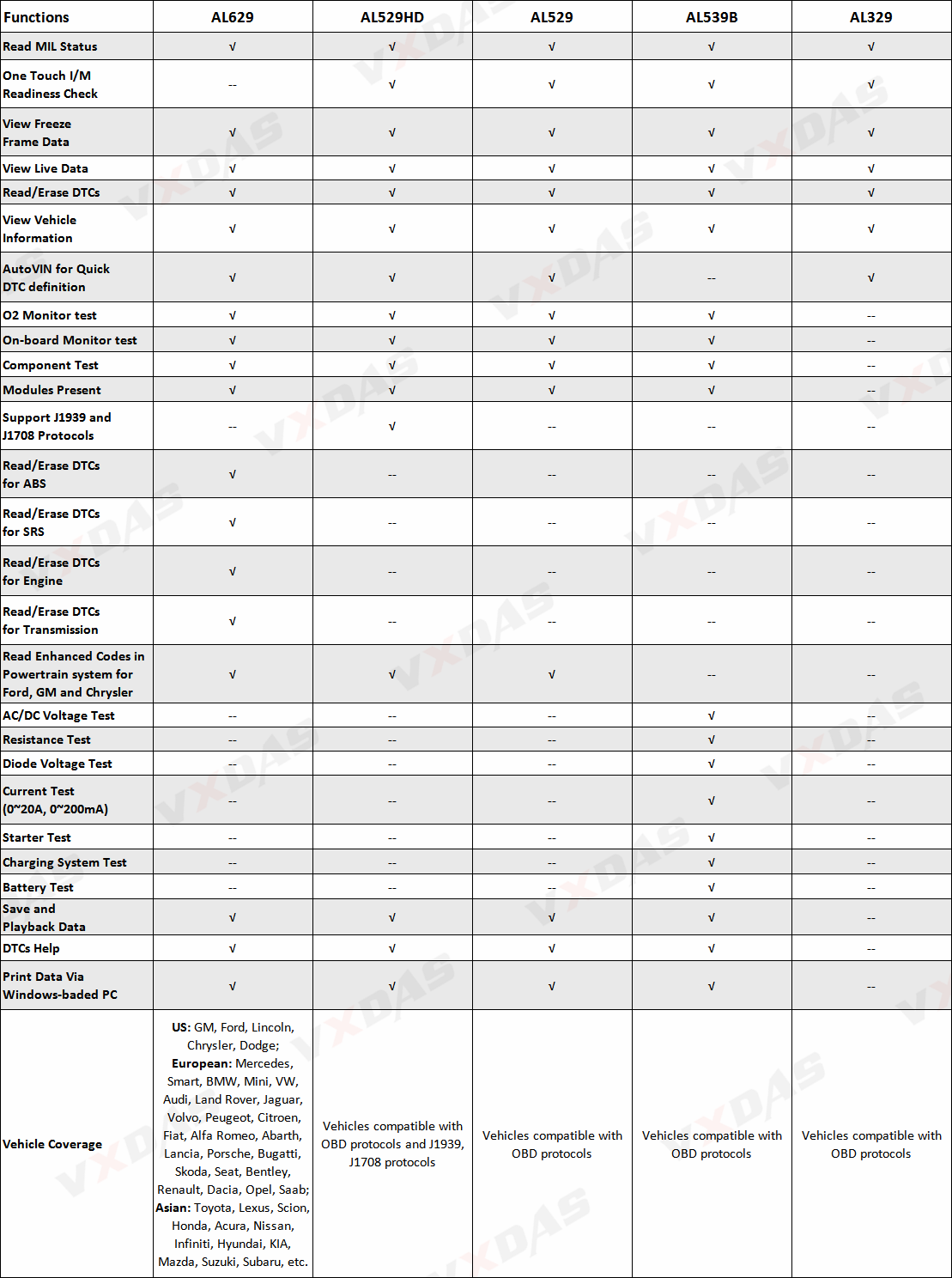 Autel AutoLink AL539B OBD2 Code Reader User Manual
Enjoy!
Related Posts:
1.Autel MaxiDiag MD806 Best OBD2 Scanner 2021
2.OTOFIX IM1 New Key Programmer Review
3.OTOFIX BT1 Battery Tester Lifetime Free Update Online
Join groups to get more free resource!
Group:https://www.facebook.com/groups/vxdas/
Website: www.vxdas.com
Whatsapp:+8615361020853
Skype: autodiagnostickit
Email: sales007@vxdas.com