The top-notch trio in the Autel MaxiSys series – MS909, MS919, and Ultra – are armed with incredible capabilities and ready for any heavy duty. They're built for experts in auto diagnostics and repair and – judging by that you've taken interest in this blog – they're built for you.
But one question may turn up tricky as you look at these machines: how to choose the right one to buy?
Here, VXDAS offers the best buyer guide. We collect and contrast all the pros and cons of these trio, and present to you as a digestable piece. So, no more hard thinking on whether to choose MS909, MS919, or Ultra. Just read on.
MS909 vs MS919 vs Ultra: Specs
MS909 vs MS919 vs Ultra: Compare
MaxiSys Ultra (12.9″ 2732 x 2048 DPI) comes with a larger screen and higher resolution than MS909 and MS919 (both 9.7″ 1536 X 2048 DPI). What's refreshing, Ultra features a split-screen navigation that allows you to run multiple applications simultaneously, a superb skill maximizing your work efficiency.
Both MS909 and MS919 utilize 128GB SSD / 4GB RAM, while Ultra uses a bigger 256GB SSD / 4GB RAM memory storage. All scanners can run 8 hours without break, but Ultra stands out with a stronger 18,000 mAh battery compared with the other two (15,000 mAh). Moreover, the convenient docking station in Ultra ensures you always have the power during operation.
The top reason separating MS919 and Ultra from MS909 is the advanced 5-IN-1 VCMI,a small but complete reliable lower computer with powerful hardware extensions, such as oscilloscope, waveform generator, multimeter, and CAN BUS tester.
While all three devices are equipped with repair assist service, MS 909 has to give way to its counterparts in function coverage. Thanks to the versatile VCMI, MS919 and Ultra show code-related problems with component tests and direct you to the Oscilloscope with a single click. They also provide easier and faster operation by built-In preset guided tests, which enable you to customize probe specification and check waveform libraries. As mentioned before, component tests, along with saved test configurations and data graphs are all available at hand.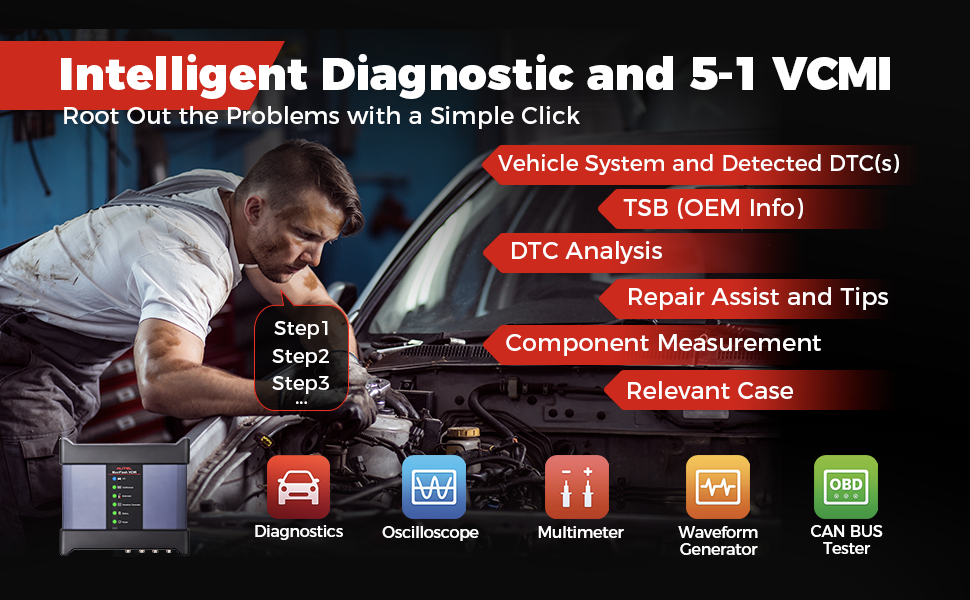 What merits do these three machines share compared with other Autel series?
✓  99% Vehicle Coverage
✓  36+ Services
✓  Octa-Core Processor
✓  16MP Rear / 5MP Front camera
✓  Repair Assist
✓  Topology Module Mapping
✓  DTC Troubleshooting
In what way does MS919 beat MS909?
✓  Advanced 5-in-1 VCMI
✓  Component Test
✓  Full Diagnositic Guidance
In what way does Ultra beat MS909 and MS919?
✓  Larger and Split-screen Display
✓  Stronger Battery
✓  Bigger Memory
✓  Extra Repair Assistance
Any further question, contact us directly.
We'll always be here to offer you best support and service.