WIFI OBDSTAR X200 Pro2 oil rest tool, support one-click update online, cover most of car models on the market. Is an intelligent maintenance device based on Android 5.1.1 operating system, covers functions including oil Reset, TPS, EPB, ABS bleed, Battery match, Steering Angle Reset, DPF etc. Get X200 Pro2 at VXDAS website.
Why get OBDSTAR X200 PRO2 Device?
1. Appearance Innovation
Change from handheld to smart tablet to realize the intelligent operation of fools. New industrial design, both practical and convenient
2. Technical Update
One-click upgrade to quickly download new versions of the software
One-click search to quickly locate the model brand, saving time and efficiency
3. Hardware Upgrade
5-inch high-definition touch screen, easy to carry, free to control on the palm. Full hardware upgrade, support Wi-Fi wireless network connection
4. Special Function
Oil Reset/ TPS/ EPB/ ABS bleed/ Battery match/ Steering Angle reset/ DPF/ OBDII /Gear learning/ CVT learning value reset/ Oil Nozzle code/ SUS reset etc.
OBDSTAR X200 PRO2 Supports Car List
Maintenance function supports most of the models on the market;
Mercedes-Benz, BMW, Porsche, Volvo, Land Rover, Jaguar, Renault, Peugeot, Citroen, DS, Maserati, Aston Martin, Volkswagen, Audi, Skoda, fully support up to 2020 models.
America: Chrysler, Dodge, Ford, GM Jeep, Lincoln, Mercury
Asia: Acura, Daewoo, Honda, Hyundai, Infiniti, Isuzu, Kia, Lexus, Mazda, Mitsubishi, Nissan, Proton, Scion, Subaru, Suzuki, Toyota
China: Brilliance, BAIC, BORGWARD, BJHYUNDAI, BYD, CHANGAN, CHANGHE, CHERY, COWIN, GEELY, Great Wall, JAC, JETOUR, JMC, Leopard, LIFAN, LUXGEN, LYNKCO, Maxus, MG, QOROS, ROEWE, SENIA, TRAUM, ZOTYE
Europe: Abarth, Alfa Romeo, Aston Martin, Audi, Bentley, Benz, BMW, Bugatti, Citroen, Dacia, Ferrari, Fiat, Jaguar, Lamborghini, Lancia, Land Rover, Maserati, Mini, Opel, Peugeot, Porsche, Renault, Rolls-Royce, Rover, Saab, Seat, Skoda, Smart, Vauxhall, Volvo, VW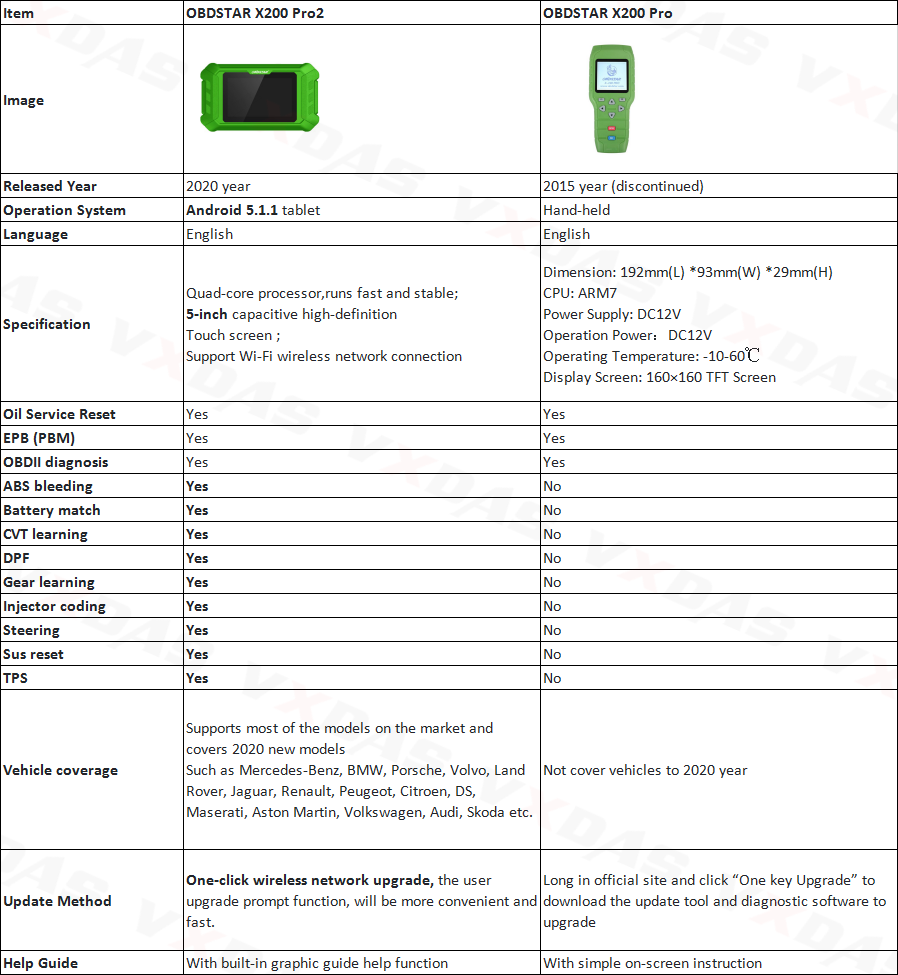 You may intersted in obdstar odo mater meliage correction tool.
Join goups to get more free information
Groups: https://www.facebook.com/groups/vxdas/
Whatapp: +8615361020853
Skype:autodiagnostickit
Email:sales007@vxdas.com