2020 OEM Orange5 Plus V1.35 programmer with full adapter comes with USB dongle, good quality and work stable. Comparing to Orange5 V1.36, Orange 5 plus supports more chips and works more stable and safe.
Orange5 Plus Software Licenses
MTRK (Included in Orange-5 base)
TMS (Included in Orange-5 base)
M08V NEW
Immo HPX 9V0
NEC V850ES/SJ3 V850ES/SG3  UART
Orange5 Plus Highlights
Supports any COM ports, incuding virtual ones from 1 to 20
Works with text (ASCII) and HEX mode
Creating a list of commands that allows editing and fast sending
Fine-tuning the exchange rate
Saving files including command and port settings.
Saving incoming data in binary files
File transfer via serial port.
Delay settings for bytes and blocks
"Echo" mode
Delay settings between incoming data
Managment of DTR, RTS chains, visualising DSR, CTS, CD, RI
Program doesn't need to be installed
Supports Orange5 programmer in emulation mode.
Orange5 Plus Support Cars
Audi, BMW, Chery, Chevrolet, Chrysler, Skoda, Citroen, DAF, Dodge, Fiat, Ford, SsangYong, Gilera, Great Wall, Hyundai, Kia, Honda, Jeep, Suzuki, Lancia, Mahindra, Benz, Nissan, Toyota, Opel, Peugeot, Piaggio, Renault, Seat
Orange5 Plus V1.35 VS Orange5 V1.36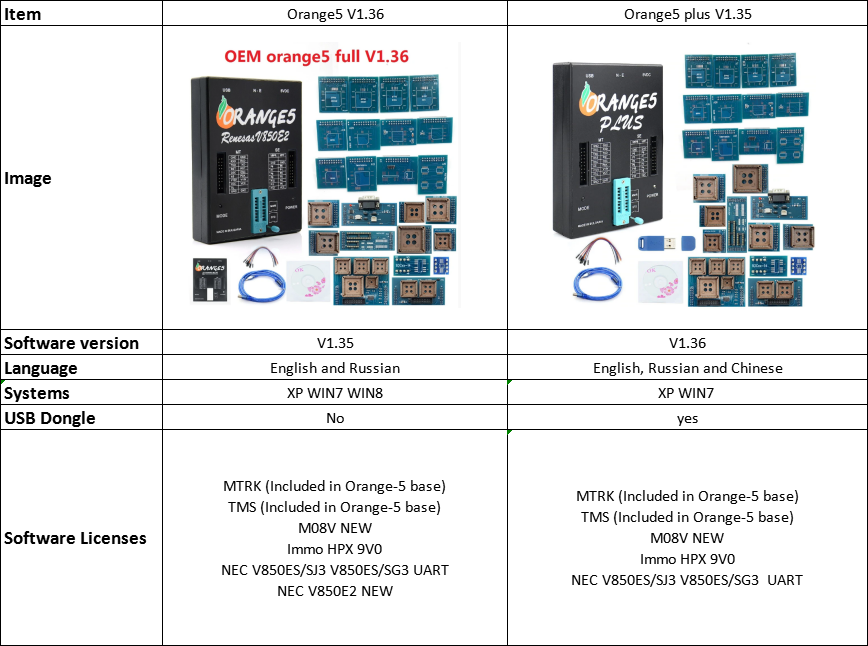 V1.35 Software Free Download and Installation Instruction
https://mega.nz/file/tPJ3mIhR#VUeDIoQzv94s1EWsQDpVlAmrRhgRKlN0dcSUuAFgxGY
You may interested in Xentry 2020.06 software  free download 
VXDAS, focus on OBD tools since 2008!
Join group to get more free resource
Group: https://www.facebook.com/groups/vxdas/
Website: www.vxdas.com
Whatsapp:+8615361020853
Email: sales007@vxdas.com