SVCI MDI2 super vehicle communication is new device produced by STCI technology, supports 95% auto communication protocol, covers 95% models of 22+auto brand in Europe, America and Japan, and covers all functions of OEM diagnostic software. SVCI MDI2 covers more than 18 OEM diagnostic tools and is compatible with more than 33 OEM diagnostic software, most advanced comprehensive diagnostic instrument which supports diagnosis, programming, security, brush to hide etc.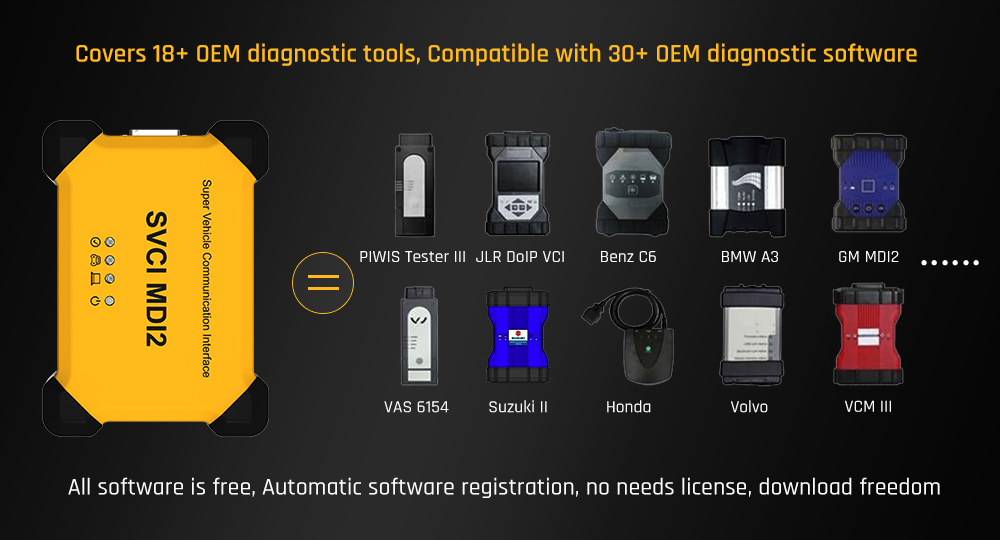 SVCI MDI2 Software PC Requirment
OS Required: Win10 64bit progfessional version
PC Hardware required: I5, 4G RMA, 500GB hard disk  capacity
all software are free, automatic software registration, no need license, download free
Compatible with third-party custom J2534 protocol software.
SVCI MDI2 Support models:
 gm, Chrysler, ford, Honda, Toyota, nissan, Mazda, Volvo, wuling baojun, rong battlefield, jaguar land rover, Mercedes, vw, audi, skoda, bentley, lamborghini, BMW, porsche, suzuki 20 models of original software.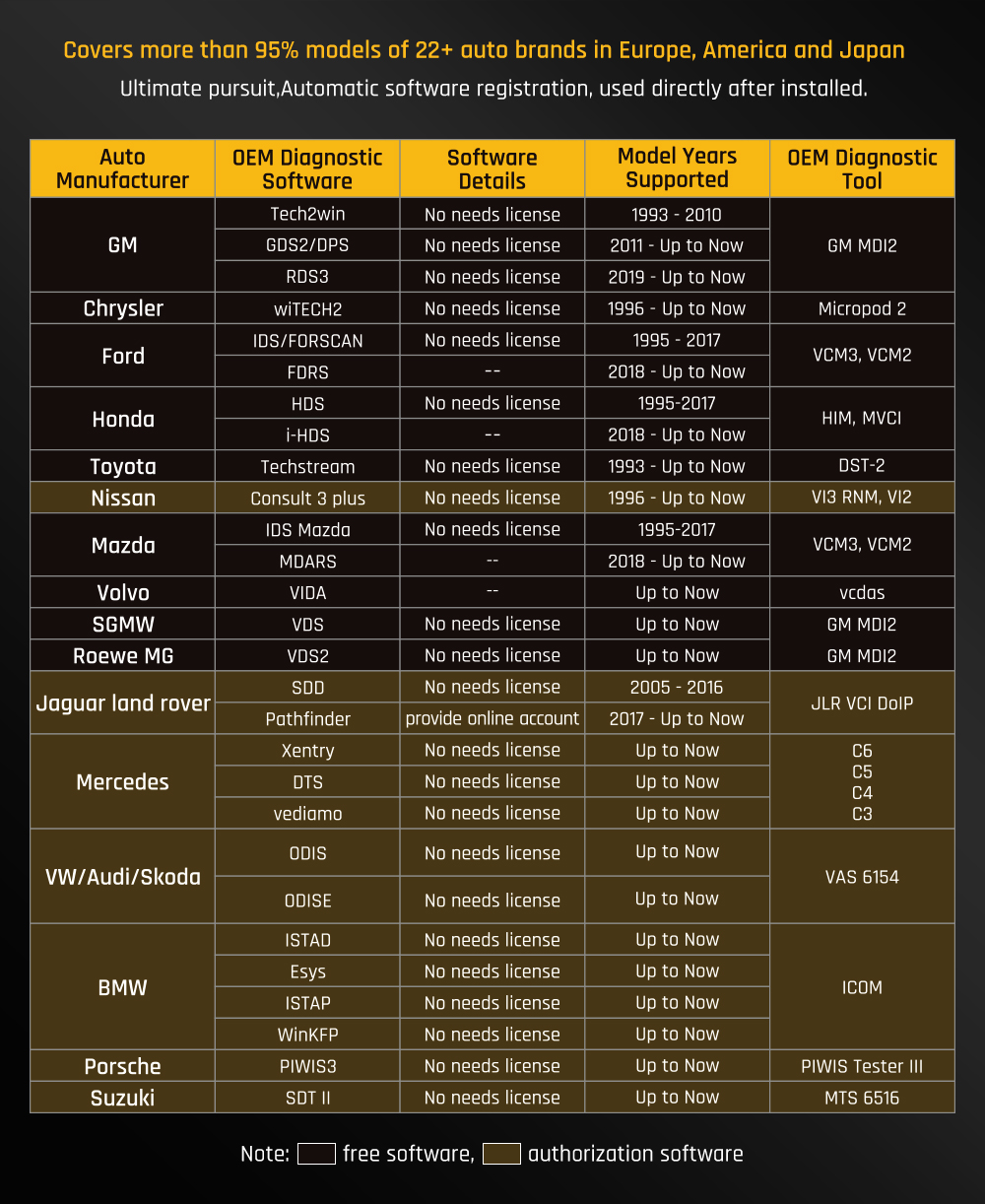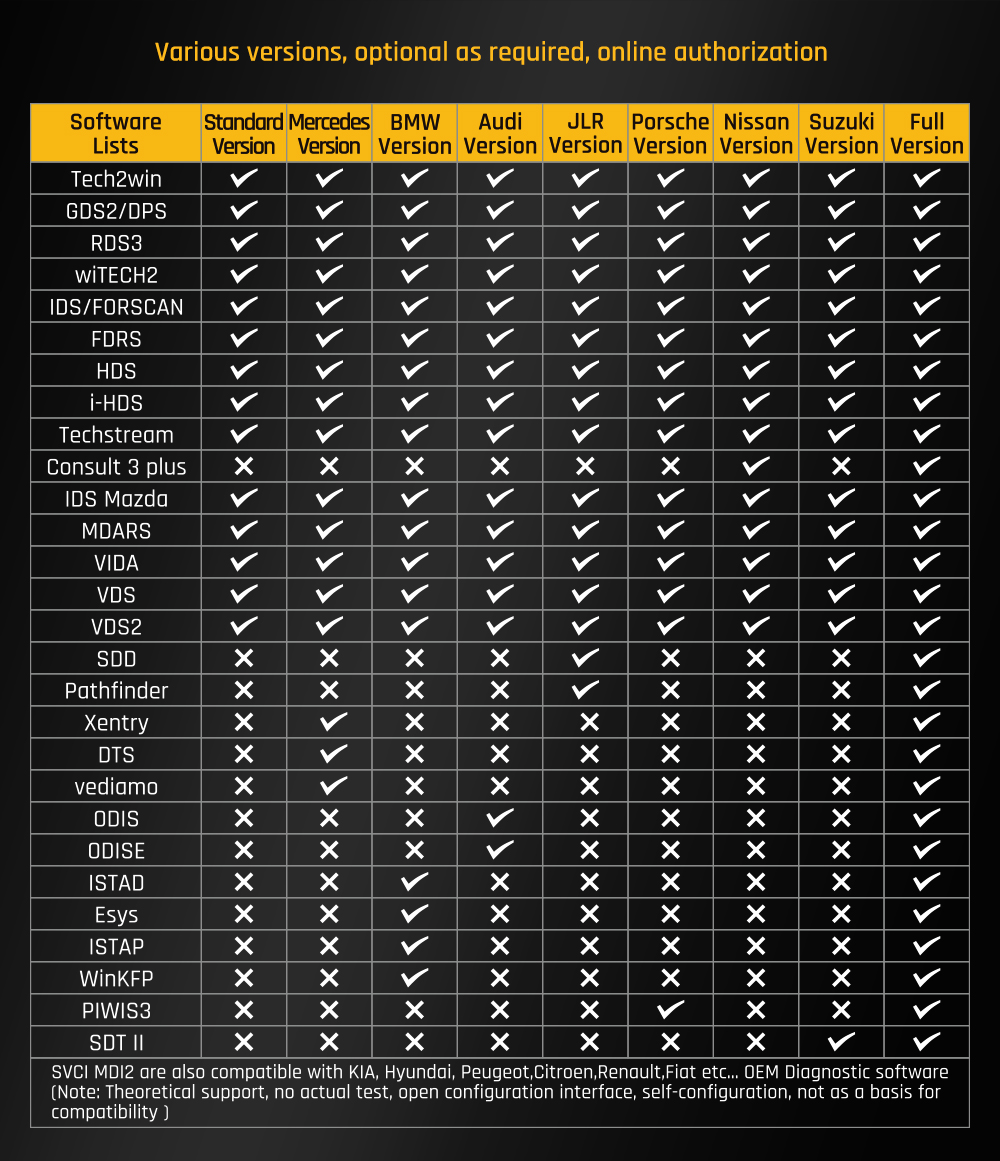 SVCI MDI2 Highlight
Powerful Hardware, compatible with 95% of the global auto standard commnucation protocols
Synchronize the OEM software upgrade, upgrading firmware online
Supports three-channel CAN and three-channel K-line concurrent communication
Supports offline and online working.
Supports CAN FD, DoIP communication protocol, comply with J534-1, J2534-2, ISO22900 PDU ect. international standards.
What Can SVCI MDI2 Do?
DTC detect
Online programming
Coding
Immo match
Recalibration
Check circuit diagram
ECU flash
DTC description
Change congfiguration
Data import/export
…
FAQ
Q1: which models can SVCI MDI2 do and can it be supported until that year? Is compatible software stable? What functions can be achieved?
Q: SVCI MDI can supports 95% of global models, includes old cars and new cars. The compatible OEM diagnostic software has been strictly tested in the real car and can ensure full compatibility, basically the OEM diagnostic software can achieve the function can support.
Q2: Dose the SVCI MDI2 device come with software? What kind of computer configuration is required?
Q: We will provide a public download channel, optional installation. The minimum configuration requirements are as follows:I5, 4GB mermory, and solid-state hard disk, the specific size varies according to different software installation requirement. If all software need to be installed, the minumum capacity of drive C is 500G
Q3: SVCI MD2 Is all software free?
SVCI MDI2 is available in several versions, including standard, Mercedes, BMW, Jaguar, Land Rover, Porsche, Nissan and all Benz editio is on the basis of the standard version of the opening of Benz software functions, other versions of the analogy, the all-powerful version refers to the opening of all software.
Q4: Is there an annual fee for MDI2 software? How to upgrade software later? How long it the warranty?
Does not require an annual fee. It can be updated in the automatic software update portal at the same time as the offical software. No additional registration is required after software update. The SVCI MDI2 is durable and comes with a 5-year warranty.
Q5:How to use other software without registration or license?
We specially designed a set of loader software for SVCI MDI2 and intergrated corresponding drivers, all software startup needs to be started from the loader. Simplify customer experience and achieve out-of-the-box effect.
Q6: How and what are the advantages of remote diagnostics?
On the client side, the client needs to network the device, and then send the serial number and dynamic password of the device to the server, the server can use our special software to input the serial number and dynamic code password to remotely connect to the clinet device, and then conduct remote diagnosism the server does not require the B-side device to fully localize the environment operation, with no region restrictions.
Enjoy!
Related posts:
1.SVCI ING New Nissan Diagnostic Tool Reprogramm Nissan TCM
2.SVCI J2534 Ford Mazda Unregistered Software Solution
3.SVCI 2020 Special Function-Add Audi Q7 A6 Keys
VXDAS, focus on OBD tools since 2008!
Join groups to get more free resource!
Group: https://www.facebook.com/groups/vxdas/
Website: www.vxdas.com
Whatsapp:+8615361020853
Skype: autodiagnostickit
Email: sales007@vxdas.com