VCDS HEX V2 intelligent cable and VAS 5054A oki chip bluetooth interface with V5.2.7 ODIS software installed at Dell E6420 perfect complete full set supports VAG diagnosis, offline/online programming, long coding, hidden flashing etc. till 2020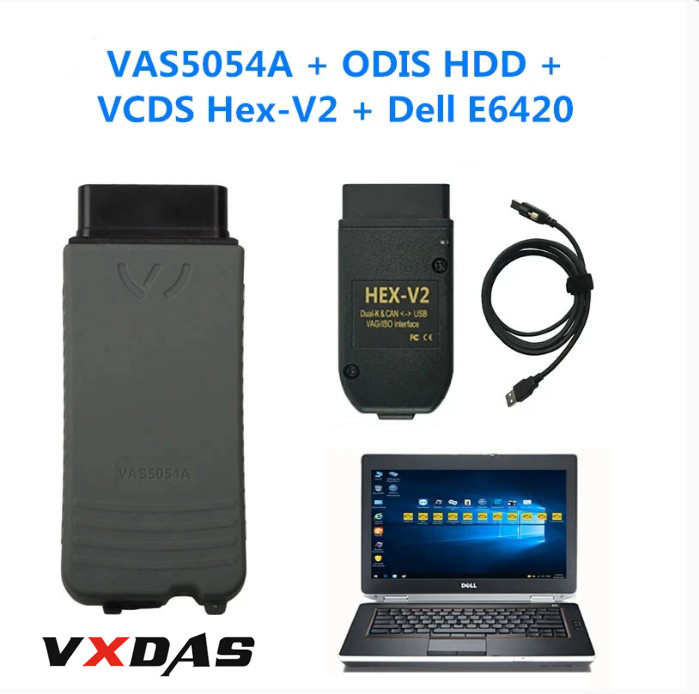 VCDS HEX V2 &VAS 5054 Interface  with ODIS V5.2.7 software installed at Dell 6420 overview
VAS 5054A Interface
Dealer level device with full version chips Thailand M6636 OKI chip, AMB2300, Index, BT 4.0 and buzzer! Support UDS protocol and PWM
Supports portocols:
K line (ISO9141-2)

High-speed CAN (ISO 11898-2)

Low-speed CAN (ISO 11898-3)

J1850 (SAE J1850)

UDS Protocol

PWM Protocol  
Connection: Bluetooth/USB
VCDS HEX V2 Dual-K Cable:
Software Version: V20.4.1
Hardware version: V19.6.1
Support Language: English, French, German, Chinese, Russian, Italian, Czech, Hungary, Spain, Portugal, Sweden, Netherlands, Russia (Need to use loader to run other languages except English)
Vehicle List: For Audi/VW/Skoda/Seat etc.
System Requirements: Windows 7 or newer
VCDS HEX V2 Function:
1.Gain factory level access to all systems in cars from 1990 through the current model year
2.Scan for and clear DTCs with 19,000+ fault codes decoded into plain text
3.Alter settings through module coding accessible only by factory level tools
4.Perform various country-specific modifications to your car (remove seat belt chime, enable gauge test/needle sweep, enable lap timer, operate windows and sunroof with remote, and much more)View and log live data
5.Reset service reminder
6.Perform built in tests and calibrations normally reserved for factory level tools
7.Diagnose real failures instead of swapping parts!
ODIS V5.2.7 soft

ware
ODIS software included: ODIS 5.2.7 full software+ODIS Engineer Software V11.0 Version+ETKA 8.0 +Elsawin 6.0 + VCDSV19.6.2
 Language: English, German, Spanish, French and Korean
 works for Audi for VW for Skoda For Seat For Bentley new car models till 2020, support online coding and programming.
Check ODIS 5.1.3 Software free download
Ready to ship at vxdas.com .
Serena
Website:www.vxdas.com
Email: sales007@vxdas.com
Group:http://www.facebook.com/groups/vxdas/
http://blog.vxdas.com/vcds-hex-v2-11-original-plan-dual-k-can-usb-interface-for-v-a-g-group/