What are best tools for Mercedes and BMW 2020? a perfect  bundle recommendation is SD Connect C4 and ICOM NEXT. With latest version 03.2020 software , delar level SD Connect C4 is good for truble shooting, coding and programming, supports Benz cars and trucks till 2020. ICOM Next, new generation for ICOM A2, good for offline coding and programming for all BMW E/ F/ G Series Cars. ICOM NEXT +MB Star SD C4 with V03.2020  1TB  software  full set ready to use here.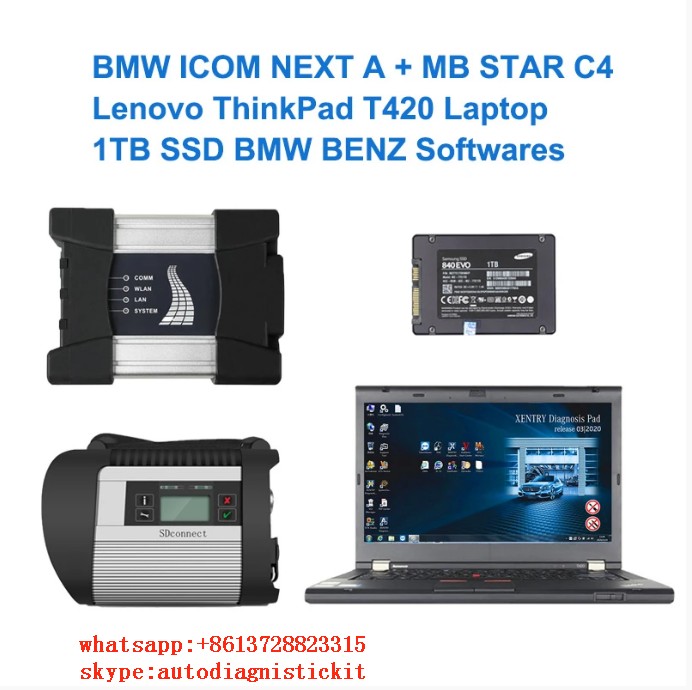 ICOM NEXT and SD CONNECT C4 Full Set Overview:
ICOM NEXT:
Supports BMW E/F/G Series cars including BMW, MINI, Rolls-Royce BMW-Model,  BMW Motorcycle and electric  till 2020,  supports diagnosis and progromming, no need online account.
Multi language: American English, British English, German, Spanish, French, Italian, polish, Portuguese, Turkish, Czech, Swedish, Dutch, Indian, Greek, Russian, Simplified Chinese, Traditional Chinese, Japanese, Korean and Thai.
Required system: WIN 7
Functions:① for BMW Diagnosis, ② Programming and Coding , ③ Brush hidden,  ④ Single    Engineer and E-sys, ⑤ WinKFP, ⑥ ItoolRadar, ⑦ Tool32, ⑧ INPA, KSD2 , Grop ISPI, NCS-   EXPERT tool, ⑨ ISTA, ⑩ New features activation and the module system update
MB STAR SD Connect C4:
Work for Benz 12V Car & 24V Trucks, supports diagnosis and programming.
Multi-language: English, Bulgarian, Danish, Greek, Spanish, French, Italian, Korean, Polish, Romanian, Serbo-Croatian, Turkish, Czech, German, Finish, Hungarian, Japanese, Dutch, Portuguese, Russian, Swedish, Chinese
High quality harware:  PCB board with full new Samsung chip layout, support K-line, CAN-BUS & UDS protocol, work a long lifetime.
support SCN online coding and offline programming with engineering mode.
Xentry +ISTA dual system HDD/SSD software
Dual Win 10 system
ISTA V 03.2020 software includes:
ISTA-D: 4.21.31
ISTA-P: 3.67.0.000  Support BMW motorcycle and electric car programming
VIN: 2020.01.14
SDP programming database: 4.21.32, support muilti language
ETK: 2019.11
KSD: 2019.11
INPA 5.00: winkfp 5.2.3 : NCS 3.5.1
BMWAi : 4.6
E-SYS : 3.27.1
Database V67.0 add Chinese version software Dr. GINI B020
FSC navigation arithmetic software and IBAC code
Add BMW old car DIS software, DISV57 and DISV44, diagnosis and programming
Not connected 9000 days remaining
Xentry v03.2020 software: 
Xentry: 2020.03
DAS: 2020.03
EPC: 2018.11
WIS: 2019. 07
SDmedia: 2015.01
Vediamo: 5.01.01
Vediamo Database
Star Finder : 2016
PL72
DTS Monaco 8.16.015
mb star Xentry software and bmw ista software free download
Join Groups to get more free resource
Groups: https://www.facebook.com/groups/vxdas/
Whatsapp:+8615361020853
Skype:autodiagnostickit
Email:salesoo7@vxdas.com