Xprog M Box is a powerful bmw frm ecu programmer.This article offers two cases about how to repair bmw frm module by xprog-m.
How to repair BMW FRM3 by Xprog M Box?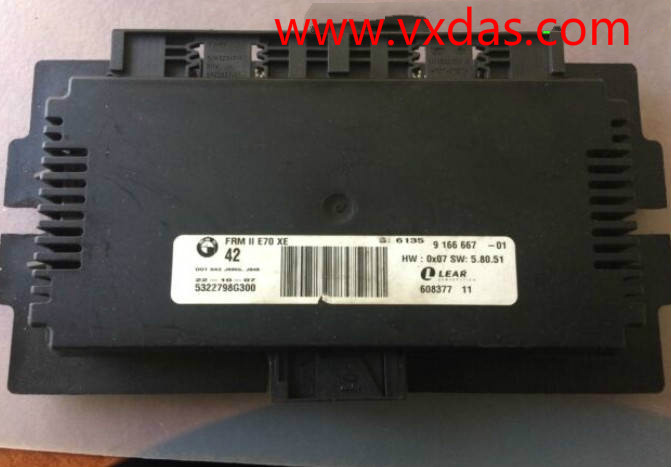 BMW ECU Programmer procedures about how to  Reset BMW FRM3 modules:
Remove BMW FRM module from vehicle,then disassemble cover.
1.Open the diagram connection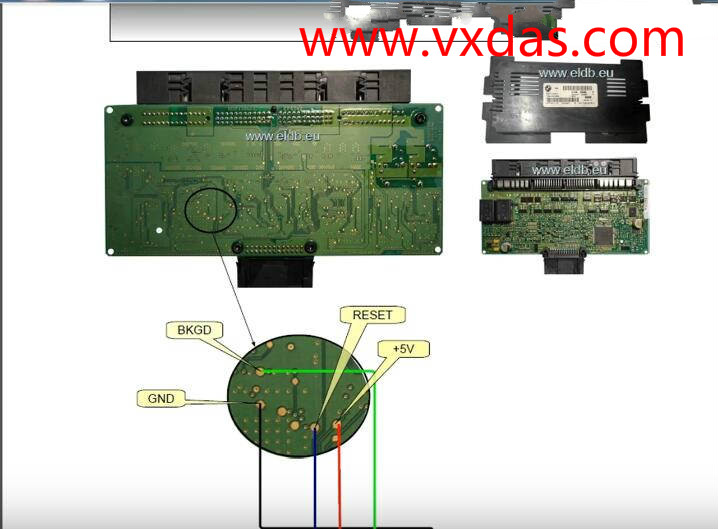 2.And follow above diagram to weld 3M25J adapter on FRM PCB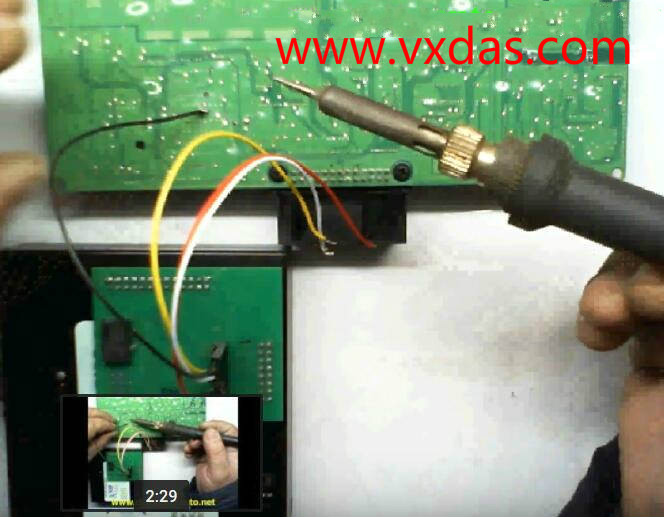 3.Connect XPROG programmer to PC and run XPROG software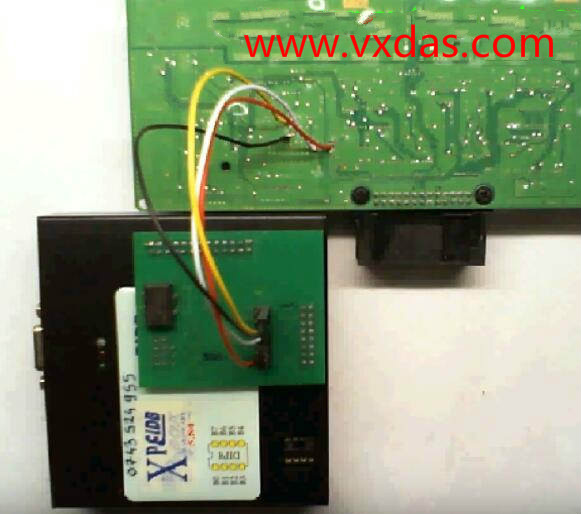 4.Then click "Device" button on the toolbar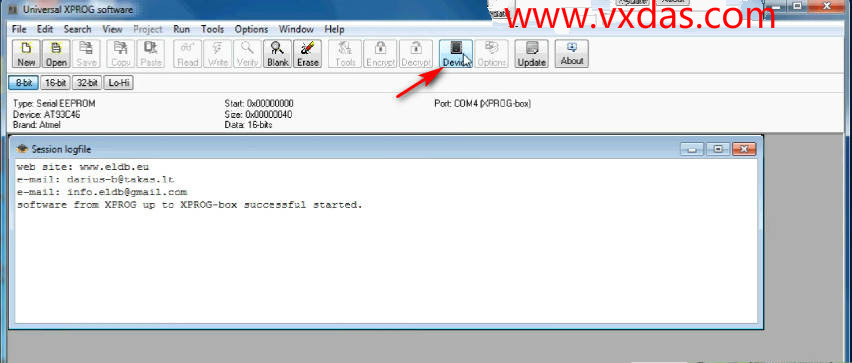 5.Select "MCU/MPU"–>"Freescale 9S12XE"–>"MC9S12XEQ384_D-FLASH"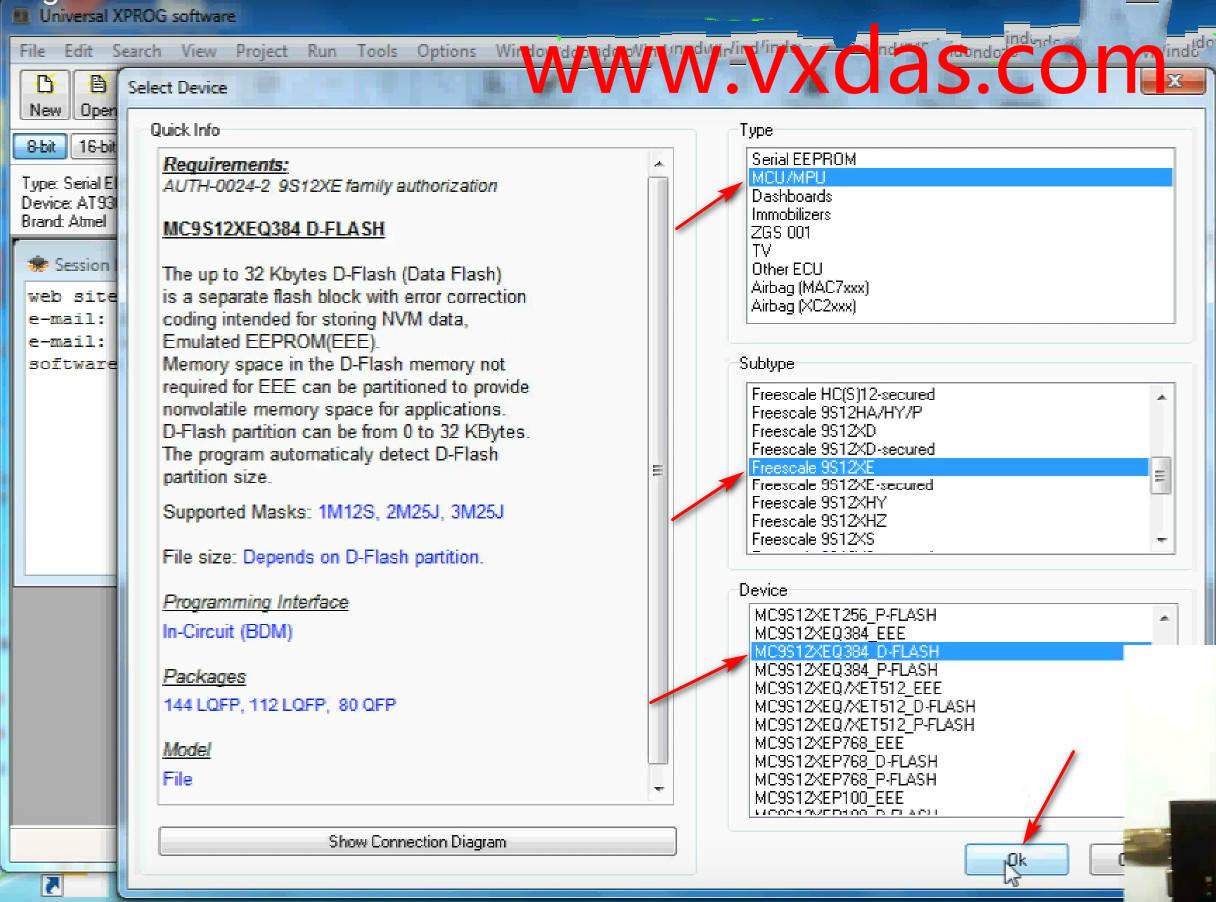 6.Select "New"–>"Read Device"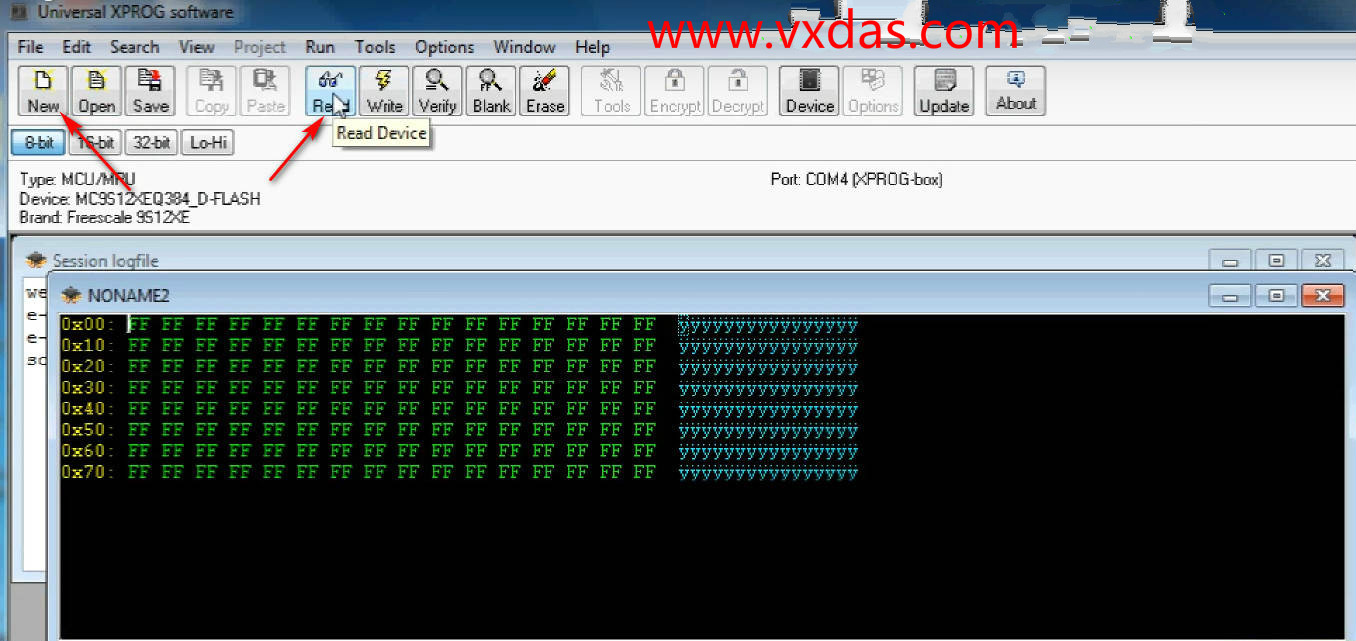 7.After reading procedure completing,click "Save" button to save the data file on your PC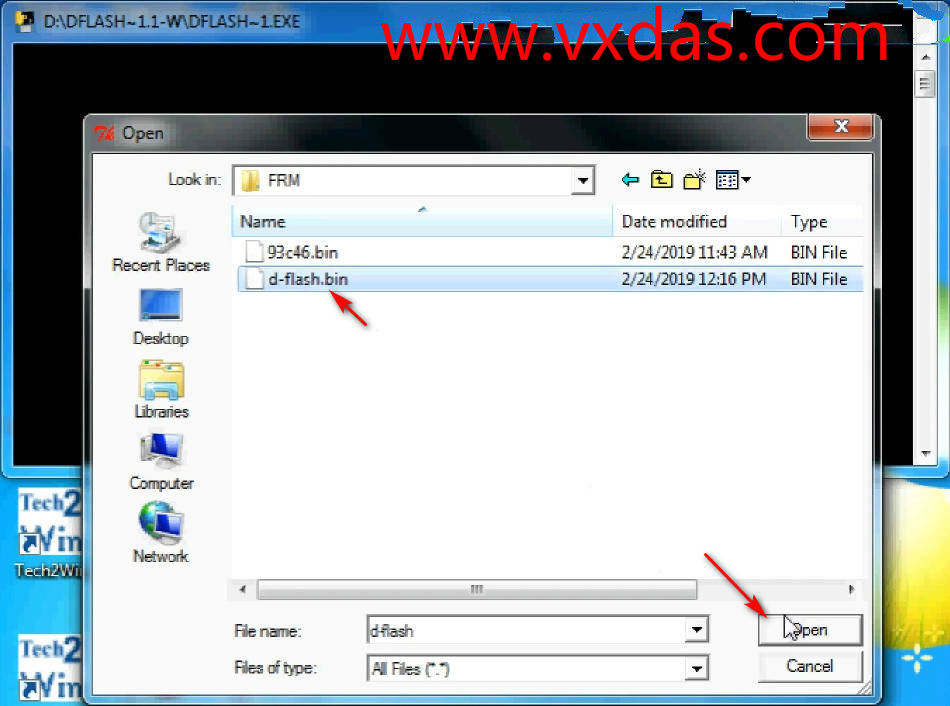 8.Now close XPROG software,and run "dflash to eee" software
9.And then open the data file you save just now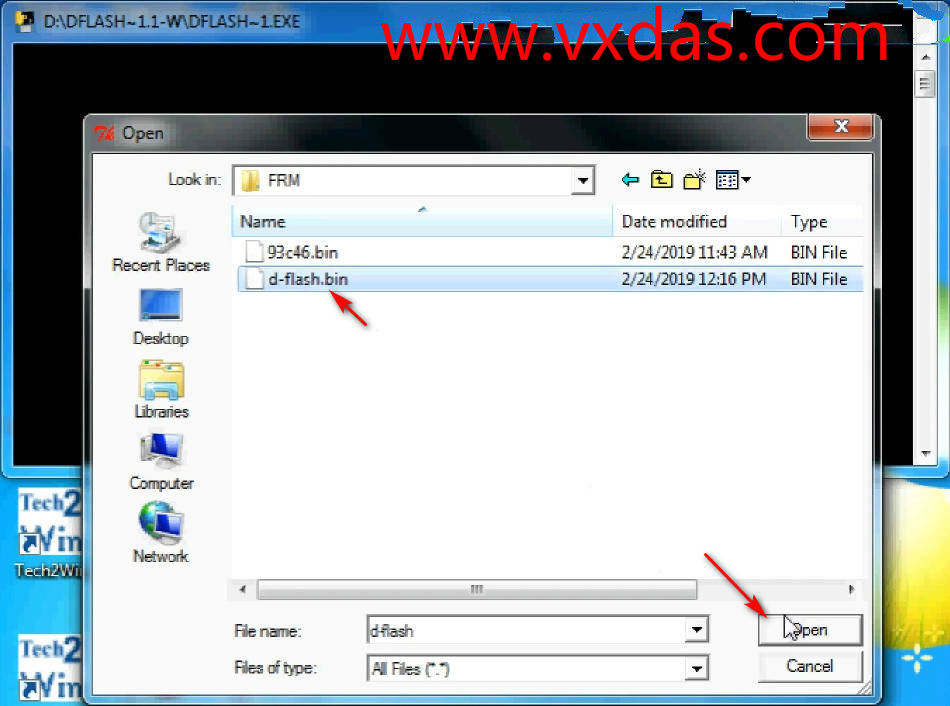 10.Now conversion complete,it will show below information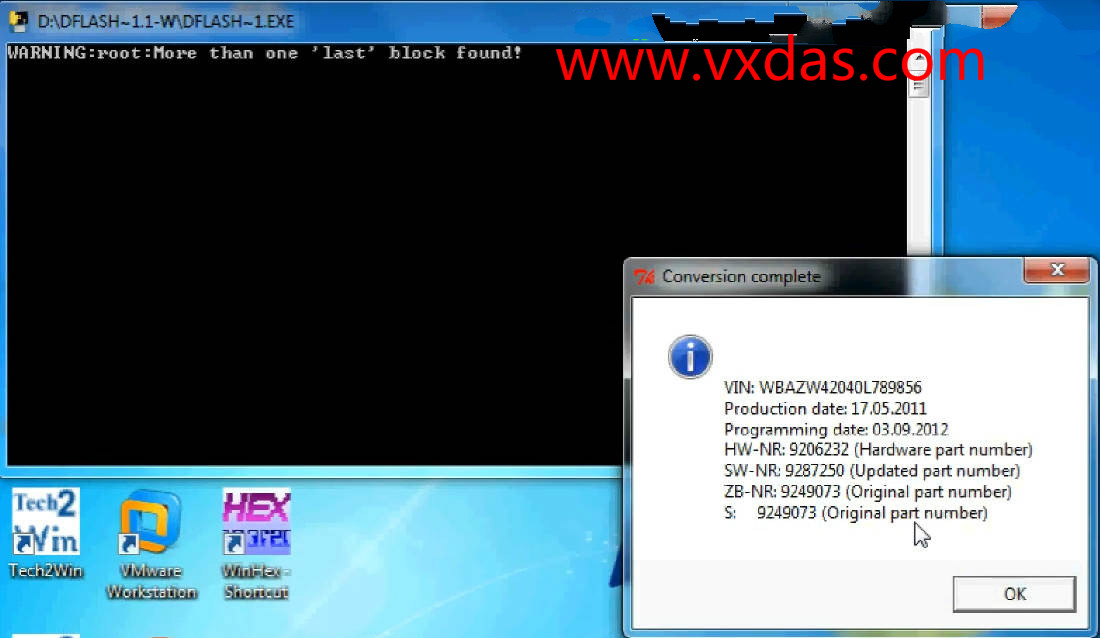 11.The "dflash_to_eee" file will prompt you to save the new data file,here name it as "eprom"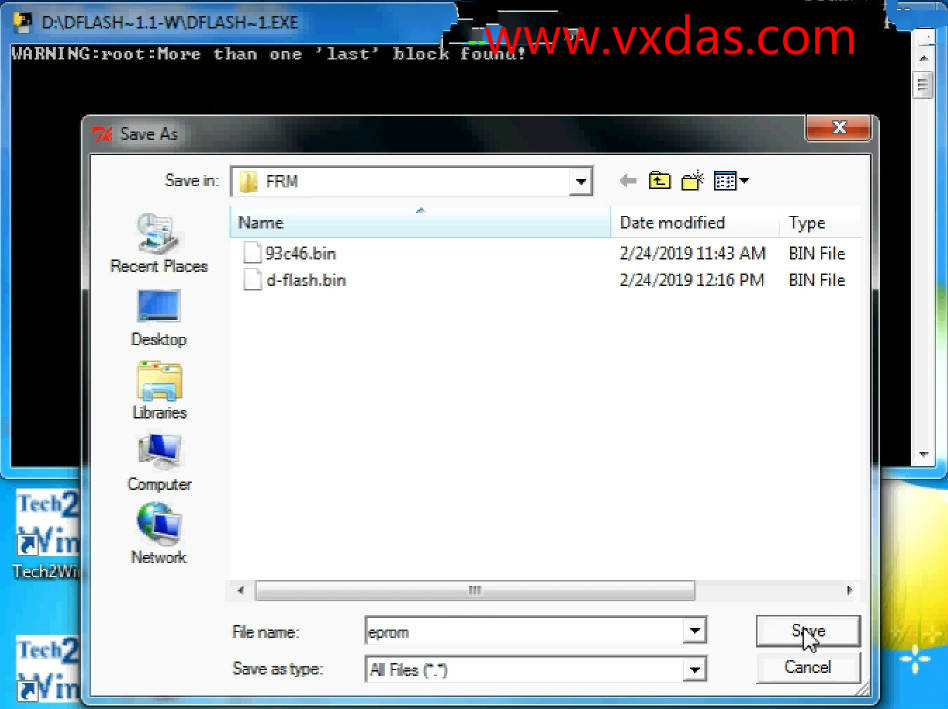 12.Now run XPROG software again
13.Select "Erase" button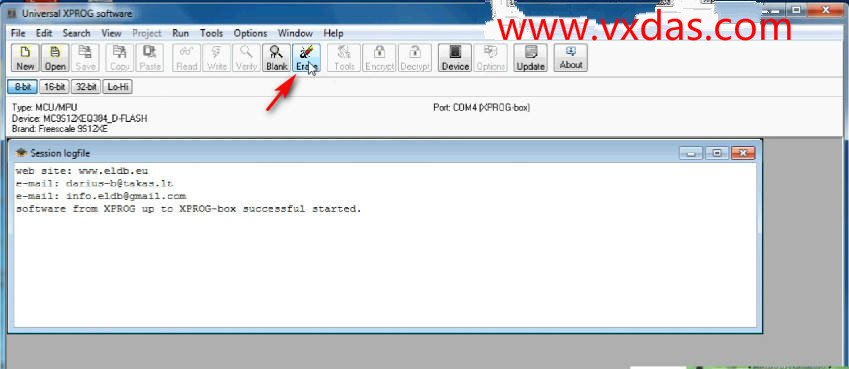 14.XPROG will start erasing device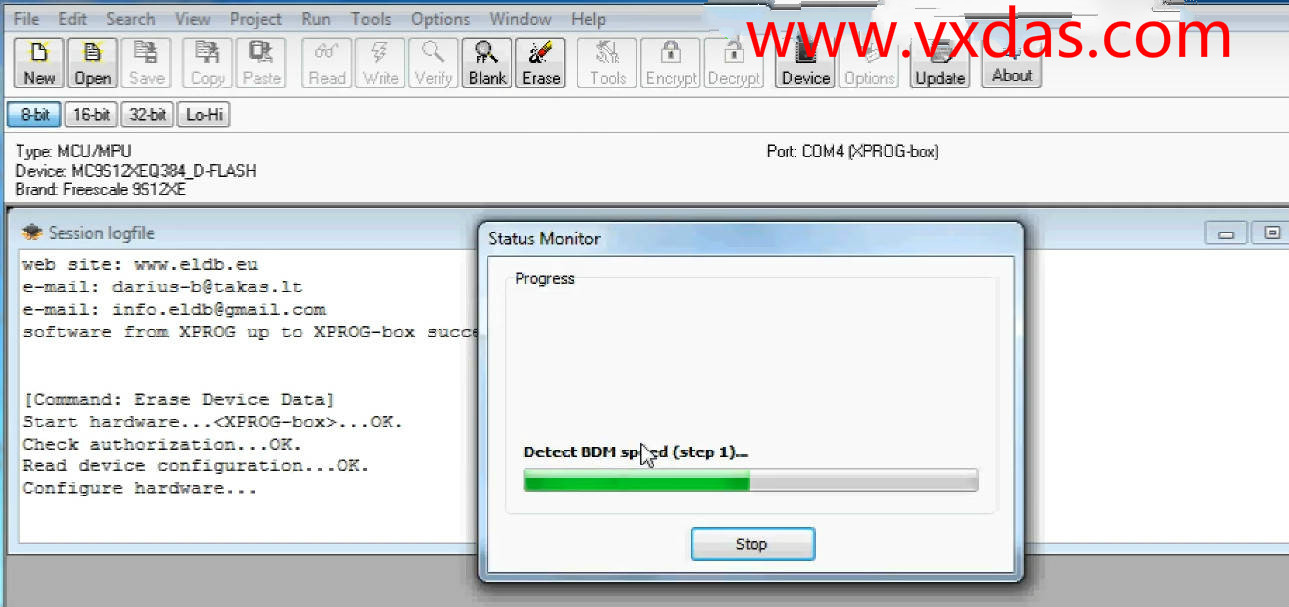 15.After then,it will ask you to set number of sectors for EEPROM partition
We will set value to 16,then click "OK"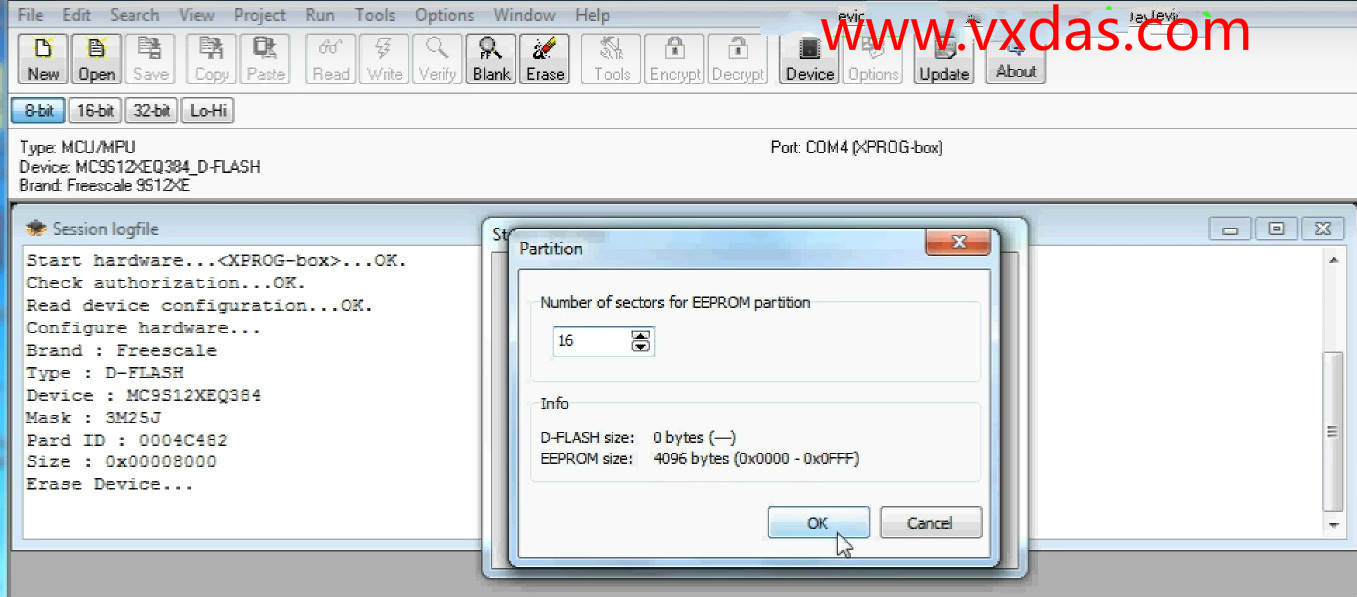 16After proceed,select "MCU/MPU"–>"Freescale 9S12XE"–>"MC9S12XEQ384_EEE"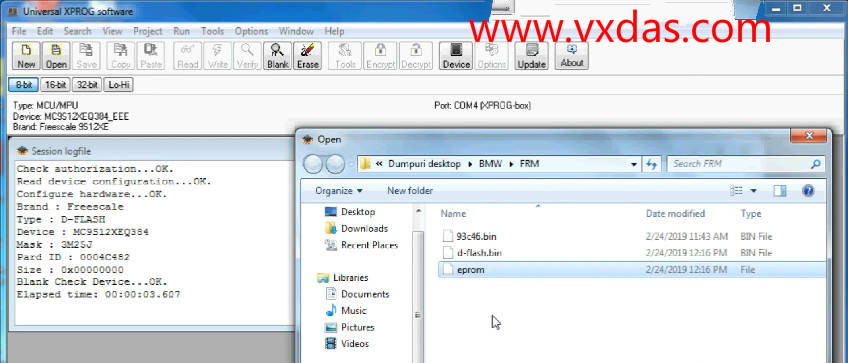 17.Click "Open" button to load the eprom(save just now)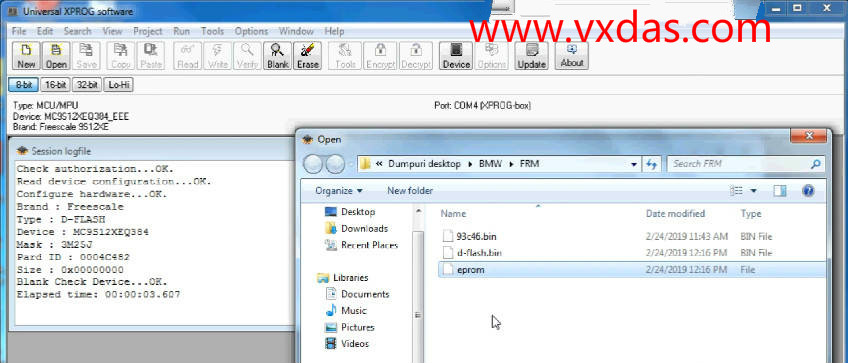 18.Click "Write" button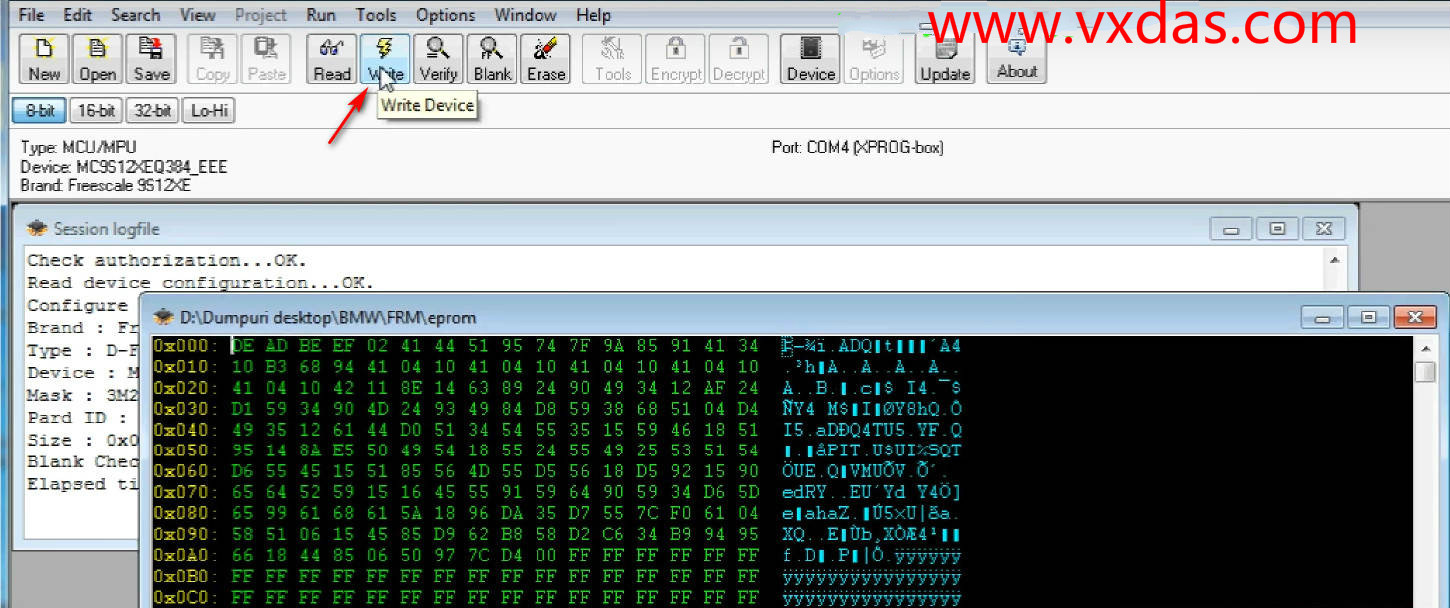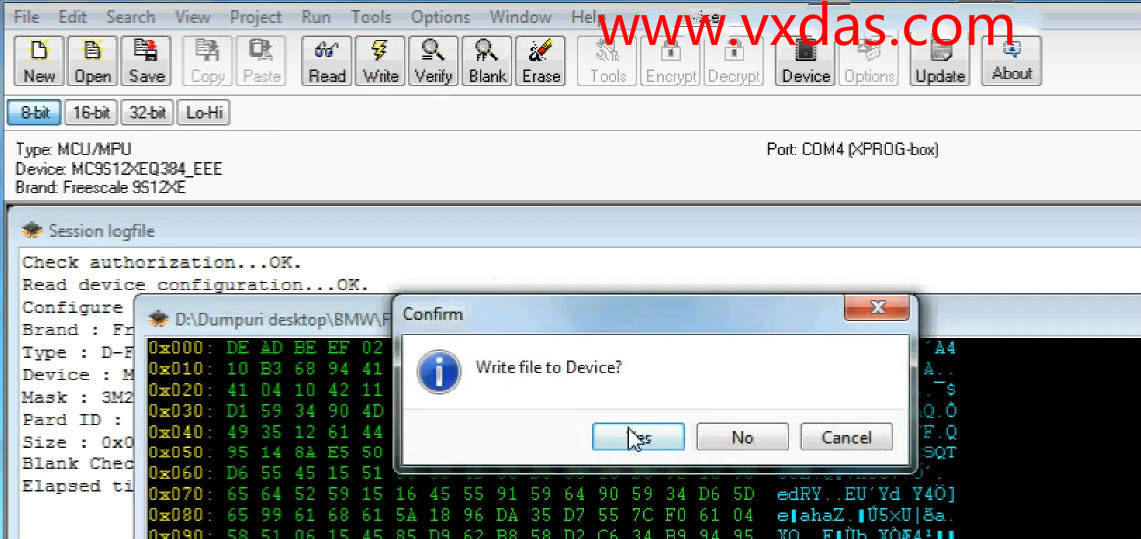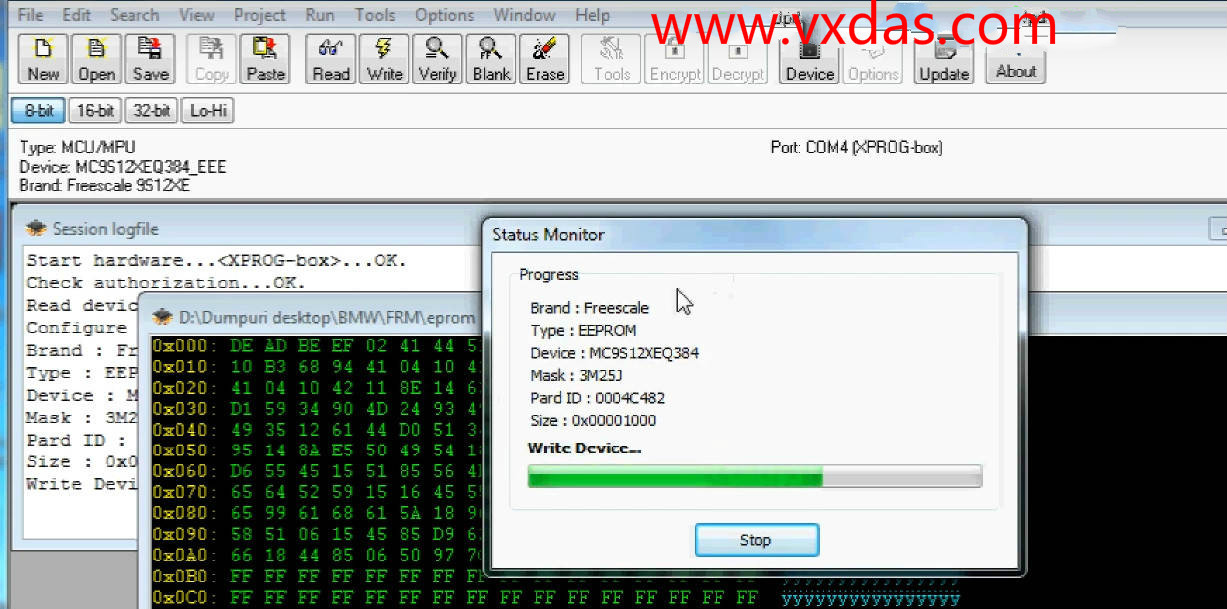 How to fix BMW FRM3 with Xprog m + win KFP?
Reason for FRM repair:
I disconnected the battery and the DME to change the thermostat and when I put it back together the FRM was dead.
Tool i used:
Except the BMW ICOM A2 emulator plus ISTA+ I had, i also was shopping for xprog v5.55 boxes from
Xprog-M V5.55 ECU Tuning Programmer X-prog M 5.55 Especially for BMW CAS4
Before this whole ordeal of the junk BMW/MINI FRM dying the only software I used was playing with was Carly for iOS and Dashcommand. But cannot solve issues.
BKGD location:
BKGD is on the HC(S)12 BDM adapter in the attached photo.
Vdd(+5V) = Vcc
RESET = B5
BKGD = B3
GND = GND (do not use the GND that is B0)
I think since we are not using the XCLKS and EXTAL flashing works with or without the BDM adapter.
Xprog m software installation:
I was not able to get this software to work with windows 7 64-bit. I was lucky enough to have an old HDD with windows 7 32-bit.
Before plugging in the xprog hardware go to system properties and change the device installation settings to never install driver software from windows update.
Xprog and FRM fix using Xprog:
Once the software was setup I hooked up the frm to the xprog and tried to make a backup of the existing EPROM via the MCU/MPU -> Freescale 9S12XE -> MC9s12XEQ384_EEE profile. Error partition corrupted. Set the sector to 16. I also made a backup of the existing P-FLASH via the MCU/MPU -> Freescale 9S12XE -> MC9s12XEQ384_P-FLASH profile. I think I got errors the first few times I tried to do this but restarting the program resolved the error.
In the MCU/MPU -> Freescale 9S12XE -> MC9s12XEQ384_EEE profile: erase, blank, open good EEE dump, write, verify, close, new, read.
This took several tries because the read back was still showing as blank.
I removed the BDM adapter and went direct into the xprog box. I also closed the program and reopened it when it kept giving me errors. After I was able to get a good write to the FRM I installed it back into the car and it was working again with a couple of errors (xenon high beam failure and fog light failure).
NCS expert & WINKFP setup for FRM:
In NCS expert I backed up the FRM, changed the VO and VIN, reset the FRM to factory and still had the high beam and fog errors. I proceeded to WINKFP to update the FRM and none of the ZB-numbers for my ECU worked. I updated WINKFP with BMW coding tool and the list of available ZB-numbers changed. After WINKFP was able to update the FRM I went back to NCS Expert and copied the VO from the CAS to the FRM and then set the FRM back to defaults. Everything was fixed. Fired up ISTA+ and cleared fault memory.
SOLVED!
Afterwards I hooked the frm back to the xprog and made a backup of the EEE and pflash.
My FRM:
R56 HIGH EKS 35 frm3r pl3 6135 3456395 01 23994322 sw141030 hw07 5324828c5
mc9s12xeq384mag
3m25j
Internet file:
R56 HIGH EKS 35 frm3r pl3 6135 3456987 01 23994322 sw156033 hw11 5324828r5
According to realoem parts 61353456395 and 61353456987 are Bilaterally exchangeable.
http://www.realoem.com/bmw/enUS/partsearch?id=SV33-USA-08-2010-R56N-Mini-Cooper_S&diagId=61_2102&q=61353456395
You may also have interests in:
How to Repair BMW FRM3 XEQ384 with Xhorse VVDI Prog?
How to Repair BMW FRM3 by HexTag?
How to Repair BMW E Series FRM Data (Unlock) by CG PRO 9S12?
Professional Diagnostic Solution & Service Supplier
Follow Us To Get More Free Resource