Volov Premium tech tool 2.7.107 development version supports EURO5/ EURO6 Programming, add new option for filter control unit and parameter group, development version database allows to Diagnose, Change Parameters, Clear DTC, Calibration, Test, Programming, Change Chassis ID, and many other features, remote installation is available.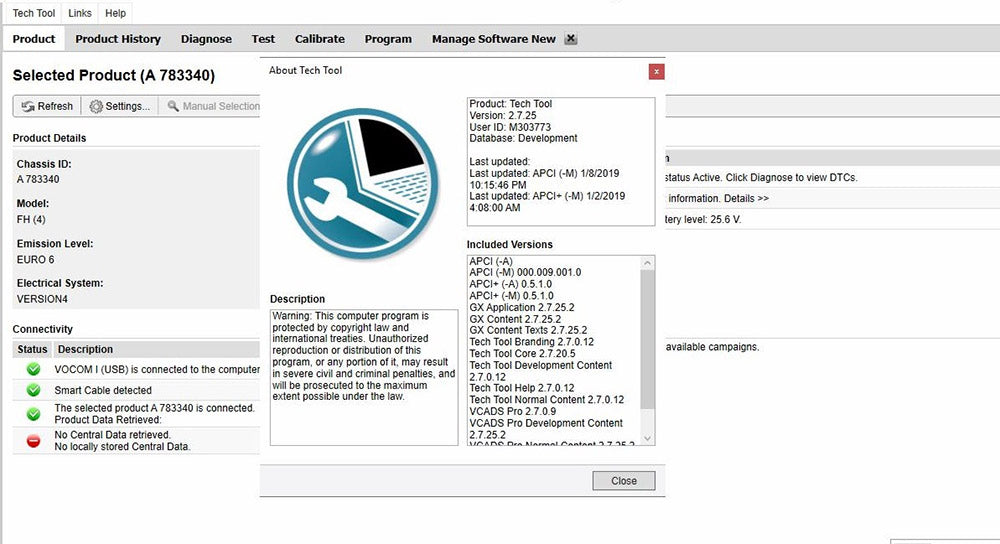 Volov Premium Tech Tool Overview
First, Premium Tech Tool is a tool that supports the repair and diagnostic process. It was developed to make repair shop tasks easier and more efficient.
Second, TT can be used in the repair shop, out in the field, at the roadside, or during test drives. TT is a diagnostics application that covers the whole repair process through the use of plug-ins.
Three, With TT you can diagnose, test, calibrate, and program a product. A product could be a vehicle, engine, or a machine. TT also provide functions for updating the tool, communication with the product, and other external applications. The set of plug-ins, user authorizations, and available languages is adjustable to provide every user with what they need.
Basic Workflow In Premium Tech Tool
• Identify a product.
• View information history.
• Diagnose a selected product.
• Test a selected product.
• Program a selected product.
• Calibrate a selected product.
Supported companies and electrical systems with PARAMETER PROGRAMMING:
• Volvo Trucks (Older electrical system, Vehicle electrical system '98);
• Volvo Trucks (VERSION2, VERSION3);
• Volvo Trucks (VERSION4 – FH4/FM4);
• Volvo Buses (Conventional, Multiplexed, Multiplexed v2, Multiplexed v3);
• Volvo Construction Equipment;
• Volvo Penta (VERSION2, VERSION3);
• Volvo OEM Component Customer (VERSION2, VERSION3);
• Mack Trucks (V-MAC I/II/III, ITC, IV, IV+);
• Renault Trucks (VERSION2, VERSION3, VERSION4);
• UD Trucks (VERSION2, VERSION3).
WORK WITH USA TRUCKS WITHOUT PROBLEMS 
New Features and Changes In New Relesed Premium Tech Tool 2.7
• The odometer (mileage) value of the connected product will now be shown in the Product Identification screen as well as recorded into Product History log.
• Tech Tool will now automatically detect any VOCOM adapter connected via USB.
• New version of VOCOM II firmware.
• Tech Tool now has the ability to read and clear fault codes communicating on J1939 (Example: Bendix Fusion system).  Note that all fault tracing for Bendix Fusion must be done using Bendix ACOM.
• Updates to the Windows driver software (SW) and hardware device firmware (FW) for the Vocom II (88894000) have been released to address issues related to J1939 communication, operational performance and automatic update of Vocom II FW. These updates are found in Vocom II SW version "4.0.0.925"   ALL CHANGES CHANGES YOU CAN FIND IN ATTACHMENTS
Tech Tool 2.7 includes the Vocom II version "4.0.0.925" with updates being handled in the Tech Tool Client Update (CLUP).  The Vocom II will be updated automatically from TT 2.7 forward.
Volvo Premium Tech Tool 2.7 User Tips
Online installation directly via volvo server (Not need any files or links to download) – support for USA trucks also.
This Module is "Getting orginal File" from Volvo Server.
This Getting File for Chassis Id So You need Firstly Connect Truck With Tectool After Getting File From Volvo Server.
Dont need Online account From Volvo.
 Need delete all the old version of PTT on laptop and install our new version
System requirement : Windows 7 32/64 Ultimate or Proffesional or Enterprice With service pack
Note: Tech Tool does NOT support Windowns XP. DONT WORK with HOME Edition.
Recommended Hardware Requirements:
Computer/Processor:   Inter Core i5 or AMD FX 8 Core Series
Memory(RAM):            6GB more memory improves performance
Hard Disk:                    120GB SDD (Solid State Drive) of free hard disk space
Optical Drive:               Internal/External DVD x8 drive
Display:                         XGA (1024×768 pixels) or highter resolution monitor with 32 bit color settings
Input Device:                Keyboard and mouse or compatible pointing device
Internet Connection:   Network 10 Mbps or higher speed adapter or WLAN
Miscellanceous:           USB interface required.A battery-pack that may provide 500mA via USB
Enjoy!
Related Posts:
1.2020 Best Volvo Vocom Truck Tignostic Tool
2.Volvo Vida Dice 2014D Software Free Download and Install Guide
VXDAS, focus on OBD Tools since 2008!
Join groups to get more free resource!
Group: https://www.facebook.com/groups/vxdas/
Website: www.vxdas.com
Whatsapp: +8617304481179
Skype: autodiagnostickit
Email: sales007@vxdas.com