Smokeman m3 automotive diagnostic smoke leak detector is used to detect vehicle gas circuits and oil leaks, supports cars, motorcycles, snowmobiles, off-road vehicles, ATVs, light trucks and speedboats etc.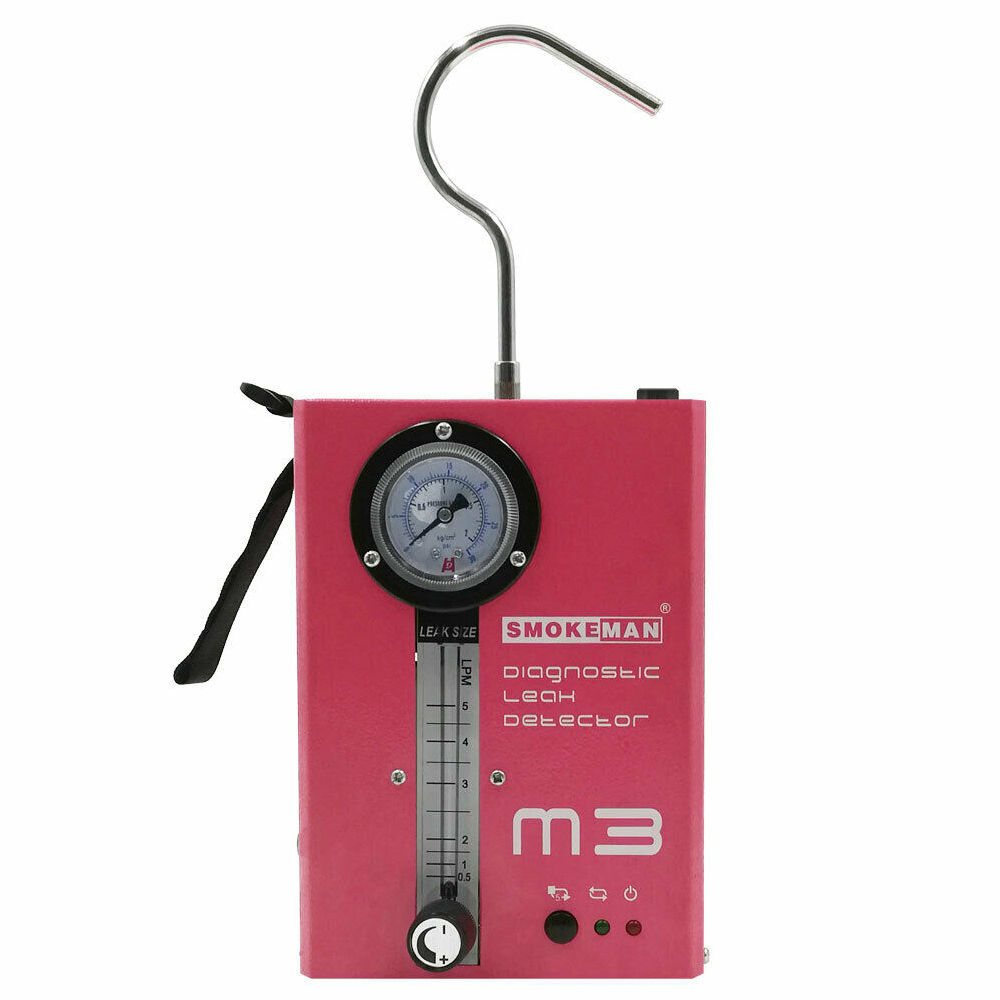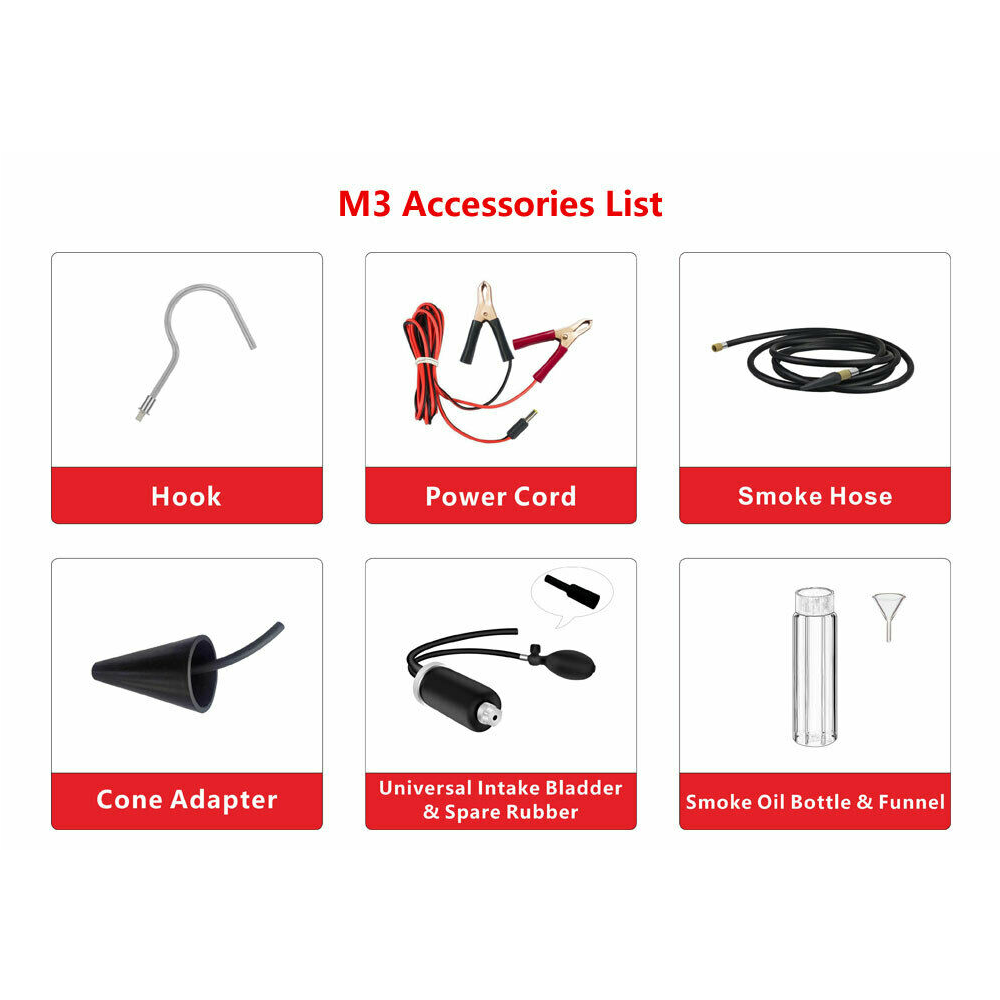 Smokeman M3 Automotive Diagnostic Smoke Leak Detector Overview
Smoke Adjustment: Yes
Type: Smoke Leak Detector
System Application: Except EVAP System & A/C System
Mode: Air Mode & Smoke Mode
Power Supply: 12V Vehicle Battery
Current: <8A
Leak Status Indication: Pressure Gauge
Smoke Oil Container: 50ml
Output Pressure: <1.2bar | 17psr
Max Flow Rate: <7L/M
Power Cord: Detachable & Approximate 2.5m
Smoke Hose: Detachable & Approximate 2.5m
In-built Air Compressor: Yes
Vehicle Type: ATV, Heavy Duty/Commercial, Motorcycle, Passenger Vehicle
Working Cycle: automatic stop in 5 minutes
Supported System: TURBO Charging System, Transmission, Crankcase, ABS, DPF, EPB, SAS, SRS, TPMS, Pipeline, Intercooler, Oil Seal, Throttle, Intake Manifold Gasket, Exhaust Pipe, All Types of Connectors, Fuel Pipe, Car Window Sealing etc.
Smokeman M3 Detector Supports Below System
Intake system
Exhaust system
EVAP system
Cooling system
Wind and water leakage
Crankcase system
Turbocharger
Pipe fittings
…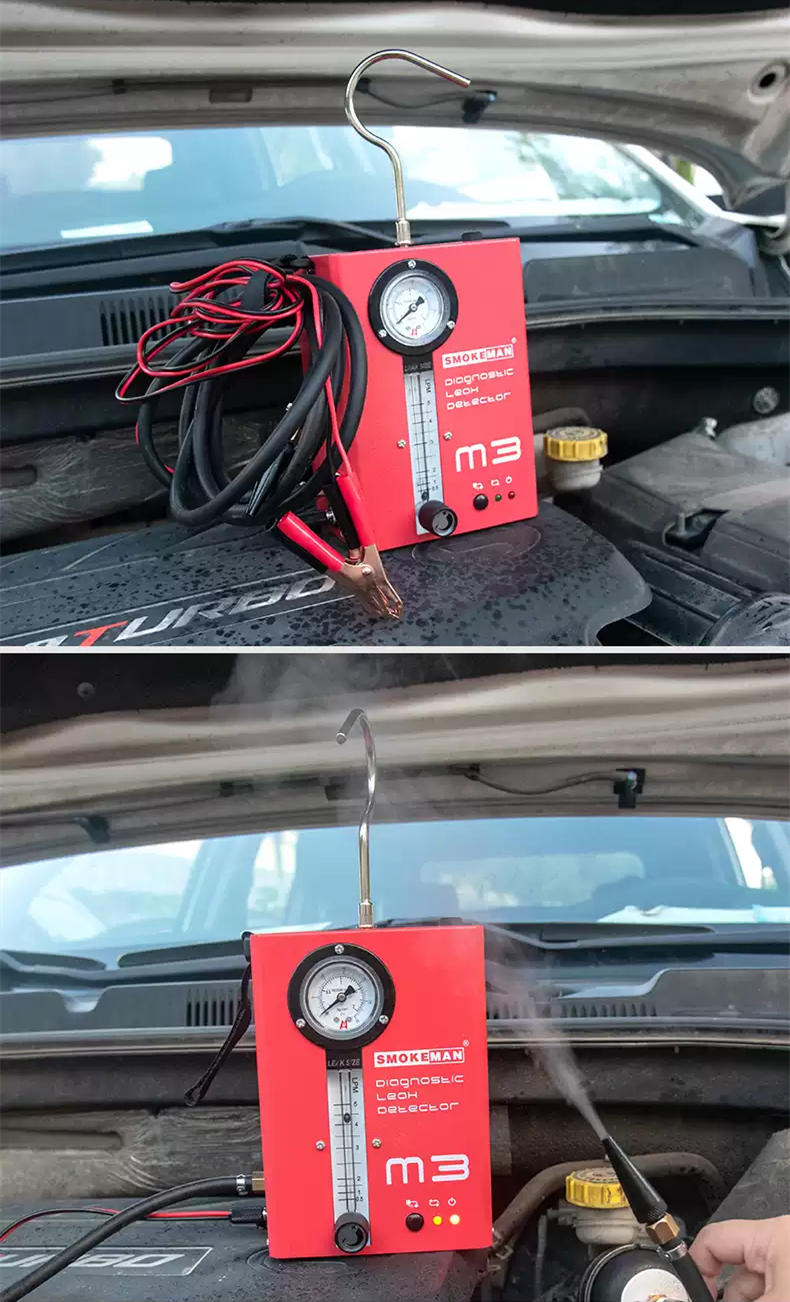 Smokeman M3 Detector Operation Steps:
1. Open the sealed lid
2 Insert the universal intake pipe (air drum)
3. Powered from car battery (12v)
4. Press the power switch to set the time
5. Adjust the smoke flow when the smoke flow becomes larger
6. Connect to the inlet port
7. You can detect the location of the air leak
Related Posts:
1.BMW Test Platform New Arrival 2021
2.Sigmaprobe The Most Worth Buying Repair Tool In 2021
3.Launch X431 PAD V New Arrival Supports ECU Programming
VXDSA, focus on OBD tools since 2008!
Join groups to get more free resource!
Group:https://www.faceboook.com/groups/vxdas/
Website: www.vxdas.com
Whatsapp:+8615361020853
Skype: autodiagnostickit
Email: sales007@vxdas.com